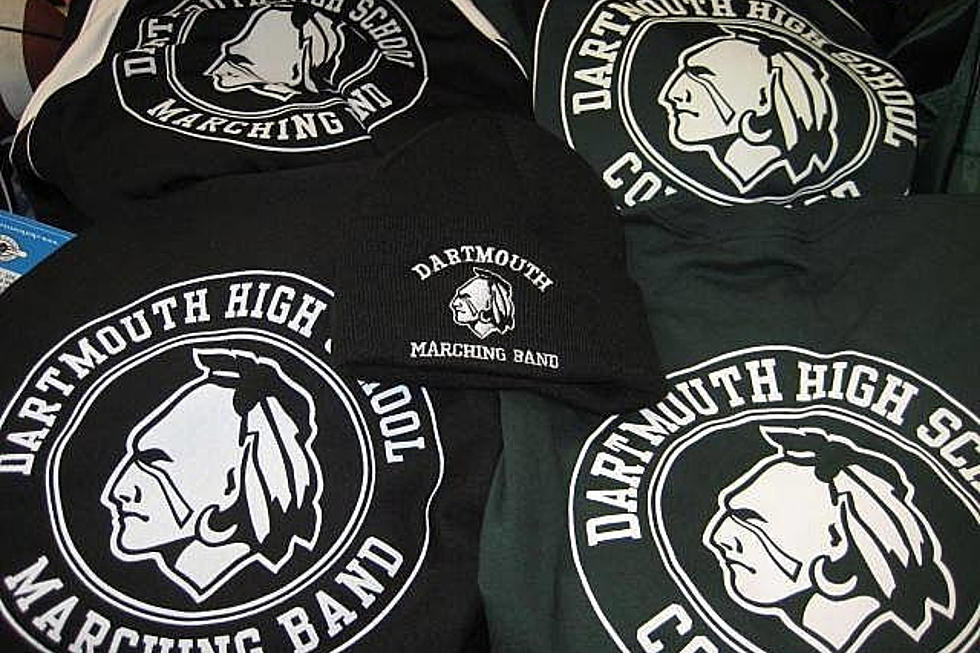 Dartmouth Voters Overwhelmingly Support Indian Logo
Courtesy Dartmouth High School
DARTMOUTH — Voters in Dartmouth have weighed in: by an overwhelming margin, residents say they want to keep the school district's Indian symbol.
Unofficial election results show 4,048 residents voted in favor of keeping the symbol, with just 969 against.
Townspeople voted in a non-binding referendum on the issue Tuesday, with the question put on the ballot by the Select Board in February as a way to check public opinion on the logo.
The contentious issue (and multiple contested races) brought the highest turnout in a town election since 2015, with nearly 23% of registered Dartmouth voters participating this year — up from last year's record low participation of just over 7%.
Dartmouth residents also voted to replace incumbent Select Board member John Haran with former Potter School principal Heidi Brooks, who earned 2,721 votes to Haran's 2,286.
On the school committee, challenger Lynne Marie Turner (2,104 votes) couldn't hold out against current members John Nunes (3,203 votes) and Chris Oliver (2,942 votes).
Meanwhile planning board member Stephen Taylor was ousted by Nicholas Psichopaidas with 2,713 votes to 1,847.
And Lisa Tufano earned 1,997 votes, beating out James Griffith's 1,762 votes for an open library trustee seat.
Despite the clear support among town voters for keeping the school's Indian logo, the question is ultimately up to the school committee.
"Obviously, our group is very happy with the results tonight — an over four to one swing in favor of keeping the Indian name and logo," said Sean Carney, a member of the Aquinnah Wampanoag tribe as well as Defend Dartmouth, the group that rallied the town around the symbol.
"I think at this point the school committee really needs to look at themselves, and realize that the township has spoken."
Defend Dartmouth chair George Marcotte said: "There's no reason for this to be a dividing point anymore. Let's focus on the things that are more important to our community."
The group in a statement called for the school committee to re-affirm the district's name and logo at its next meeting on April 25.
"Today, the people of Dartmouth made history turning out in historic numbers," the statement read. "We will not hesitate to initiate recall proceedings on school committee members who fail to affirm the will of the people."
Dartmouth's History Trail Display Inside the Town Hall
Located inside Dartmouth Town Hall is an interactive display that traces the town's history, with everything from its Wampanoag roots to colonial and Quaker settlements to Round Hill's legacy and the magic of Lincoln Park. Take a look at some of the features of this invaluable resource.
Dartmouth Dog's Excellent Cross-Country Journey
Barry's granddog Astro is not even two years old yet and has settled in Dartmouth but has visited more states than most people he knows – and he was fortunate enough to see them with her.
More From WBSM-AM/AM 1420