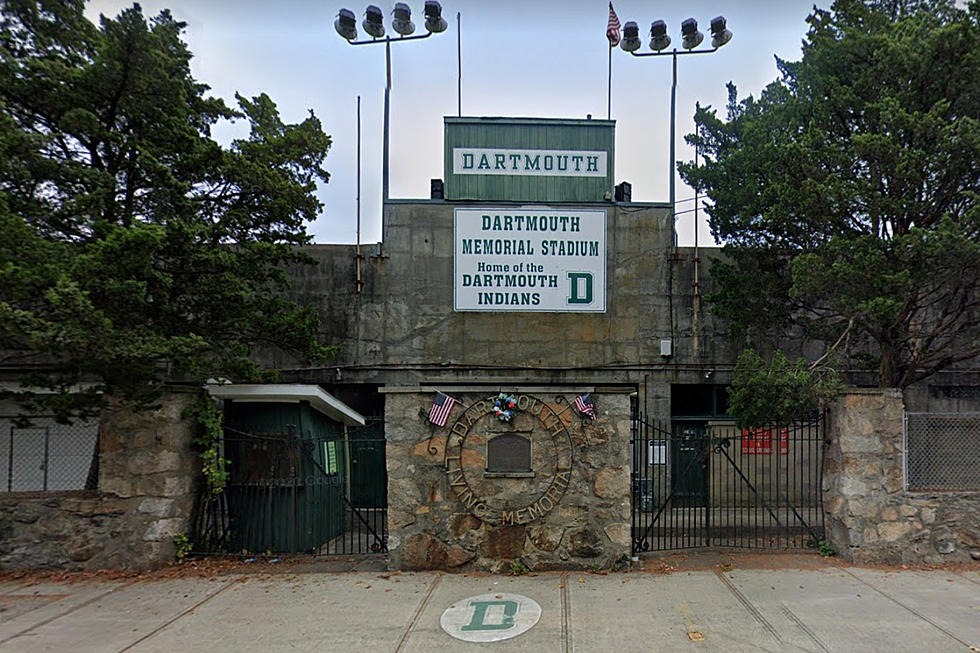 Dartmouth Officials Set Public Meeting for Indian Logo Input
Google Maps
DARTMOUTH — Dartmouth Public Schools officials have set a tentative date for a public input session on the high school's controversial Indian logo.
Members of the schools' subcommittee on diversity and equality are planning a meeting on Wednesday, Aug. 18 to hear public comments on the issue of whether to get rid of the logo, which features a Wampanoag warrior.
The subcommittee discussed the plans at a July 13 meeting.
What's the issue with Dartmouth High's Indian logo?
Dartmouth High students are known as the Indians.
The name and logo have come under fire recently, as proposed bills banning the use of native imagery as school mascots wend their way through the state legislature.
Proponents of the bills argue that the use of American Indian imagery and mascots can be damaging to mental health for Native community members.
The Equality and Diversity Subcommittee was formed last year by the School Committee to examine the logo and other issues with equity and diversity in Dartmouth schools.
Students at Dartmouth High School this year are 84% white, with 0% Native enrollment, according to Department of Education data.
Who has weighed in on the logo controversy?
Many prominent community members have spoken in favor of keeping the logo, including Tribal Chairwoman of the Wampanoag Tribe of Gay Head/Aquinnah Cheryl Andrews-Maltais, herself a former Dartmouth High alumna.
"We be must be engaged in any discussion regarding the name and imagery," Andrews-Maltais wrote in a July 12 letter to the Dartmouth Select Board and School Committee, noting that the tribe has yet to be consulted on the issue.
Andrews-Maltais stated that she and other tribal members do not condone offensive imagery or "mockery, disrespect or diminishment" of tribal traditions and culture.
But, she wrote, "we do not wish to be erased from today's contemporary life, society or social existence; or to be relegated into history, as if we have vanished, or do not still exist as a flourishing Tribal community, culture, and as a sovereign Tribal Nation."
"We believe that the initial reference to the 'Dartmouth Indians' was meant to be emblematic of our athletic abilities and excellence," she added. "In our opinion, that has not and should not change."
READ THE LETTER: Wampanoag Tribe- Town of Dartmouth Consultation on Name and Imagery
Other community members — including New Bedford's NAACP branch president Dr. LaSella Hall — have spoken out against the use of the logo.
Subcommittee members noted that letters from the leadership of other tribes, including the Pocasset Wampanoag, Mashpee Wampanoag, and others, have also been sent in support of banning the logo's use.
"We have heard from other tribes," stated Subcommittee Chair Dr. Shannon Jenkins at last night's meeting. "The Pocasset Wampanoag have contacted the School Committee to voice their opposition to the mascot...Their tribal lands are Dartmouth."
What's next?
At the meeting, the subcommittee set the Aug. 18 date for a public input session as well as rules for those attending, including time limits of two minutes per person to speak and an overall time limit of an hour and a half.
Three community members will be invited to speak on the issue, with members of the public invited to participate afterwards.
Did You Go to Dartmouth High? Check Out the Best-Selling Album From the Year You Graduated
Do you remember the top album from the year you graduated high school?
Stacker
analyzed
Billboard
data to determine just that, looking at the best-selling album from every year going all the way back to 1956. Sales data is included only from 1992 onward when Nielsen's SoundScan began gathering computerized figures.
Going in chronological order from 1956 to 2020, we present the best-selling album from the year you graduated high school.
LOOK: The most famous actress born the same year as you
Many of the actresses in this story not only made a name for themselves through their collection of iconic performances, but also through the selfless, philanthropic nature with which many of them approached their stardom. In an age of flipping the script on societal norms, many of these actresses are using their voices and platforms to be advocates for those who are otherwise unheard.
More From WBSM-AM/AM 1420