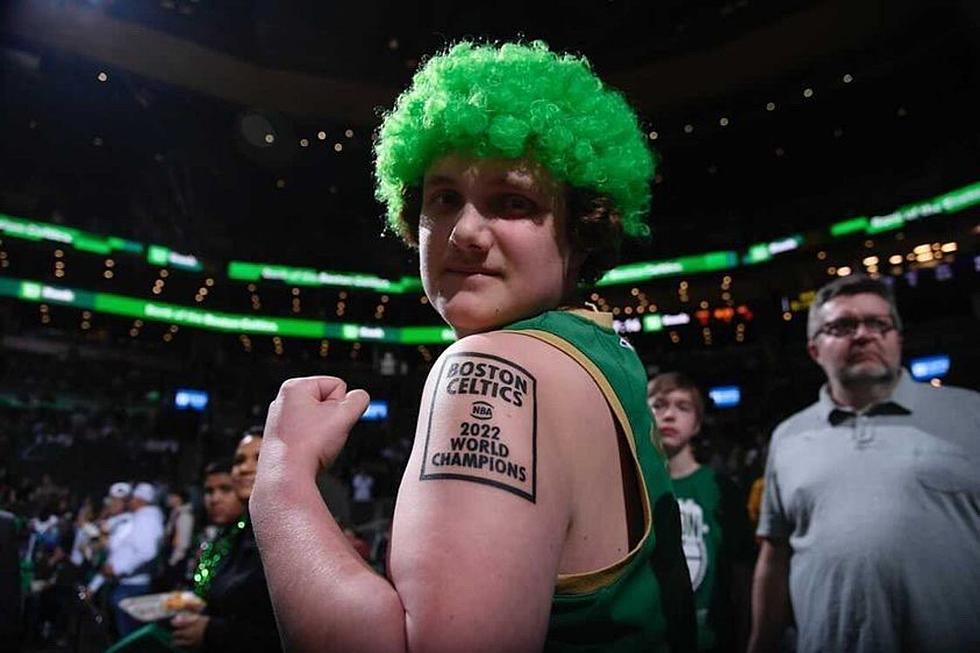 Cape Cod Teen Gets Spontaneous Boston Celtics Championship Tattoo
Cooutrsy Jack Bienvenue
There are confident people in the world and then there is Jack Bienvenue.
The 18-year-old Welfleet native is a diehard Boston Celtics fan who truly believes the C's are destined not only to make it to the NBA Final Four but to secure the 2022 World Championship.
On March 23, Bienvenue booked an appointment at Hotline Tattoo in Hyannis with artist Taylor Lindley. Bienvenue told Lindley he wanted a tattoo on his upper left arm of a "Boston Celtics 2022 World Championship Banner."
For those who don't follow the Celtics or sports in general, the finals don't even begin until June 2, finishing June 19.
Despite being months away, Bienvenue insisted with all his heart that the Celtics were destined for glory and proceeded with getting the tattoo.
"The way we've been playing lately, I don't see any team that has the fun we're having," Bienvenue told Fun 107 Friday. "Our chemistry's through the roof and Ime Udoka needs to be in coach-of-the-year conversation ASAP. He has completely changed the culture in Boston and I love what we're doing right now."
This is Bienvenue's first tattoo and it's safe to say that it's a bold choice.
Fearful about jinxing the C's, Bienvenue is hopeful.
As spontaneous as the tattoo was, Bienvenue's parents are supportive of his impulsive decision.
I'd say there's no turning back if the Celtics don't make it, but Bienvenue claims he'll "just get laser removal". If, in fact, Boston goes through and wins it all, he plans on filling in the tattoo with green ink and will singlehandedly become a prophet of the NBA who deserves any and all recognition.
If I were a member of the Boston Basketball Partners (owners of the team), I'd make sure this kid never missed a home game just for carrying the team on his arm.
Go, Celtics!
25 Celebrities Who Had Tattoo Regret
Celebrities all have different ways of dealing with their regrettable tattoos — from expensive removal procedures to covering up with more ink... or even just living with their mistake(s) and dealing with the consequences.
Discover 25 tattoo regrets, cover-ups and removals, below.
More From WBSM-AM/AM 1420