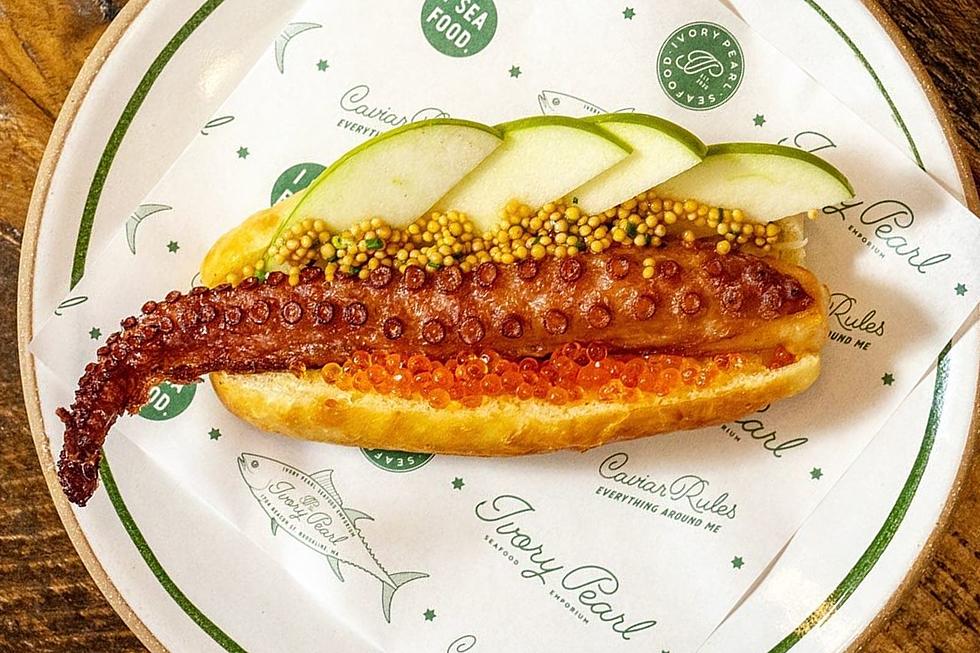 Brookline Restaurant's Octo Hot Dog Takes Food Combos Too Far
Ivory Pearl
Our coworker keeps talking about a tentacle hot dog he tried, and honestly, it only makes me realize how boring I am.
I like to think of myself as being down to try new, fun things, especially when it comes to wild food combos – or at least wild food combos that won't send me into anaphylactic shock, because who wants to die, right?
I realized this week that I am 100 percent not down to try new things that include long, gangly, rubbery-looking octopus tentacles slapped into a buttery, toasted gourmet bun and topped with what looks like gel bath beads.
This is not a hot dog. Joey Chestnut is not throwing this down by the dozens at the Nathan's hot dog eating contest.
This is absolutely one of those menu items that someone reads, and immediately wonders "How high do you have to be to try this?"
I would spend so much time working up the courage to take one bite, that by the time I finally did, it would probably be as cold as when they hauled it out of the ocean. Not what the chef intends for your taste buds, I'm sure.
It turns out that Brookline's Ivory Pearl's tentacle hot dog is widely popular and many people agree with our coworker: it's actually pretty good.
Some reviews refer to the dish as the Octo Hot Dog, others as the Octopus Tentacle Hot Dog. It gets served up with shrimp chips, sliced apple, sauerkraut, mustard, kewpie mayo, and roe (fish eggs). It continues to collect rave reviews, with accolades including "a highlight," "did not disappoint," and "world-class."
One Yelp reviewer, Rongan C., went as far as inviting the chef to their wedding.
"Whoever thought to put a grilled octopus tentacle in a buttered and toasted hot dog bun, you have a personal invite to my future wedding. Seriously, I need you there. The flavors of that...best bite of 2021 hands down," Rongan wrote.
Hats off to the Ivory Pearl for taking a risk and grabbing the attention of Instagrammers everywhere with its photo-worthy Octo Hot Dog. May we never see on the menu at our local hot dog stands.
The Weirdest Food Combinations That the SouthCoast Is Eating
We all love food here on the SouthCoast, but here are some weird food combinations that will leave you scratching your head.
More From WBSM-AM/AM 1420