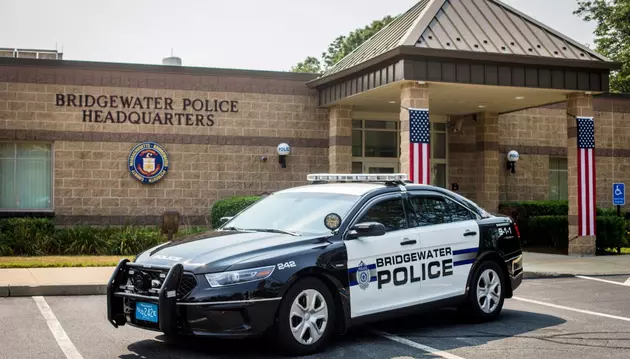 Bridgewater Police Arrest 41 People at Early Morning House Party
Via Bridgewater Police Dept.
Bridgewater Police arrested 41 people early Sunday morning after officers reported to a loud, out of control house party near Bridgewater State University, Chief Christopher Delmonte said in a press release. 
Thirty-nine party goers and the two hosts were arrested and face a litany of charges.
According to the release, Bridgewater Police received a 911 call at 1:00AM Sunday reporting a disturbance at 141 Maple Avenue, blocks away from campus.
Upon arriving, officers observed several college-aged individuals outside the home and heard yelling and glass breaking within the home.
Initially, police had trouble gaining entrance to the home but observed through the windows a large number of people yelling and breaking objects inside.
Officers eventually made it into the home and found a large amount of municipal roadway signs and alcohol inside, along with a number of guests under the age of 21.
The two tenants, Juan Perez, 21, of Everett, and Andrew Jucket, 21, of Bridgewater ,were charged with keeping a disorderly house, disturbing the peace, furnishing alcohol to persons under 21 and obstruction of justice.
"This is not the typical result of a police response to a loud party," Chief Delmonte said in the release. "The number of people arrested and the charges levied against each of them should underscore the burden a few can place on neighborhoods and the amount of municipal resources required to restore order."
The remaining guests face several different charges, including being a minor in possession of alcohol, disturbing the peace and disorderly conduct.
Assistance from Bridgewater State University Police was requested when several occupants attempted to flee the scene through windows on the first floor.
The Bridgewater Inspectional Services and the Bridgewater Fire Department were also requested to inspect multiple safety hazards located within the home.
"Our residents should not have to put up with this," Delmonte said. "It is a quality-of-life issue."
All those arrested will be arraigned this week in Brockton District Court.
More From WBSM-AM/AM 1420