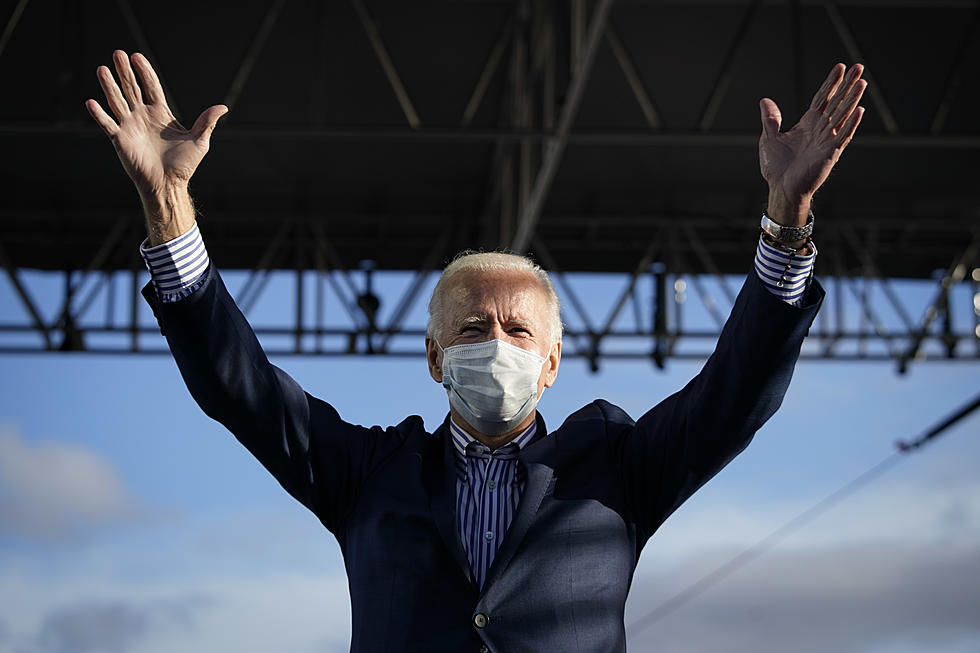 Biden's Troublesome Energy Policy Timeline of 2014-15 [OPINION]
Getty Images
On April 15, 2014, Ukrainian private energy company Burisma Holdings sent two payments to Rosemont Seneca Bohai, an investment firm founded by Hunter Biden and his business partner Devon Archer's Stanley Morgan account. They are partners there with then-Secretary-of-State John Kerry's stepson, Christopher Heinz. The payments came in via their Stanley Morgan account.
One of these Burisma Holdings payments was presumably for Archer and amounted to $29,242.82, and the second payment of $83,333.33 happens to be the exact amount believed to have been Hunter Biden's monthly salary at Burisma. But, while Archer was named to the board of directors on April 13, Biden wasn't named to the board until a month later on May 13.
I'll remind you that one of the recently discovered texts believed to be from Hunter Biden to his daughter Naomi indicates that his father Joe was taking half of his salary.
Soon after the payments from Burisma reached the United States and into Biden's account, Vice President Joe Biden arrived in Kyiv, Ukraine to announce the U.S. Crisis Support Package for Ukraine. It was presented on the White House website on April 21, 2014, which sure is soon after the April 15 payments but, according to Joe Biden, may very well have happened on the same day the payment was made.
The next day, April 22, Vice President Biden gave a speech at a dinner banquet while in Kyiv with then-Prime Minister Arseniy Yatsenyuk to celebrate the $1 billion aid package. In that speech, Biden said:
"Mr. Prime Minister, you and I also discussed the efforts to stabilize and strengthen Ukraine's economy. Just last week the United States government signed a bill proposed by our administration for a $1 billion loan guarantee agreement with Ukraine."
The Ukrainian aid package included a curious encouragement for Ukraine to "frack baby, frack," something obviously quite counter-productive to combatting climate change, a priority for Biden while speaking to Americans. Parts of the Crisis Support Package for energy included:
Energy Security: Over the coming weeks, expert teams from several U.S. government agencies will travel to the region to help Ukraine meet immediate and longer term energy needs.
Today, a U.S. interagency expert team arrived in Kyiv to help Ukraine secure reverse flows of natural gas from its European neighbors.  The team will continue on to Poland, Hungary, and Slovakia in the coming days to work on the details of these arrangements.  Reverse flows of natural gas will provide Ukraine with additional immediate sources of energy.
U.S. technical experts will join with the European Bank for Reconstruction and Development and others in May to help Ukraine develop a public-private investment initiative to increase conventional gas production from existing fields to boost domestic energy supply.  A technical team will also engage the government on measures that will help the Ukrainian government ensure swift and environmentally sustainable implementation of contracts signed in 2013 for shale gas development.
Department of Energy and USAID specialists will travel to Ukraine next month to provide advice on how to maximize energy efficiency, which could deliver potentially huge cost savings to Ukraine and rationalize energy consumption.
Keep in mind, Burisma Holdings is the largest private energy company in that nation.
Is this consistent with what the Obama-Biden climate change measures amounted to back in the United States?
It's pretty clear that Biden has been looking to either ban or phase out fracking in America, at least while the camera is on, but here we see him spurring the horses of industry in the natural gas-rich region of Ukraine – where Hunter just began working and earning a lot of money without having any experience in the energy field.
Biden, President Obama and Secretary John Kerry spent the better part of their time in the Executive Branch warning of melting glaciers, Greenland's ice mass reduction, drowning polar bears, rising ocean levels and, on Aug 18, 2015, the Obama Administration cracked down on natural gas production with costly, devastating restrictions and compliance demands on U.S. energy companies.
The measures the president took here drove global prices up as the supply from the new No. 1 natural gas producer, the United States, was just bottlenecked through regulations.
In fact, the global price of natural gas as a result of this Aug 18, 2015 act by Obama can be visibly seen through this graph, showing a 62.72 percent increase by March 2016.
This greatly benefitted nations like Ukraine and Russia. Russia's federal government budget is 50 percent funded by oil and natural gas and when prices increase, their profits are greater.
The same can be said for Burisma Holdings in Ukraine.
In an interview with Petroleum Economist in May of 2017, Burisma provided a rare look into the company's operations and discussed their growth since the company was founded.
"Since launching in 2002, Burisma has become the largest gas producer in Ukraine and consists of four operating companies, all exploring and producing hydrocarbons. It has also expanded operations to Germany, Mexico, Italy, and Kazakhstan."
"Over the past few years, the Ukrainian government has done more to boost domestic gas production than over 25 years of Ukraine's independence..."
"Notwithstanding the Biden link, Burisma has close ties to the US corporate and military complex. The group has purchased equipment and technology from leading US corporates such as Halliburton and Caterpillar."
According to National Geographic, methane gas released from fracking is extremely damaging to the atmosphere in terms of greenhouse gas effects on the planet.
President John F. Kennedy once said of the inhabitants of the Earth, "We all breathe the same air."
Has anyone told Joe Biden this?
"In its next step to boost production, Burisma is turning to hydraulic fracturing after acquiring two fleets last year from US company ProPetro. Five successful fracking jobs have been performed this year and Burisma hopes to reach 10 by the end of 2017. According to Pozharskyi, the two fleets can do more than 100 fracking jobs a year."
Ken Pittman is the host of The Ken Pittman Show on 1420 WBSM New Bedford. He can be heard Saturdays from 9 a.m. to noon. Contact him at ken.pittman@townsquaremedia.com. The opinions expressed in this commentary are solely those of the author.
Enter your number to get our free mobile app
More From WBSM-AM/AM 1420