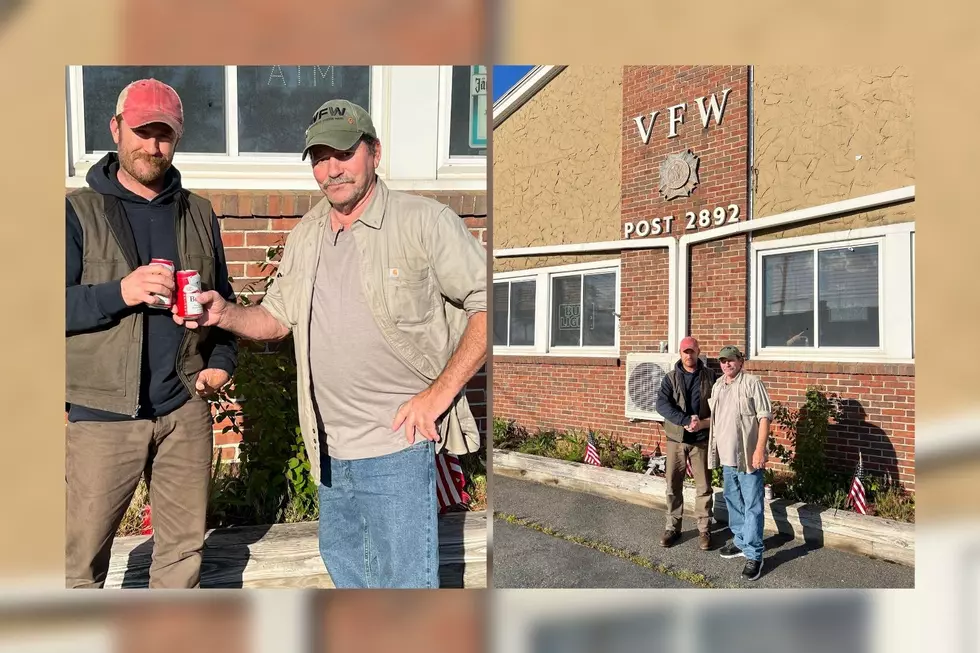 Fairhaven Veteran Shares a Few Beers with 'Finestkind' Star Ben Foster
Courtesy of Jeff Cardoza
When Fairhaven native Jeff Cardoza woke up on Tuesday, he never would have guessed that he would be sharing a few beers with a movie star that afternoon.
A once-in-a-lifetime moment happened for Cardoza when a member of production for "Finestkind" walked over to his place of business and asked for a favor.
"I'm the commander of the VFW in Fairhaven, and I was outside when one of the directors came walking over," said Cardoza.
The crew had been filming at Moriarty's Liquors across the street when the director walked over and asked Cardoza if they could use his parking lot for one of their trucks.
"I said, 'Yeah, no problem,' and we got to talking, and when I asked him who was filming over there, he told me, Ben Foster," said Cardoza.
Foster is no stranger to Hollywood, appearing in films such as "X-Men: The Last Stand," "Hell or Highwater" and "The Messenger." In "The Survivor," he played a Westport man's heroic grandfather who was forced by the Nazis to fight for his life.
Foster, a Boston native, isn't far from home for his latest movie role, and he seems to always make time for local veterans.
"When the director found out I was a vet, he asked if he could send Ben over because he loves his veterans," said Cardoza.
To Cardoza's surprise, the director wasn't joking, and with a six-pack of beer in hand, Foster walked across the parking lot and visited with Cardoza as they chatted over a couple of cold ones.
"We really clicked; it felt like I knew him my entire life," said Cardoza. "He was such a great guy."
Foster signed one of Cardoza's beer cans and his VFW hat, and even offered to do a commercial for him for his company, Fynal Touch Home Improvements.
"He saw my company van and said, 'Is that yours? Let's take a video.' He was such a great guy," said Cardoza.
Foster even gave Cardoza some intel on one of the next scenes. According to Foster, the "Finestkind" crew will take over the Fairhaven bridge in the near future. The character played by Academy Award winner Tommy Lee Jones is supposedly getting arrested on the bridge.
"They are going to shut down the bridge for a while, I think next week," said Cardoza.
From the first Jones sighting to this interaction with Foster, it sounds like the team of "Finestkind" is made up of A-List people who are truly enjoying their time on the SouthCoast.
A Fine Fairhaven Day to Begin 'Finestkind' Filming
Filming kicked off in Fairhaven April 20 for the Brian Helgeland-directed Paramount+ movie "Finestkind," starring Tommy Lee Jones, among others.
'Finestkind' Filming Locations and Dates in Fairhaven
Fairhaven's latest turn on the big screen will come in Finestkind, a film directed by Academy Award-winning New Bedford native Brian Helgeland. The production informed the town of several locations where it plans to film in spring 2022. Here they are.
More From WBSM-AM/AM 1420