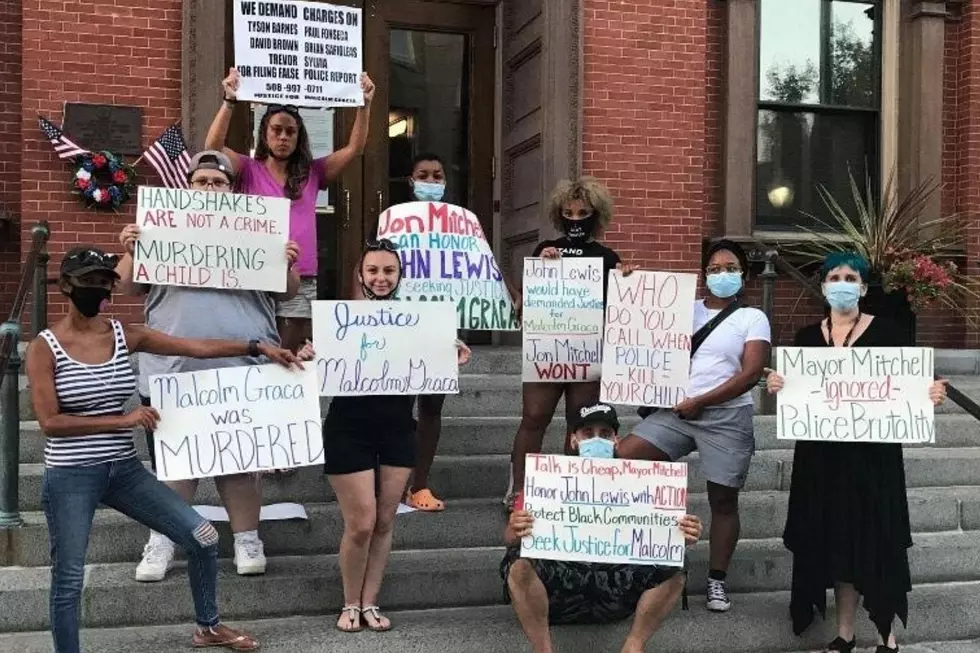 An Answer to the Highest Calling of Our Hearts [SOUTHCOAST VOICES]
Courtesy From the Community, For the Community
THIS GUEST OPINION PIECE BY: From the Community, For the Community describes itself as "a collective of revolutionaries who work with the community, to rebuild the community, speaking truth to power to give power to the people."
An answer to the highest calling of our hearts.
On the journey to answer the highest calling of our hearts, we've come to discover that in order to gain peace we first must obtain justice. As you've said, "It is not enough to say it, we are all complicit when we tolerate injustice."
Similarly to your experience with Emmett Till, we, as youth, also suffered the tragic loss of Malcolm Gracia – a 15-year-old boy murdered in cold blood by the New Bedford gang unit. George Floyd's murder also signaled the eight-year anniversary of Malcolm Gracia's murder.
Recently, it was revealed that evidence of this extrajudicial murder was suppressed by government officials: the Mayor, Jon Mitchell, the former Police Chief David Provencher, and District Attorney Sam Sutter. The lack of cooperation and compassion from the mayor, police, and district attorney's offices is disturbing. We long for justice! We are alarmed by the call to dialogues, the equity webinars, the creation of task forces, and even the homage to your work and the invoking of your name by organizations that are simply in it for performative displays. They speak of racism and injustice and yet incubate structural racism by staying silent and refusing to confront it in their own community.
Your letter to us provoked us to action – to stop those in power from speaking in an event honoring you. Commemorating your work in ways that disconnect the past from the present and your context from ours amounts to the sanitizing of your passion for justice.
We will no longer allow diplomatic responses but impel action. You told us "each of us has a moral obligation to stand up, speak up and speak out." You said, "When you see something that is not right, you must do something." On August 5, during this memorial service held celebrate you, we did just that! In honor of your memory, we silenced the mayor and we felt your spirit within us.
Unlike the majority of our elders socialized to be indifferent and fearful, you understood us. You saw the lack of fear in our hearts and our unstoppable aspirations. You noticed the quality and depth of knowledge and determination within us. Most importantly, you appreciated our aptitude to stop waiting for the "right" time to "stand up, speak up, and speak out!" Our expedition to create true everlasting change starts in our own backyards.
We stand for social, economic and educational justice! Peace and justice only surface when all of our institutions are transformed in the direction of equity. We are responsible for holding those in power accountable. And, we must remind them that in a power relationship, no one is totally without power. We want community-based solutions to the problems that we encounter. We team up, we listen, and we take action.
In respect to our ancestors' trials and tribulations, our generation has gained the ability to make this the final and last crusade to freedom, equity, and equality. A lesson our predecessors taught us was "if you're not with us, you're against us." In regard to your legacy, we hope that those who lack understanding will come to consciousness and act to support, empathize, and respect us in the ways in which you've demonstrated in your last words to us.
And for those who claim that injustice did not happen on their watch as leaders of their institutions, may they understand that when they inherit an institution, they inherit not only its glories but also its liabilities. They are, therefore, morally obligated to do something.
For you, John Lewis, we continue the act of getting into "Good Trouble."
With our deepest regards,
Lynea Gilreath, Monique Onuoha, Jaimie Anthony,
From The Community, For The Community
A Black Lives Matter Revolution
Editor's Note: 'SouthCoast Voices' is a series of guest blogs from newsmakers across the region, on relevant issues that directly impact the people of Greater New Bedford and the surrounding communities. The opinions are solely those of the author. If you are interested in contributing, please contact tim@wbsm.com for more information. 
KEEP READING: See changes enacted since George Floyd's death
Enter your number to get our free mobile app
More From WBSM-AM/AM 1420