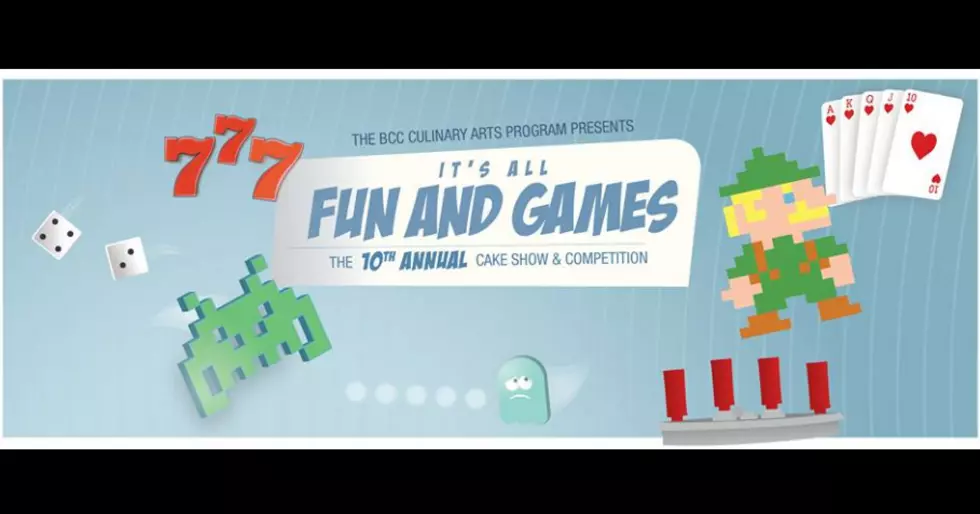 10th Annual BCC Cake Show & Competition On April 1
Bristol Community College Annual Cake Competition via Facebook
The 10th Annual Bristol Community College Cake Show and Competition will take place on Saturday, April 1, from 10 a.m. to 3 p.m., at the BCC Fall River Campus.
According to The Herald News, the event will be held in the Commonwealth College Center (G-Building), which is located at 777 Elsbree St.
Admission is $10 for adults (age 10 and older), $5 for children, and free for children under the age of 2. Free parking is also available on campus.
It will also be the first time ever that those who attend the Cake Show and Competition at Bristol Community College will have the opportunity to eat cake. Cupcakes will be sold in a pop-up shop inside the competition.
This year's event theme is based on the title, "It's All Fun and Games," which is based on the limitless creative opportunities.
Cake Show organizer and adjunct faculty member of the Culinary Arts department at BCC, Kristine Hastreiter, stated that "Professional, student, and novice entrants to the "Creative" segment of the competition can draw their inspiration from board games, card games, puzzles, casino games, Jenga, croquet and even lawn darts."
Hastreiter also stated that more than two dozen competitors have signed up for the "Themed" competition and about another dozen have signed up for the "Weddings" competition.
The panel of judges from three specialized areas include cake decorators, culinary arts instructors, and bakery owners.
The guest judge and keynote speaker will be celebrity baker Lisa Raffael. She is a three-time medalist of the "Food Network Cake Challenge." Raffael, also appeared on the show, "Fabulous Cakes" on TLC.
Courtney Silva Rezendes, who is one of the competitors on the television show, "Spring Baking Challenge" on the Food Network, will be on hand to give decorating demos on cakes.
More From WBSM-AM/AM 1420