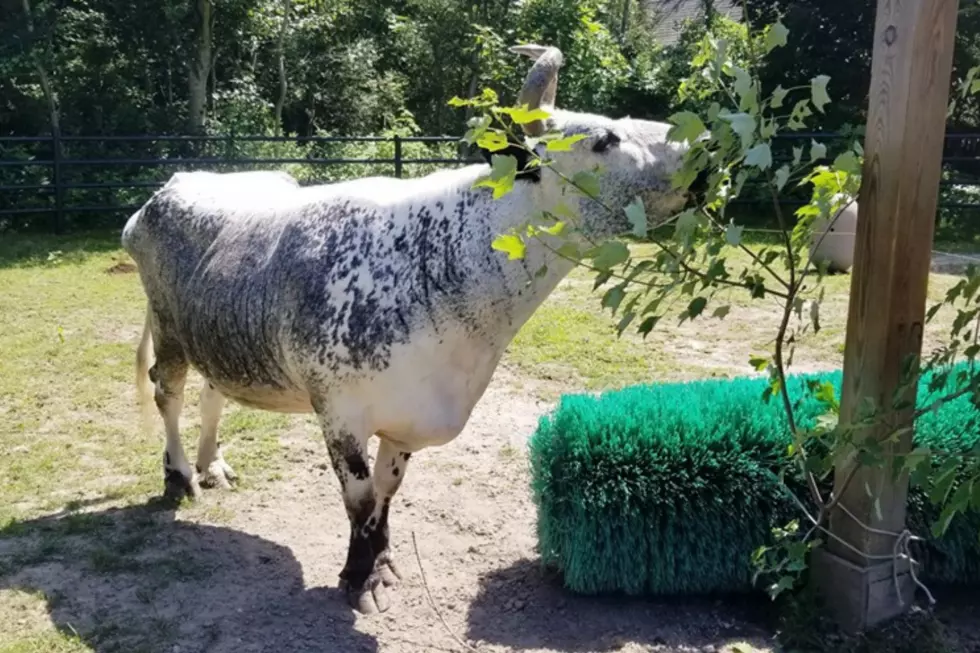 Willow the Cow at Buttonwood Park Zoo Passes Away
Buttonwood Park Zoo via Facebook
Buttonwood Park Zoo's Willow, a Randall Lineback cow, passed away recently at the age of 19 years old, surpassing the average life expectancy of cows which range from 15 to 17 years old.
Willow had been battling severe, chronic arthritis, and the Zoo's had staff attempted many different treatment routes to alleviate her pain, but she was no longer responding to their medical therapy. Ultimately, her quality of life was being compromised. They made the decision to humanely euthanize her, and she passed away while being surrounded by her keepers.
Willow was born on May 25, 2000 and arrived at Buttonwood Park Zoo in January of 2001. She gave birth to four calves during her time at the zoo, Lily (2003), Birch (2004), Spruce (2005) and Aspen (2007).
The Randall Lineback cattle are a rare breed of cattle, and they are identified by their distinctive white line along their back. They are an endangered heritage breed that originated in Vermont.
I am so sad that we will no longer be able to see this cow at Buttonwood Park Zoo. I distinctly remember bringing my nephew to visit the zoo many times and how he was always so excited to see the cows. He even dressed up as a cow for Halloween one year. They were his favorite animal for a time and he always responded whenever you asked him "what does a cow say?" Moooo
Please note that this is not Willow in the picture above.
More From WBSM-AM/AM 1420