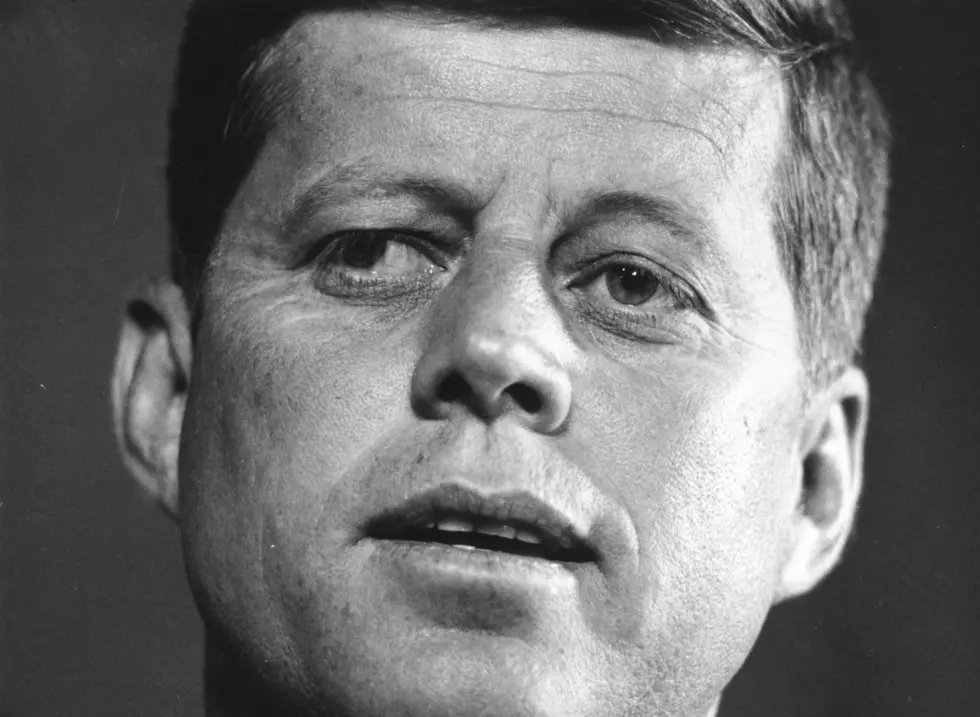 Why the Kennedy Legacy Matters [OPINION]
Getty Images
Despite being a member of America's most storied political family, Congressman Joe Kennedy III has rarely invoked that legacy throughout his campaign for the U.S. Senate. Until recently, the only mentions of the Kennedy lore have come in the form of mocking gestures by his opponent, Senator Ed Markey.
For example, in his most recent campaign ad, the Senator rebuked the famous creed "Ask not what your country can do for you, ask what you can do for your country."
On Monday Rep. Kennedy III – or JK3, as he's often referred – finally had enough, and offered a stirring rebuttal to Sen. Markey's mocking invocations of his family.
In his speech, JK3 demonstrated why the Kennedy legacy still matters. Because it is a legacy often associated with dutiful public service.
It's a legacy that includes his great uncle, John Fitzgerald Kennedy, the most popular president in modern history, whose promise of a "New Frontier" brought us many of the most consequential progressive reforms of our time, such as the Civil Rights Act, the Voting Rights Act, Medicare, Medicaid, and the destigmatization of mental health treatment.
It's a legacy that includes his grandfather, Robert "Bobby" Francis Kennedy. As U.S. Attorney General, he used his office to enforce the demands of equality enumerated in the Civil Rights Act at a critical moment in history. Most notably, in 1961, Attorney General Kennedy sent federal agents to the segregationist South to enforce a federal court order that granted admittance to James Meredith, the first Black student at the University of Mississippi, and sent troops to protect the Freedom Riders.
It's a legacy that includes Senator Edward "Ted" Kennedy, the "Lion of the Senate" who was widely regarded as one of the most influential and effective lawmakers in American history. Senator Kennedy used his influence in Congress' upper chamber to pass bold and comprehensive reforms that have greatly impacted American's day-to-day lives such as the Americans with Disabilities Act, the Immigration Act of 1965, the Children's Health Insurance Program, and the Family and Medical Leave Act, just to name a few. Sen. Kennedy also used his considerable stature and platform to bring issues of civil rights and universal healthcare into the American consciousness.
And beyond the Kennedy Family's "Big Three" of Jack, Bobby, and Ted, JK3 also mentioned his father, Congressman Joe Kennedy II, who championed broader access to affordable housing and combating the racist lending policy known as "redlining." He mentioned his great aunt Eunice Kennedy Shriver, who founded the Special Olympics, which allows individuals with atypical development to engage in competitive sport in an atmosphere that best accommodates their strengths. And he mentioned his great aunt Ambassador Jean Kennedy Smith, who helped broker peace in Northern Ireland during the turbulent time of "The Troubles." In his closing remarks in the final Senate debate on Tuesday, Rep. Kennedy reaffirmed his pride in and commitment to his family legacy.
Sen. Markey has been increasingly more forthright in his attacks on the Kennedy legacy. But as Rep. Kennedy said, "The Senator would be better served reconciling his own history with the Civil Rights movement." While Sen. Ted Kennedy was standing with communities of color in desegregating Boston schools, then-Rep. Ed Markey stood with the segregationists. While Bobby Kennedy used the power of his office to integrate Black students into colleges, then-Rep. Ed Markey voted in support of Bob Jones University to maintain their tax breaks even after they banned interracial dating.
And when Sen. Markey isn't getting it wrong, he isn't doing much at all. Each relative that Rep. Kennedy mentioned in his address Monday has achieved more individually than Sen. Markey has even pretended to in his near half-century in Washington – which is especially striking, given that the Senator's permanent residence has been in the D.C. suburb of Chevy Chase, Maryland. It's this very lack of achievement and presence on Markey's part that makes Rep. Kennedy's challenge viable. 
Rep. Kennedy – an accomplished lawmaker in his own right – understands the accomplishments of his family are not his own. However, it's his immersion in his family's legacy that has inspired him to be fully committed to serving the Commonwealth, to build on a legacy that has established fundamental rights and liberties for generations of Americans while Ed Markey watched idly from the sidelines.
Marcus Ferro is an attorney practicing in New Bedford and a weekly contributor to The Chris McCarthy Show on 1420 WBSM. Contact him at marcusferrolaw@gmail.com. The opinions expressed in this commentary are solely those of the author.

Enter your number to get our free mobile app
More From WBSM-AM/AM 1420