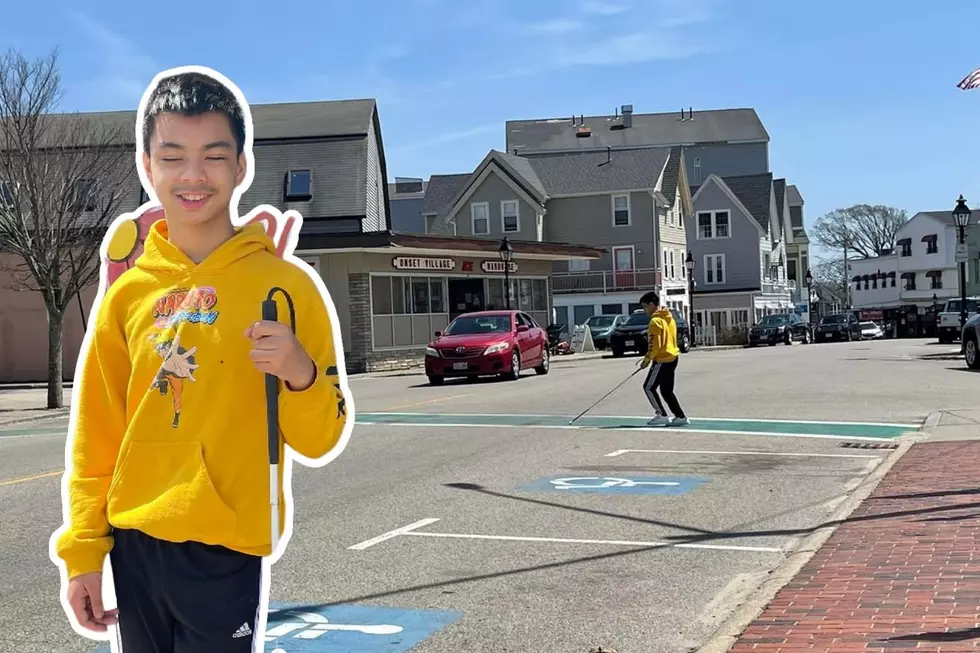 Bourne Mom Reminds Community of White Cane Law After Blind Son Honked At
Courtesy of Mary Nogueras
Onset mother Mary Nogueras is spreading the word about an important traffic law after her blind son was yelled at by a driver for not crossing fast enough.
Nogueras' hope is for more people to be aware of the White Cane Law to allow for a safer environment for people like her 15-year-old son Jayden.
Jayden's Story
Nogueras is the owner of Onset Clay Room, where Jayden works.
"It's hard for him to maintain a traditional job, so we wanted to bring him in and help a little bit to gain some skills in customer service," said Nogueras. "His goal is to work for Market Basket one day."
When he is at the Clay Room, Jayden likes to go to the market nearby, which requires crossing the street.
Jayden was born with septo-optic dysplasia, making him legally blind. He relies on his white cane to cross the street safely. Once, he ran into a problem.
"One day, somebody honked at him and swore at him because he was taking too long to cross, and it scared him," Nogueras said. "I told him, 'It's OK, I'll walk you to the store,' but it got him really frustrated because he's 15 and doesn't want his mom to have to do that."
The White Cane Law
The incident compelled Nogueras to spread the word to the community about the Massachusetts White Cane Law, which says, "All motorists, whenever they see a pedestrian who uses a dog guide or a white cane at a street crossing, must come to a complete stop. The person with the White Cane or Guide Dog always has the right of way."
As Jayden gets older, he is trying to find his independence, but as a mother, Nogueras worries for his safety.
"I am a firm believer that the more people who know Jayden (and people like him) or know about the White Cane Law, the safer he will be."
Nogueras provided the following list of "DO NOTs" that a driver should know.
DO NOT:
Stop your car more than five feet from the crosswalk line.
Yell out "It's OK to cross."
Get impatient when waiting for a pedestrian who is visually impaired to cross. If the pedestrian places the long cane into the street, it usually indicates he or she will begin a street crossing. If the cane traveler takes a step back and pulls back the cane from the curb, it usually indicates the person may not be crossing at that time.
Consider a "rolling stop" as a complete stop. A stop sign means STOP.
Turn right on red without coming to a full stop and looking for pedestrians. The right-on-red law requires drivers to come to a complete stop prior to making the turn.
Fail to stop for pedestrians at all crosswalks whether or not there is a traffic signal or stop sign.
Stop your car in the middle of a crosswalk.
Pass another car that is stopped, waiting for pedestrians to cross.
Wave to pedestrians who are using a white cane or dog guide to indicate that you are waiting for them.
Honk.
Everyone deserves their own independence and to feel safe. Nogueras hopes this incident involving her son will raise enough awareness to create change and make the future a little safer for everyone on the SouthCoast.
7 Rules You Should Follow if You Plan On Grilling in Massachusetts
Firing up the grill is a welcome sign of warm weather. But if you live in Massachusetts, you should read these rules before you get cooking.
More From WBSM-AM/AM 1420