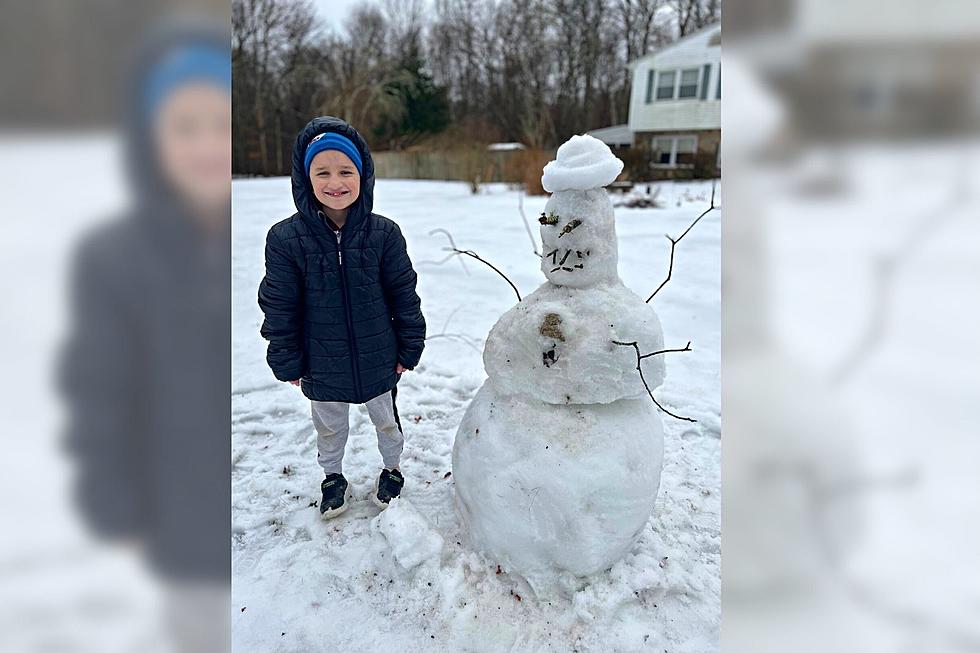 Westport Boy Gives Life Lesson Just by Building a Simple Snowman
Gazelle/Townsquare Media
You know, kids really do say the darnedest things.
My good friend's kid, Michael Vieira Jr., had asked me if I wanted to build a snowman the other day after we were hit with a good amount of snow. I swear it took me an entire day to shake that Disney Frozen song out from my head afterward.
"Sure thing, pal," I told him.
I made sure Jr. was bundled up warm and we headed outside to look for the perfect spot to begin the building process. Now, keep in mind that when it comes to constructing a snowman, I've been known to knock it out of the park with the perfect shape, features, and size. There it is again- that word "perfect". Hold onto that word for a moment, there's a reason I keep using it within the context of this story.
As the bottom base began taking form, I was worried that it was too big which means the middle ball would be nearly impossible to lift up onto it. Still, I continued to pat the snow and form the body as spherical as possible.
The mid-section was not easy to maneuver, but God willing, I pushed it up onto the base. Again, smoothing out the imperfections and removing any stuck leaves and spots of mud. Jr. started prepping the head- that's the job he chose to take on.
I began assembling the arms (sticks of course) and told Jr. to find a couple of rocks for the eyes and buttons. "Let's get a carrot for the nose," I told him, excited that the snowman was coming together. "Let's just use sticks for the eyes and the nose and even the mouth!" he replied.
"Sticks for eyes?" I said puzzled, "That's not how a snowman is supposed to look."
Little did I know, that at that very moment, a 7-year-old was about to take me to church with some words of wisdom that came completely out of left field.
"You know, not every snowman has to be the same," Jr. preached. "It's OK to be different, people are different all the time. Just because you see a snowman on TV that has a carrot for a nose and rocks for eyes, doesn't mean you have to copy them. It's ok if he has sticks for eyes and looks scary. I like it that way. Plus we can even give it extra sticks like wings! How cool would that be?!"
I was smiling from ear to ear. How in the world could I have been so infatuated with building the "perfect" snowman when in reality, a snowman can be what you make of it.
Such is life.
SouthCoast Enjoys the First Snow Day of 2022
Mother Nature finally gave the SouthCoast a snow day and people were quick to enjoy. Check out all the fun had from Fall River to Falmouth.
Where to Get Sand in New Bedford After a Snowstorm
The City of New Bedford provides free sand for residents following snowstorms and blizzards. Here are the locations of where you can get some sand – just be sure to bring your own small bucket.
More From WBSM-AM/AM 1420