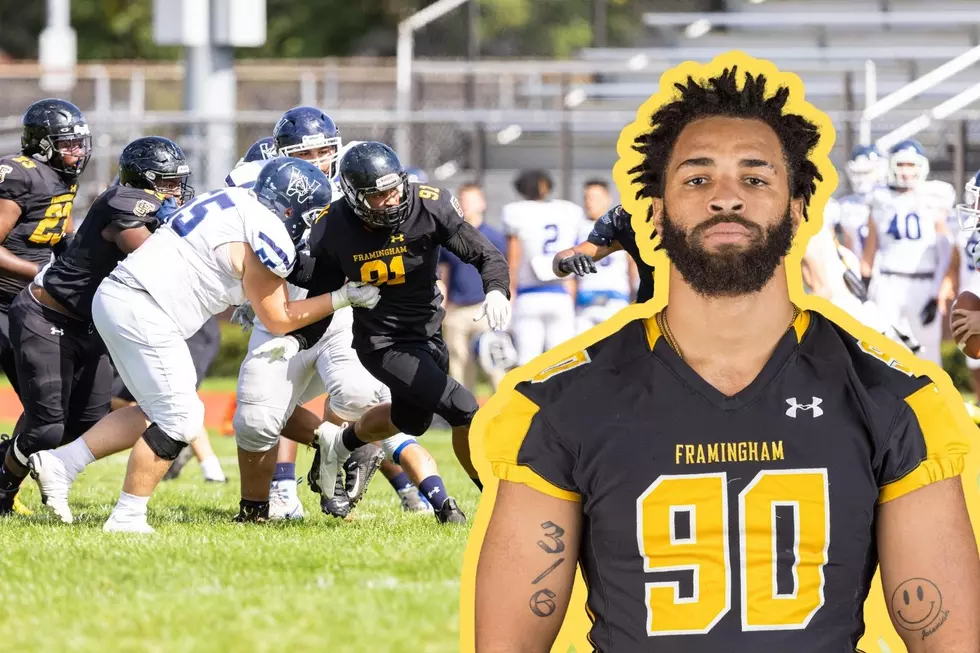 Wareham Native Joshua Onujiogu Signs With NFL's Seattle Seahawks
Courtesy Framingham State University
Wareham is sending another of its sons to the National Football League, as Joshua Onujiogu signed with the Seattle Seahawks last week.
Onujiogu, an edge rusher, signed as an undrafted free agent – but just making it to the NFL from Division 3 Framingham State shows the commitment and determination he has to succeed at the highest level.
"Yeah, it's really the mindset I put on at a young age. I always knew I was going to get to this point, but I also knew what it was going to take," Onujiogu said. "That's why I was so determined, dedicated, working out every day, studying, trying to figure out what it's going to take to play in the NFL."
Onujiogu seems to have figured that out, as evidenced by the fact that not only were the Seahawks interested, but so were the New England Patriots and the Houston Texans.
"In all the years I've been doing this, you know character when you see character, and I told everyone that about him," Framingham State head coach Tom Kelley said. "And I wasn't (BS)ing, I wasn't pumping up his tires. It was just straight facts. He's a good football player and an even better person."
Onujiogu's Journey From Wareham to the NFL
Onujiogu graduated from Wareham High in 2016 after a stellar high school career, not only playing football but also setting a new school record in the 110-meter hurdles at 15.49. On the gridiron, he had to do a little bit of everything because the Vikings only had 22 players on the team.
A small school with a limited roster meant a lot of the bigger college programs weren't coming to Wareham. As a result, Onujiogu only got one offer, and that was from Framingham State.
A D3 school meant the road to the NFL wasn't going to get any easier, and he'd have to continue blazing that path through hard work and dedication.
Making the Most of His Time as a Ram
Onujiogu seized his opportunity at Framingham, starting as a true freshman and twice being named MASCAC D3 Defensive Player of the Year for 2019 and 2021 – and he might have had a shot in 2020, too, had the season not been canceled due to the COVID-19 pandemic.
"During COVID, I wasn't sure if I was going back for my fifth year, or transferring, or what I was going to do," Onujiogu said.
He decided to visit combines and junior pro days as a way to get his name out there and gauge his prospects for a future in football.
"I attended different combines, to put me in front of coaches and to evaluate me. I got really good feedback from the coaches and the other players," he said. "But these were combines mainly for the (Canadian Football League) and indoor leagues, and I had a bunch of coaches and scouts tell me, 'Hey, you look really good, and these places aren't for you.' I stood out and kind of made a name for myself, so I came back home, evaluated how I did, and decided to take a fifth year (at Framingham)."
His final season as a Ram saw him make 68 tackles and 13.5 sacks, 25 tackles for a loss, with one interception and two forced fumbles. He actually broke his own school record for sacks that was first set in his sophomore year, and he has the all-time record for tackles for a loss as well. Onujiogu also brought the necessary intangibles.
"He was just a great teammate, and like a coach on the field," Kelley said. "Every day, he came to work, from the opening whistle to the last whistle, and he was working his ass off the whole time."
Former Apponequet High (and later Wareham High) coach Bob Lomp got a good look at Onujiogu's talents coming off the edge during Lomp's time as quarterbacks coach at Massachusetts Maritime Academy, facing off against Onujiogu's Rams.
"He definitely was an outstanding pass rusher and a player that stood out on film," Lomp said.
With his dad's friend and Patriots legend Vince Wilfork mentoring him in how to make the pros, Onujiogu was ready for his shot at the NFL.
"After his pro day, things started blowing up," Kelley said. "All of a sudden, teams were calling for his medical records, and that hasn't happened with anybody we've had. ESPN called three times looking for film, for the school logo, for a headshot – that meant he was on somebody's radar."
Onujiogu Is a Good Fit for Seattle, and Seattle's a Good Fit for Him
Prior to the NFL Draft, Onujiogu participated in a local scouting day at Gillette Stadium with only seven other prospects, and did really well during that workout.
"I thought it was going to be the Patriots who called, but the next week, Seattle called my agent and asked if I could fly out for an official visit," he said. "I talked to the team, talked to the coaches, saw the facilities, and just fell in love with the opportunity they're going to give me, and try to create some longevity with my career."
"He and his agent did their homework, because he's in a great place to succeed," Kelley said. "We've had guys sign before, and had guys who were looked at, but this is by far the most attention one of our guys has had."
During his sophomore year at Framingham, Onujiogu hit a growth spurt, and enters the NFL at 6-3 and 255 pounds with outstanding speed and agility.
"They understand that I need the coaching, but they do see that I'm very special athletically," Onujiogu said. "I can do a lot. I'm very flexible. Obviously, in the NFL everyone's athletically gifted, but I think they see a lot of potential in me, and they know I love football so I'm not just an edge rusher, I'll play special teams or whatever they need."
That kind of attitude will serve him well on a team coached by Pete Carroll, who can put athletic defenders like Onujiogu in a great position to succeed.
"I've been speaking to him, and I've kind of created a relationship with him. I actually trust him with my career," Onujiogu said. "I love getting coached. I love listening, I love learning. The sky's the limit because I'm going to soak everything in."
Wareham Has Been a Gateway to the NFL
Onujiogu becomes the latest former Viking to get a shot at the NFL, and the third in the past 25 years. Stephen Cooper, who quarterbacked the 1995 Vikings to an undefeated season and a Super Bowl championship, went on to play nine seasons with the San Diego Chargers.
Lineman Shea Allard, who brought the Vikings to the state finals in 2006, went undrafted in 2012 but later signed with the Green Bay Packers, although he never played in an NFL game.
Future Detroit Lions coach Wayne Fontes was Wareham's first football player to make the NFL, playing in nine games as a defensive back for the 1962 New York Titans (now the Jets).
Dan Nault coached Wareham for just about two decades, helping Cooper, Allard and now Onujiogu make the league.
"He put the time in," Nault said of Onujiogu. "It took him a little bit of time to get through it, but he really stuck to his guns."
Nault said Onujiogu was always willing to put in the work to get better, and do whatever the team needed him to do.
"He's always been a kid that plays special teams, that kind of thing. He would do whatever you ask, and do it full speed," Nault said. "He really got into conditioning. He worked out with us, and then he went to CrossFit after that. He was willing to do the work."
"I'd like to see him make it in the NFL," Nault said. "I wouldn't root against him."
Onujiogu's Journey Is Only Just Beginning
Getting the call from the Seahawks felt like the culmination of one dream coming true, but also the start of something new and exciting that has Onujiogu ready to face challenges like he's never seen before.
"It felt awesome. It felt like the hard work is finally paying off, but I'm still not at the final destination where I want to be," he said. "So I will just keep working, keep my head down, and let the agents do the business work."
Onujiogu said his next immediate goal is making the 53-man roster.
"I understand the position that I'm in now. I'm like a freshman in college again, with a blank slate, trying to write my new story," he said.
He will leave Thursday for Seattle and finally get the chance to get back to football.
"That's what I've been waiting for," he said. "I'm tired of all the testing, the interviews, the business work. I can finally just get back on the field."
TACKLE THESE: Check Out the Best Uniforms In Each NFL Team's History
30 famous people you might not know were college athletes
Stacker
dug deep to find 30 celebrities who were previously college athletes. There are musicians, politicians, actors, writers, and reality TV stars. For some, an athletic career was a real, promising possibility that ultimately faded away due to injury or an alternate calling. Others scrapped their way onto a team and simply played for fun and the love of the sport. Read on to find out if your favorite actor, singer, or politician once sported a university jersey.
More From WBSM-AM/AM 1420