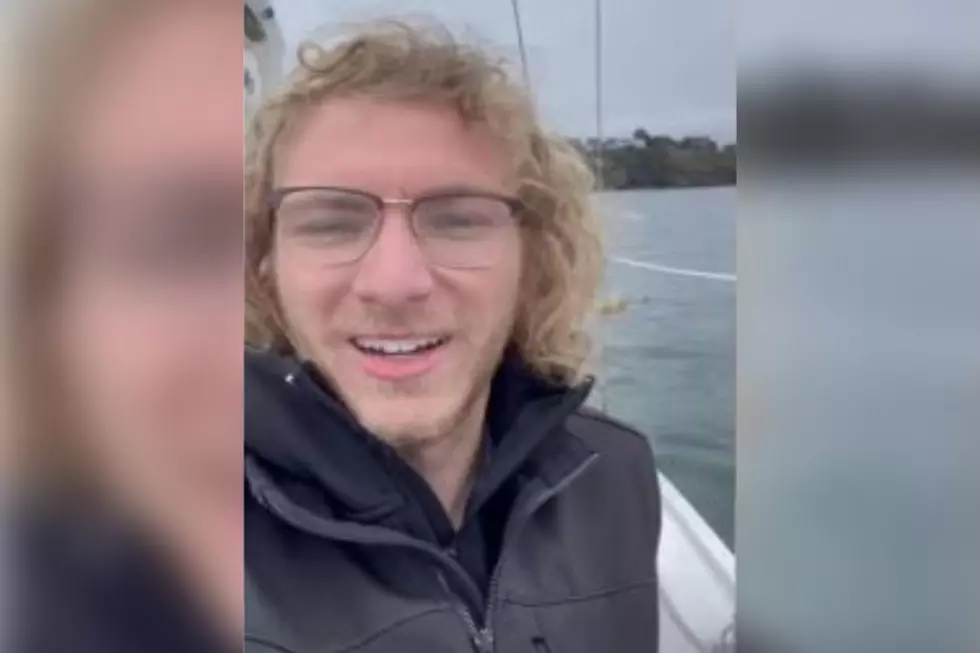 Last Video From Missing Sailor Taken at Cape Cod Canal
Courtesy U.S. Coast Guard/Twitter
SANDWICH — The most recent YouTube video posted by a 22-year-old sailor who went missing last week shows him anchored off the Cape Cod Canal near Sandwich on Sept. 25.
Matthew Dennis was documenting his solo voyage from Massachusetts to Florida when he stopped posting to his social media channels late last month.
The U.S. Coast Guard is asking for the public's help in finding Dennis, posting on Twitter Friday evening that he was last heard from on Sept. 29 off the coast of Long Island, New York.
According to the Coast Guard, Dennis left Salem, MA on Sept. 22 heading towards Florida.
He was sailing solo in a white, 28-foot fiberglass boat.
Anyone with any information on Dennis or his boat is asked to contact the Coast Guard at 617-223-8555.
In the last video posted to his YouTube channel, Dennis says he is anchored off Sandwich near the entrance to the Cape Cod Canal, which he planned to pass through.
"I couldn't see anything last night, it was terrifying," he says in the video, describing how waves from former Hurricane Fiona were rocking the boat but adding that he was in high spirits.
"I feel fantastic," Dennis notes.
"I'm really excited to get out of this bay," he adds. "I'm happy to be here, I'm happy to go through this canal and get the heck out of here."
Dennis likely went through Buzzards Bay at the other end of the canal before ending up off the coast of Long Island, where the Coast Guard says he last made contact on Thursday, Sept. 29.
Just one day later, Hurricane Ian hit South Carolina after devastating Florida.
The 22-year-old mentions the upcoming storm in his most recent video.
"I can't go too fast because it is still hurricane season," he says. "So I kind of gotta be careful. There's actually another one coming up."
"I'm supposed to hit it probably Wednesday to Friday this week, depending on my progress," he adds.
"But I'll have to find a good place to just kind of anchor out so I'm not messing around with forty foot waves and hurricane fifty knot winds."
Dennis also talks about the wrist he believes he sprained recently, but ends the video on a high note, closing his eyes and enjoying the sunshine: "Beautiful."
Watch the video:
WBSM's Top SouthCoast Stories 9/26 - 10/2
More From WBSM-AM/AM 1420