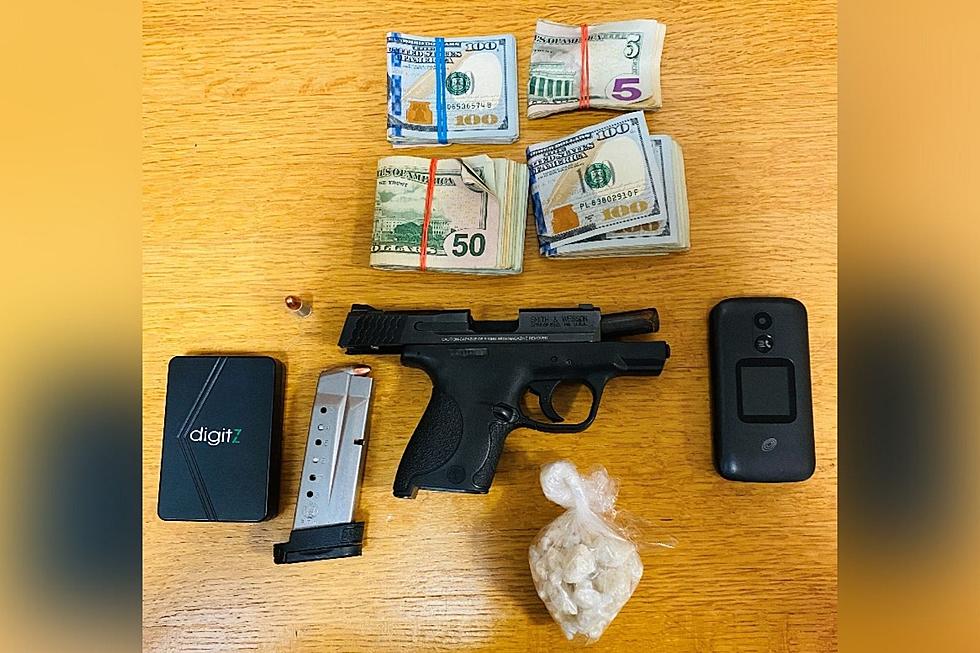 Two Arrested in Dartmouth After Route 6 Drug Deal
Massachusetts State Police
DARTMOUTH — A Taunton man and a Fall River woman were arrested in Dartmouth on Monday night on drug trafficking charges following a struggle and chase near a Route 6 hotel.
State police said troopers saw what appeared to be a drug deal from a Ford Escape in the hotel parking lot at around 11 p.m. Monday.
After police stopped the SUV, troopers said the pair in the vehicle became agitated.
When troopers tried to arrest 36-year-old driver Guillermo Santana of Taunton for a suspended license, he allegedly struggled.
Troopers attempted to stop him with a Taser but Santana allegedly ripped out the single probe and fled on foot.
When a trooper deployed a Taser again, Santana allegedly pulled a fully loaded 9mm Smith & Wesson handgun from his pocket and dropped it.
He does not have a firearms license.
A search of the vehicle revealed 36 grams of crack cocaine and a large amount of cash, according to police.
Santana was arrested and charged with 13 offenses including crack cocaine trafficking, possession of fentanyl, assault and battery on a police officer, resisting arrest, disturbing the peace, and multiple firearms and motor vehicle charges.
His passenger, 31-year-old Vanessa Bruno of Fall River, was arrested and charged with crack cocaine trafficking and fentanyl possession as well as interfering with a police official.
Both Santana and Bruno were evaluated by Dartmouth EMS after complaining of panic attacks and trouble breathing.
Three state troopers were also treated for minor injuries resulting from the struggle, police said.
Santana was ordered held pending a dangerousness hearing.
The Ultimate A-Z Apple Picking Guide for Massachusetts and Rhode Island
Apple picking is classic fall family fun and there are lots of farms to visit across Massachusetts and Rhode Island. So whether you want a road trip or to just stay close to home, here are all the apple orchards you can pick from this season. Just click on each one to find out more.
19 Festive Corn Mazes in RI, Mass. to Weave Through This Fall
Do you love slipping on your rain boots, getting hopelessly lost in a maze full of corn, and celebrating your successful exit with a warm cup of apple cider? Well seat your butt on a bail of hay and get ready because you're in for quite the treat. 2021 has been a tumultuous year for farmers so far, and although some farms aren't opening their corn mazes this year thanks to the immense amount of rain Mother Nature brought us this summer, there are still some great mazes prepping the corn for the big debut.
More From WBSM-AM/AM 1420