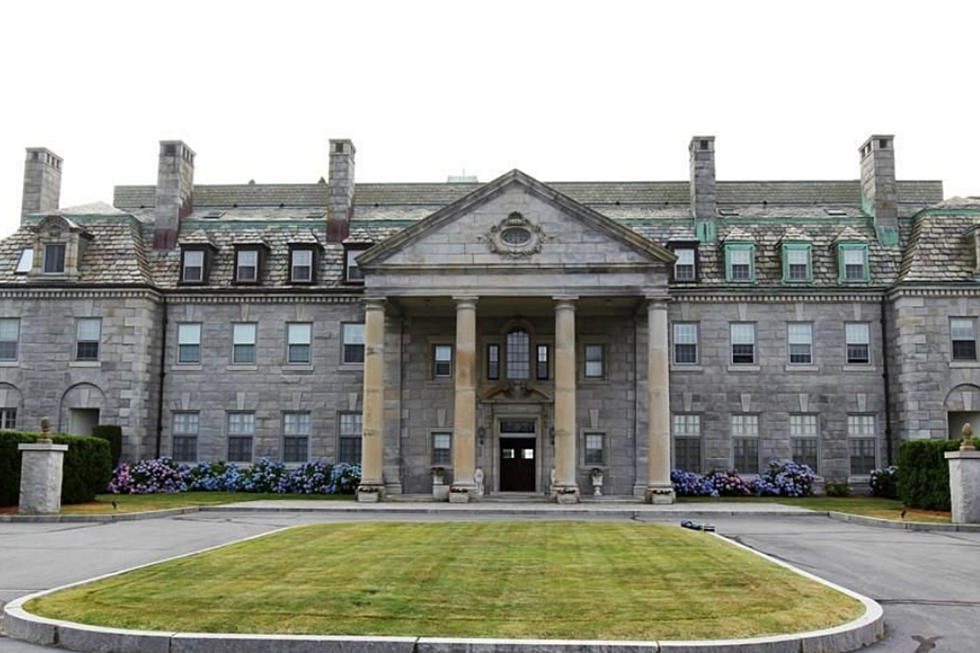 The Weird Paranormal History of Dartmouth's Round Hill
Patricia Cerreto, Morris Real Estate via Trulia
Dartmouth's Round Hill is a beautiful neighborhood, known for its popular beach and picturesque views. But did you know it has also long been a hot spot for paranormal activity?
Most who know SouthCoast history are familiar with Hetty Green, the so-called "Witch of Wall Street" who was the first woman to rule the American financial world. Her wealth in modern dollars would make her the wealthiest woman in U.S. history, yet she is in the Guinness Book of World Records as the "World's Greatest Miser."
When she died in 1916, her son Edward Howland Robinson Green inherited half of her $200 million fortune and freely spent her money, much to the benefit of the town and of science.
Green purchased Round Hill and erected a mansion that still stands today.
Known as Colonel Green's Mansion—even though "Ned" Green had no military rank—it is now high-end condominiums in a private, gated community.
Colonel Green and Dartmouth's Round Hill
During Ned Green's time there, he allowed the Massachusetts Institute of Technology to conduct experiments such as atom-smashing at his mansion, and he also built his own radio station, WMAF, on the property and allowed MIT the use of his radio transmitters.
MIT used the equipment to track polar expeditions and trans-Atlantic zeppelin flights, while Green spent his time amassing one of the greatest stamp and coin collections of anyone at the time.
The Charles W. Morgan and Its Ghost Once Resided at Dartmouth's Round Hill
Ned Green also owned the whaling ship Charles W. Morgan and had it put on display at Round Hill, a nod to his family's roots in whaling. After Ned's death, the Morgan fell into great disrepair and was eventually repaired and docked in Mystic, Connecticut, where it is allegedly haunted by the spirit of one of its former crewmembers.
In 1933, Ned allowed physicist Robert J. Van de Graaff to conduct cutting-edge electrical experiments at Round Hill. As part of those experiments, he built the forty-foot-tall Van de Graaff generator that is still on display at the Museum of Science in Boston. Ever seen the Museum's Lightning Show? That's the very same generator that once stood at Round Hill.
Green died in 1936, and, in 1948, his family donated Round Hill to MIT for continued experimentation and defense use. MIT eventually sold it off, but not before constructing a giant radio telescope on the property. The "martini glass," as some called it, stood until it was demolished in 2007 to make room for new construction.
UFOs Come to Dartmouth's Round Hill
That radio telescope, combined with the electrical experimentation at Round Hill, frequently drew UFOs to the site. They have been reported in the area going back into the 1930s, even before the real "flying saucer" buzz of the late 1940s through the 1950s.
Multiple "flaps" of UFO sightings have been reported at Round Hill in the ensuing decades; one belief is that the particle collider that was once housed there as an experiment actually proved to be successful, drawing the watchful eye of an alien race that is trying to keep us from discovering technology that could lead to our own undoing.
Even today, Round Hill Beach has a slight nod to the area's alien history:
Why Might Dartmouth's Round Hill Be Haunted?
All that electrical equipment and experimentation could also be responsible for the ghosts that allegedly roam the halls of Colonel Green's Mansion. But it seems to also be powering up sightings of phantom ships seen floating in the waters of Buzzards Bay, just off the shores of the property. Ghosts are known to be powered by the electromagnetic field; it's no surprise that increased EMF around Round Hill would feed into the spectral energy and allow for spirits to be seen more easily.
Is there any truth, or proof, that any of this is actually happening at Round Hill? Outside of a few reported sightings of mysterious lights or craft in the sky, no. But the secretive and eccentric "Colonel" Green sure did create a mythology around himself that makes even the unbelievable seem possible.
Oh, and if you have an extra $750,000 to spend on a condo, you can actually live in what is now know as the Mansion at Round Hill. Maybe you'd be willing to let me stay for the night and do some ghost hunting?
LOOK UP: Recent UFO Sightings on the SouthCoast
There are frequently things that can't be explained in the skies above the SouthCoast. The
National UFO Reporting Center
keeps a database of all of the reports of unidentified flying objects that are submitted by those who see them, and you can see just how often they appear right above our own heads.
13 New Bedford Ghost Real-Life Stories
Paranormal Activity Reported in Massachusetts' Bridgewater Triangle
In his 1983 book Mysterious America, cryptozoologist Loren Coleman introduced a term he originally coined in the late 1970s – the Bridgewater Triangle – to describe an area with an abnormal level of paranormal activity and high strangeness in Southeastern Massachusetts. Over the years, the concept of the Triangle has expanded to include ghostly reports, UFO sightings, cryptid encounters, alien abductions and more across a wider swath of Southern New England.
More From WBSM-AM/AM 1420