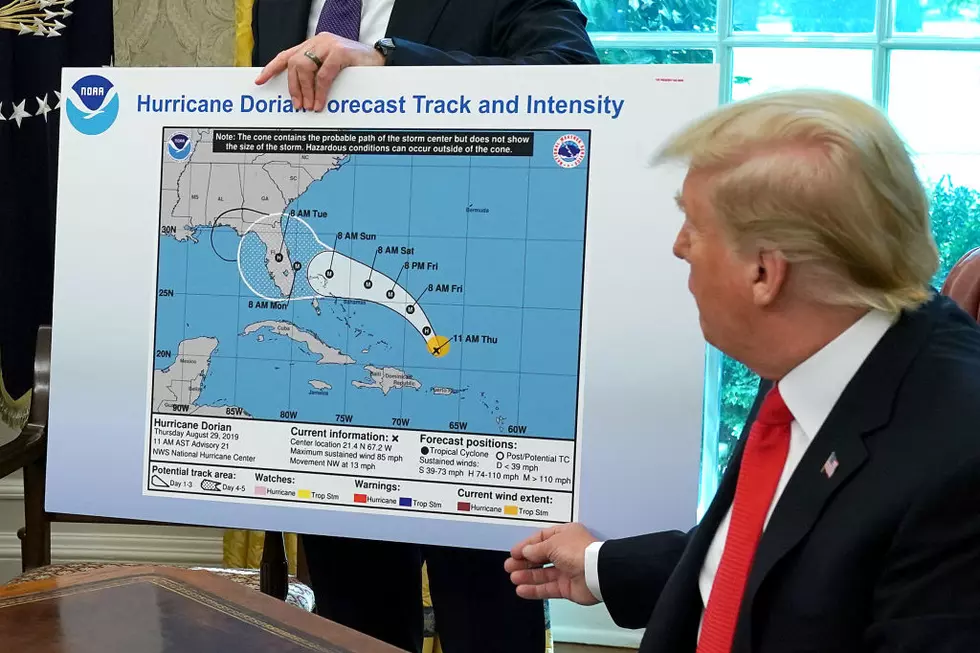 The Media's Trump Derangement Now Laughable [OPINION]
Getty Images
For the better part of the last several days, the media has been transfixed on remarks President Trump made last Friday about Hurricane Dorian. And it is hilarious!
Last week when the models were indicating that Florida would suffer a direct hit from this catastrophic, monstrous hurricane, Trump suggested that Alabama and Georgia faced a potential risk from the storm as well. Logic and a few spaghetti models might lead one to believe that Trump was right to be concerned. Trump's Friday message was about taking the storm seriously but the media focused on Alabama. Trump lied.
Of course, the media blames Trump for the hurricanes anyway since he doesn't buy into the phony global warming political sham.
The Washington Post, Shep Smith, and CNN all went nuts. Trump lied about Alabama and then used a doctored weather map to cover his lies. Why, he even used a sharpie to make it appear as though Alabama had been in danger in the first place!
While Alabama was not expected to receive a direct hit from Dorian, the Yellowhammer State was certainly and clearly in the storm's path as indicated by the cone released by the National Hurricane Center on Friday.
The media owes Trump an apology. Another apology.
What is amazing about all of this is that the media wasted so much time and energy on something so stupid as this. For what? Perhaps it was to draw attention away from the fact that all of the news outlets blew it in terms of their hurricane forecasts. Not one of them called it correctly and that resulted in millions of wasted dollars being spent by communities who were told to expect a direct hit from Dorian that never came.
Barry Richard is the host of The Barry Richard Show on 1420 WBSM New Bedford. He can be heard weekdays from noon to 3 p.m. Contact him at barry@wbsm.com and follow him on Twitter @BarryJRichard58. The opinions expressed in this commentary are solely those of the author.
More From WBSM-AM/AM 1420