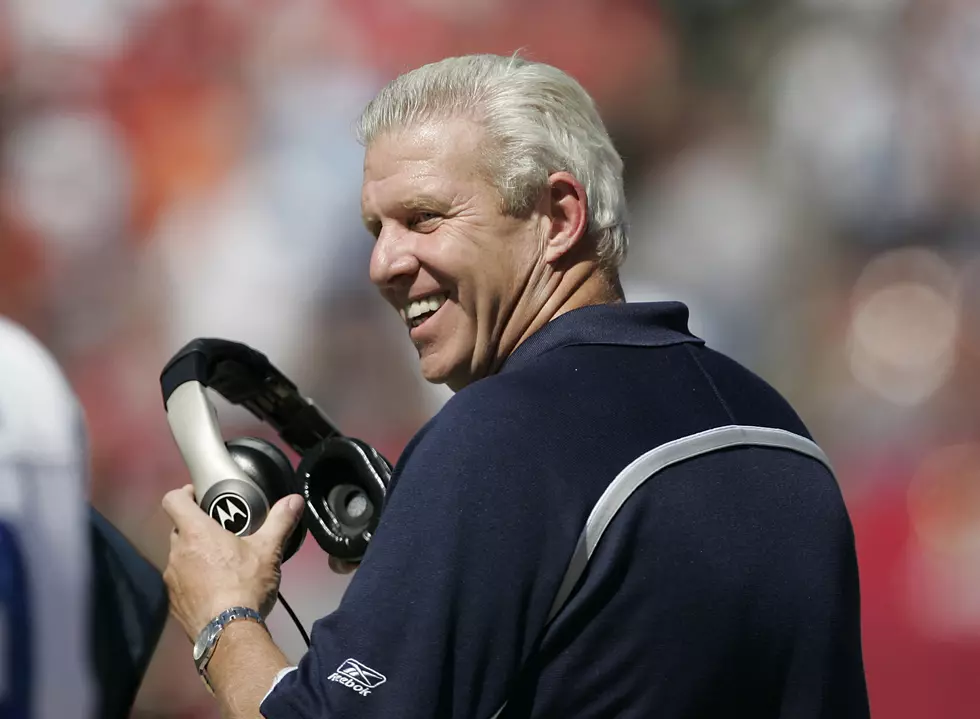 Thank You, Bill Parcells, for Driving Belichick to New England [OPINION]
Getty Images
For decades, New England sports fans have had to listen to the chastising from the New Yorkers. The worst trade in team sports history took place way back in 1918, but the sting had still been felt until 2004.
Babe Ruth was traded to the New York Yankees in exchange for cash and the Curse of the Bambino haunted from Hartford, Connecticut to Caribou, Maine for 86 years.
While the curse was lifted in 2004, New England may have eclipsed that awful trade back on January 27, 2000 when the New England Patriots were forced to trade their first-round choice to the New York Jets in exchange for hiring Coach Bill Belichick, who quit after being announced as the Jets new head coach just one day prior.
The Jets rightfully pointed out that Belichick was still under contract with them and Patriots owner Robert Kraft decided not to fight to keep it and instead agreed with NFL Commissioner Paul Tagliabue's solution.
While the Yankees went on to enjoy the exchange of power from Red Sox to them for many years, Babe Ruth helped to win but four World Series (1923, 1927, 1928 and 1932).
While the Jets got a fine player in defensive end Shaun Ellis, the New England Patriots have now won six Super Bowl rings (2001, 2003, 2004, 2014, 2016 and 2018) under Coach Belichick–so far.
None of this happens if Coach Bill Parcells didn't go back on his word. Parcells convinced his super-talented defensive coordinator Belichick that he was leaving the Jets organization and that Belichick would have full control of football operations.
This enraged the overly-patient Belichick, who quit as soon as he found out that he would not be fully in charge of the Jets, as he'd learned that Parcells had hidden a desire to remain in the fold and had every intention to choose the players on Draft Day, among other important team decisions.
That and the Jets' unstable ownership situation was enough for Belichick to head four hours north on Route I-95 to the welcoming arms of Kraft and the New England Patriots.
Parcells was a very good coach. I'd say he was the best at finding talented coaches for his teams that I've ever seen. The Parcells "tree" in the NFL is impressive: Belichick, Tom Coughlin, Sean Payton, Tony Sparano, among others. Clearly, the student has surpassed the master when one looks at Belichick's and Parcells' careers.
Parcells gave the Patriots our first real swagger as a team to be respected. He took it away in a less-than-admirable fashion, talking with the Jets behind the 1996 Super Bowl-bound Patriots' backs, abandoning the team right after the game and signing with their rivals.
For a guy who teaches his players and anyone listening that it's "all about team-team-team," Parcells sure seemed to be all about Parcells at that point.
In the end, his arrogance gave us more than he, the coach, ever could.
Cheers, Bill. Both Bills.
Ken Pittman is the host of The Ken Pittman Show on 1420 WBSM New Bedford. He can be heard Saturdays from 9 a.m. to noon. Contact him at ken.pittman@townsquaremedia.com. The opinions expressed in this commentary are solely those of the author. 
More From WBSM-AM/AM 1420