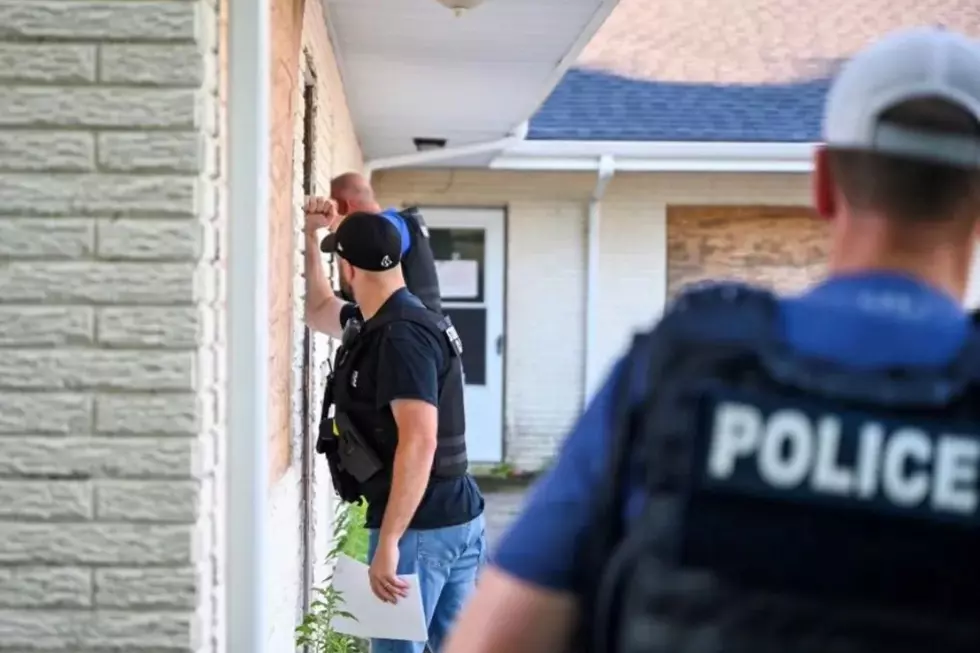 Ten Arrested In Massive Southeastern Massachusetts Drug Bust
Courtesy Massachusetts State Police
FALL RIVER — Ten people have been arrested on suspicion of fentanyl trafficking after they were caught allegedly dealing nearly 15 kilograms of opioids all over southeastern Massachusetts from a base in Fall River.
The suspects allegedly ran a massive drug trafficking operation that distributed fentanyl along the SouthCoast from Rhode Island to Cape Cod — sometimes even passing drugs in cereal boxes outside supermarkets, according to the U.S. Attorney's Office.
Authorities arrested the ten suspects on Tuesday in a large-scale drug bust, seizing 14.9 kilograms of suspected fentanyl and "substantial amounts" of cash from target locations, the office stated.
The U.S. Attorney's Office stated in a release that authorities began investigating the organization — allegedly led by 36-year-old Providence man Estarlin Ortiz-Alcantara — in March 2021.
Intercepted cell phone communications identified four of the suspects as organization members who allegedly worked with Ortiz-Alcantara to deal multiple kilograms of fentanyl across the region from a stash house in Fall River.
These suspected organization members include Mario Rafael Dominguez-Ortiz, Yeury Francisco Garcia-Rodriguez, Rafael Cesar Cabreja Jimenez and Alfredo Rodriguez.
Court documents describe two of the suspects, Cabreja Jimenez and Rodriguez, barricading themselves in a back bedroom of the stash house on Tuesday morning when law enforcement arrived, according to the office.
Several of the suspects arrested are charged with being regular customers of the organization who then allegedly redistributed fentanyl to their own customer bases in New Bedford and Cape Cod.
These allegedly include Rebecca Bartholomew, Edwin Collazo, Jason Cruz, Michael Pacheco and Jose Santiago.
Organization members allegedly conducted drug deals with these suspected regular customers in public areas, including in a store diaper aisle and supermarket parking lots, according to the office.
Drugs were also allegedly hidden in cereal boxes and exchanged with customers while accompanied by a child on at least one occasion, the office stated.
Three New Bedford men are among the ten suspects arrested on Tuesday.
All of the following suspects were arrested and charged with conspiracy to distribute controlled substances.
The five suspects accused of participating as active drug trafficking organization members are:
Estarlin Ortiz-Alcantara, 36, of Providence, R.I.
Mario Rafael Dominguez-Ortiz, 24, of Cranston, R.I.
Yeury Francisco Garcia-Rodriguez, a/k/a "Benjamin Osorio Pizarro," 32, of Providence, R.I.
Rafael Cesar Cabreja Jimenez
Alfredo Rodriguez
The five people suspected of being regular customers and drug redistributors are:
Rebecca Bartholomew, 36, of Yarmouth
Jose Santiago, 45, of New Bedford
Edwin Collazo, 26, of New Bedford
Jason Cruz, 41, of New Bedford
Michael Pacheco, 43, of Taunton
All of the defendants face sentences of up to 20 years in prison, at least three years and up to a lifetime of supervised release, and a $1 million fine.
"Today's coordinated law enforcement operation disrupted an organization we believe served as a hub for the distribution of illegal and deadly narcotics in Southeastern Massachusetts and into Rhode Island," said U.S. Attorney Rachael Rollins.
"The opioid crisis has resulted in far too much harm and far too many deaths in our Commonwealth," she added. "My office will not relent in pursuing those who make a living off pumping poisonous fentanyl into our communities — violators will be identified, prosecuted, incarcerated and put out of business."
"Opioid abuse is at epidemic levels in New England," Special Agent in Charge of the Drug Enforcement Administration's New England Field Division Brian Boyle commented.
"Illegal drug distribution ravages the very foundations of our families and communities here in Massachusetts and Rhode Island. Let these arrests serve as an example to those who distribute poisons like fentanyl."
Parents Should Familiarize Themselves with These Illegal Drugs
Knowledge is power, especially when it comes to recognizing and understanding when your child becomes involved with illegal drugs.
How Many in America: From Guns to Ghost Towns
Can you take a guess as to how many public schools are in the U.S.? Do you have any clue as to how many billionaires might be residing there? Read on to find out—and learn a thing or two about each of these selection's cultural significance and legacy along the way.
More From WBSM-AM/AM 1420