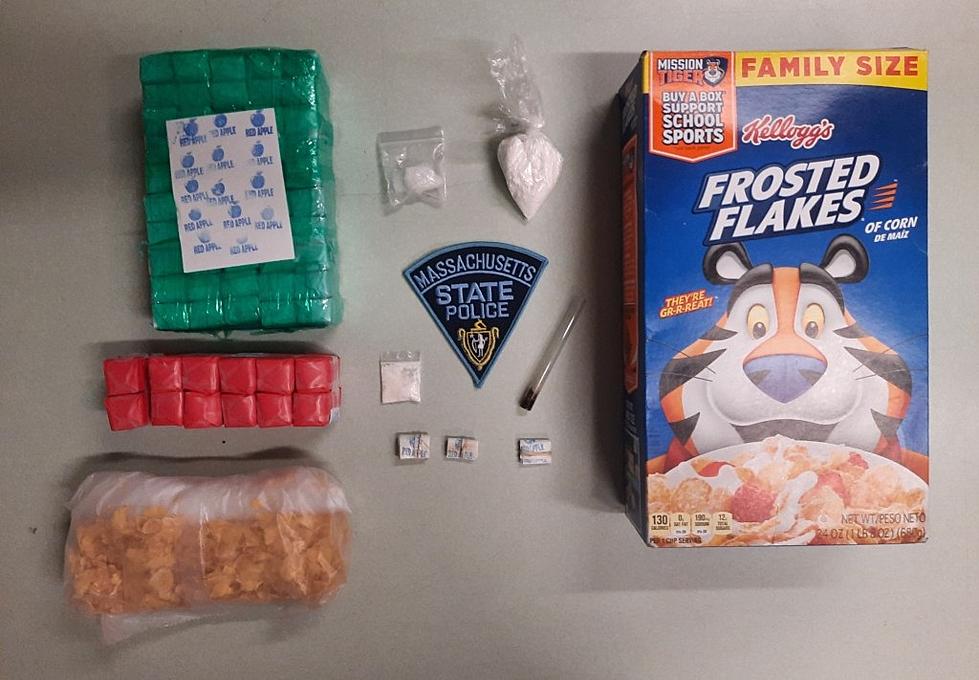 State Police Find 3,100 Bags of Heroin in Cereal Box
Courtesy Massachusetts State Police
SHELBURNE FALLS — State Police arrested two Vermont men after stopping them for a handwritten license plate and finding over 3,000 bags of heroin hidden in a cereal box inside the vehicle.
According to a statement from Massachusetts State Police, Trooper Scott Boutell saw a black Subaru Forrester with auxiliary lights and an illegible handwritten temporary license plate near the Shelburne Falls State Police barracks just before 12:30 a.m. on July 16.
After pulling the vehicle over, the driver gave Boutell an expired Vermont license identifying him as 31-year-old Justin Butchino of Springfield, VT.
Butchino told the trooper that the vehicle was properly registered but could not provide documents proving it, state police said.
Butchino's passenger was identified as 36-year-old Justin Gilliam, also of Springfield, VT.
Boutell was not able to verify the vehicle's registration and discovered that Butchino's license was not only expired, but also suspended.
With Trooper Brian Vaidulas as backup, Boutell arrested Butchino.
The troopers said they found a bundle of suspected heroin in his right pants pocket following a search.
Troopers then searched Gilliam and said he had a bag of suspected crystal methamphetamine in his left pants pocket.
Gilliam was also arrested.
Police said a subsequent search of the black Subaru revealed a cereal box containing 3,100 bags of heroin and a plastic baggie of crack cocaine as well as a used syringe in the passenger door pocket, a box cutter, a purse containing two bundles of heroin, a small white baggie containing suspected fentanyl, and a glass pipe.
Butchino is charged with heroin, fentanyl, and cocaine trafficking as well as heroin possession, conspiracy to violate drugs laws, unlicensed operation of a motor vehicle, and misuse of auxiliary lights.
Gilliam is charged with heroin, fentanyl, and cocaine trafficking, conspiracy to violate drugs laws, and possession of crystal methamphetamine.
The Best Action Movie Posters in History
10 Sequels That Are Better Than The Original
While it's not easy for a sequel to surpass the original film in terms of quality, it does happen every once in a while. Here are 10 sequel films that are better than their predecessors.
More From WBSM-AM/AM 1420