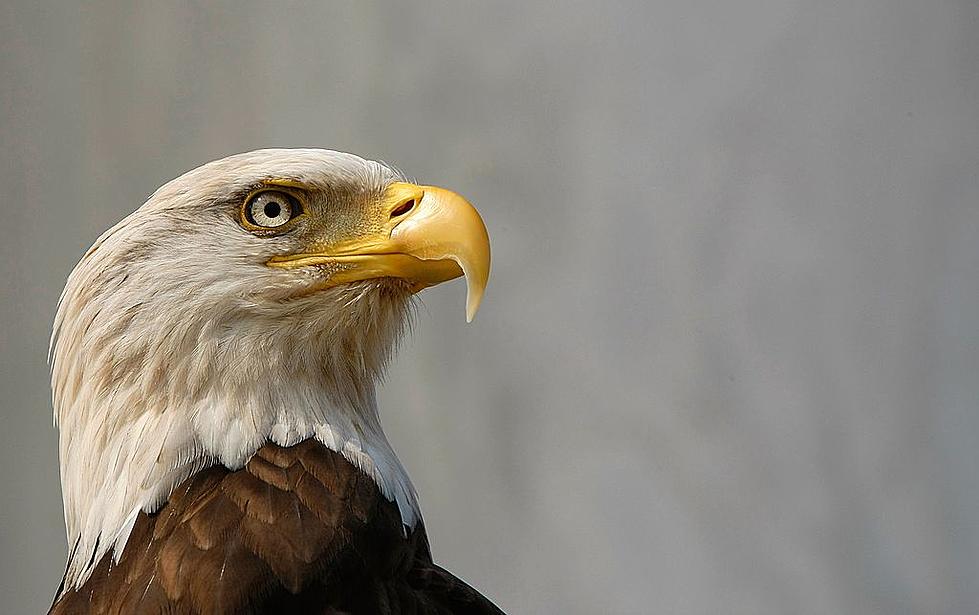 Where to Find Bald Eagles on the SouthCoast
Getty Images
Bald eagles are the largest birds of prey in Massachusetts, averaging 8 to 15 pounds. Bald eagles are three feet long with wingspans that stretch up to seven feet. 
Bald eagles are found from Alaska and Canada south throughout the United States to Florida and Baja California. 
According to the Massachusetts Division of Fisheries and Wildlife, "Bald eagles usually live in coastal areas, estuaries, and larger inland waters." The birds "require a great amount of shoreline habitat containing stands of forests for nesting and tress projecting above the forest canopy for perching with an unimpeded view."
"Fish – both from freshwater and saltwater –  is the main food for bald eagles," says MassWildlife. An occasional duck, turtle or mammal carcass or two will also do. 
Protected by law, the bald eagle's status in Massachusetts is listed as "Special Concern." There is no federal status for the bald eagle at this time.
Adult bald eagles have brown bodies and white-colored heads and tails. Their eyes are pale yellow, and their beaks and feet are bright yellow. Bald eagles "fly with heavy, deep strokes and soar on flattened wings."
According to the Buzzards Bay Coalition, "Eagles live in Massachusetts year-round." 
The Coalition says, "In the Buzzards Bay region, bald eagle nests are located at Assawompset Pond in Lakeville, Watuppa Pond in Fall River, and Halfway Pond in Plymouth." They are also frequently spotted in the New Bedford area.
Bald eagles are known to frequent the following areas in the region:
Southeastern Massachusetts Bioreserve – Part of Fall River's Watuppa Reservation.

Westport Town Farm – On the Upper East Branch of the Westport River near Hix Bridge Landing

Betty's Neck – Part of the Assawompset Pond Complex in Lakeville

The Acushnet River – New Bedford, Acushnet, and Fairhaven report bald eagle sightings. Look at The Sawmill and River's End Park

The Bogs (Mattapoisett) – Scattered freshwater wetlands and the nearby Mattapoisett River

Brandt Island Cove District – Mattapoisett

Myles Standish State Forest – Carver/Plymouth

Halfway Pond Conservation Area – Plymouth

Cape Cod Canal – Bourne

Great Sippewissett Marsh & Black Beach – Falmouth
The bald eagle has been the national bird of the United States since 1782.
WATCH OUT: These are the deadliest animals in the world
States with the most registered hunters
Stacker
analyzed data from the U.S. Fish and Wildlife Service to determine which states have the most registered hunters. Read on to see how your state ranks on Stacker's list.
More From WBSM-AM/AM 1420