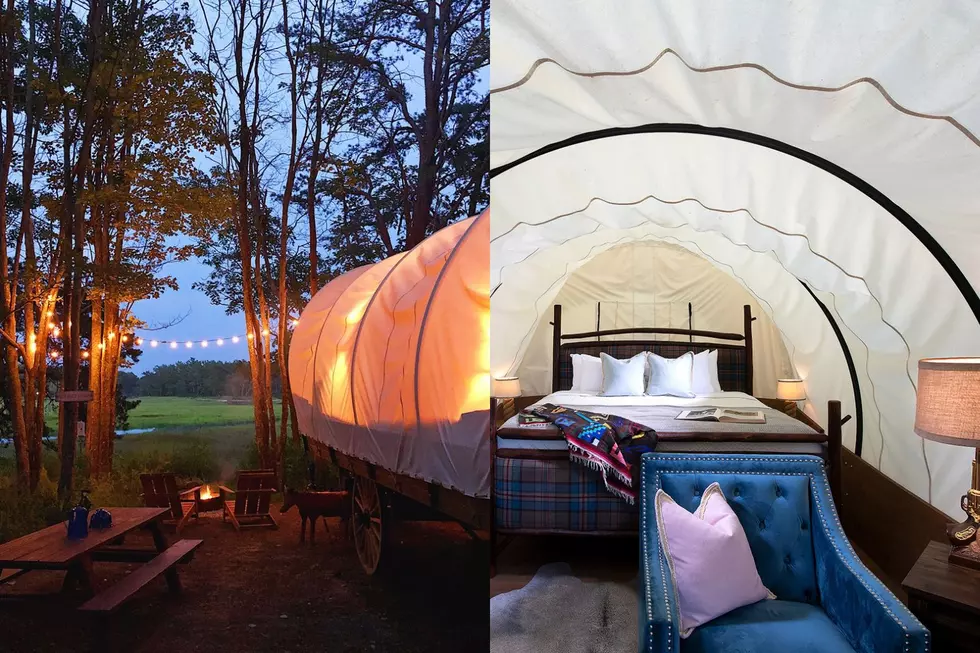 Sleep In a Covered Wagon at this Luxurious Maine Campground
Howie Guja/Douglas Merriam
Sandy Pines Campground in Maine has the perfect experience if you are looking for something different and it's giving me Oregon Trail vibes.
Maybe I don't know too much about the real Oregon Trail but I do recall playing The Oregon Trail game back when it was on a DOS computer and a floppy disk. Believe it or not, the game has been around since 1971.
While I can assure you your stay in this getaway will be nothing like the rigorous journey those took along the Oregon Trail, I couldn't help but think of the wagons from the computer game and how much the Conestoga wagons at Sandy Pines in Kennebunkport resemble them.
Just take a look at the wagon from the outside. You can't say it doesn't look familiar.
This place looks so relaxing. Perfect for a couples' getaway, maybe?
Now you might be thinking, "Staying in a wagon? Really?"
Don't worry. We have a picture of what it looks like on the inside and think you will be highly impressed.
Yeah, pretty sure this takes glamping to a whole new level.
After checking out Sandy Pines Campground website, I'm totally impressed. They have so many really unique options and it's really reasonably priced.
It's not too early to start planning some fun experiences for spring and summer that don't require you to hop on a plane. This place looks so worth the road trip.
Oh, and while I mentioned it's giving me Oregon Trail vibes, I can guarantee there is no dysentery, smallpox, or measles that come with this experience.
These Overnight Stays in Connecticut Are Awesome, Too
Any tiny home you can imagine has likely been built at
Winvian Farms
in Connecticut's Litchfield Hills. With over a dozen cottages for rent among Connecticut woodlands and meadows, this retreat offers a unique stay for every taste. Take a look inside these luxury accommodations and see if you could choose just one.
Tour This Tiverton Tent for Rent and Cross Camping off Your Summer Bucket List
Escape from reality and live off the grid for a night or two in this rugged Tiverton tent on top of a hill, peacefully surrounded by Christmas trees.
More From WBSM-AM/AM 1420