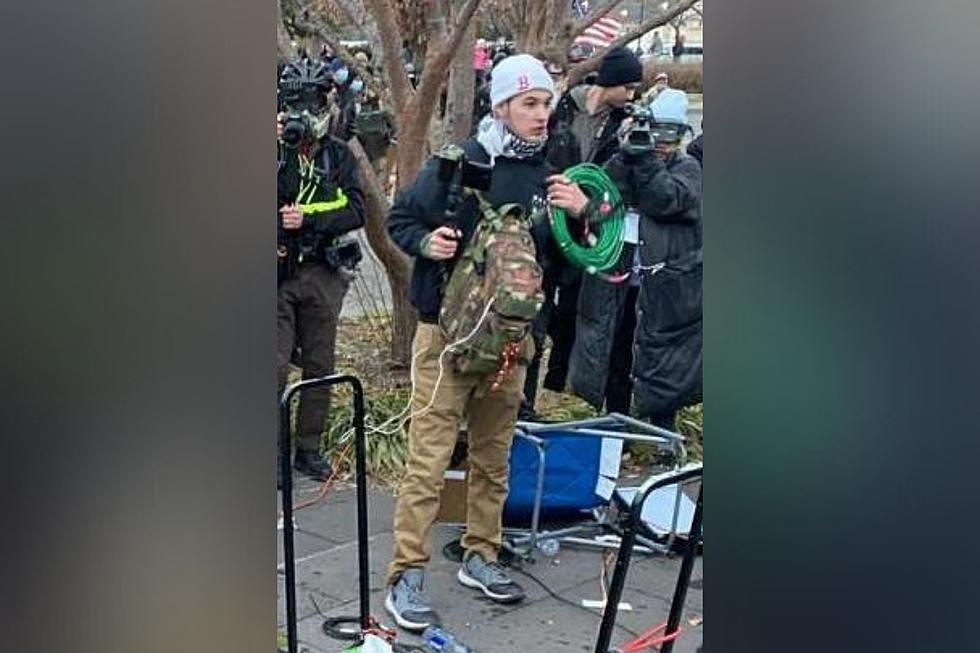 Seekonk Man Arrested for Role in Capitol Riot
The suspect in the Capitol Riot on Jan. 6. Courtesy FBI Boston Divison
SEEKONK — A Seekonk man has been arrested in connection with the Jan. 6 riots at the U.S. Capitol, one of two Massachusetts residents charged by the FBI's Boston Division yesterday.
The division's Joint Terrorism Task Force arrested Chase Kevin Allen of Seekonk, the agency announced Wednesday afternoon.
He has been charged with destruction or injury to buildings or property in special maritime and territorial jurisdiction, and acts of physical violence on grounds.
According to the criminal complaint, the FBI believes Allen to be a suspect captured in video footage and still images participating in the destruction of property belonging to media.
The incident took place at a media staging area on the northeast side of the U.S. Capitol at around 5 p.m. on Jan. 6, where rioters chased off media personnel and destroyed their equipment.
Video and images show the suspect wearing a white Red Sox beanie, a black and white herringbone scarf, and a camouflage backpack.
He can be seen stomping equipment, yelling at members of the media, and toppling a camera and tripod to the ground.
The complaint states that FBI investigators received tips that Allen, who runs a YouTube channel, could be the person in the photos and videos, and that both the channel and his personal Facebook page contain images of him wearing similar clothing near the U.S. Capitol on Jan. 6.
But Allen told investigators that he was there to document what was happening, did not participate in the destruction of equipment, and instead tried to deescalate the situation.
According to the complaint, Allen said he sometimes does things like yelling slogans to fit in with the crowd.
"I just went there to document, and one thing led to another, and the next thing you know, the FBI's at my door," Allen told WPRI News yesterday. "I was really surprised this morning."
He did not comment on whether he is the person in the videos.
Somerville resident Noah Bacon, 28, was also arrested Wednesday in connection to the riot.
He was charged with knowingly entering or remaining in any restricted building or grounds without lawful authority, entering or remaining in the gallery of either house of Congress, disorderly conduct in a Capitol Building, and obstruction of justice.
The arrests bring the total number of people arrested by the FBI Boston Division in connection with the riots at the U.S. Capitol to ten.
SouthCoast and Cape Cod Firework Locations 2021
If you're looking for a spot to check out an awesome fireworks display this Fourth of July weekend, we've put together a roundup of all the spots locally around the SouthCoast and Cape Cod where you can catch them.
These SouthCoast Dogs Really Know How to Beat the Heat
Temperatures soared across the SouthCoast but these dogs found plenty of ways to stay cool.
More From WBSM-AM/AM 1420