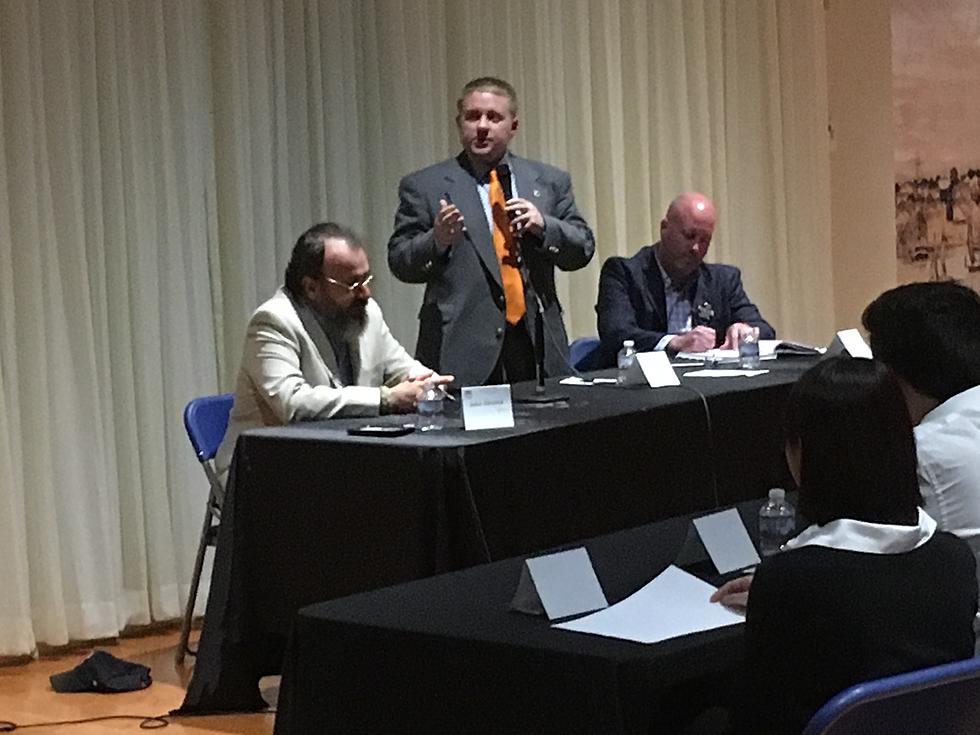 School Committee Candidates' Night Tuesday in New Bedford
Left to right: John Oliveira, Josh Amaral, Richard Porter III at a previous forum. Not pictured: Colleen Dawicki. Tim Dunn/Townsquare Media
NEW BEDFORD — The four candidates vying for three seats on the New Bedford School Committee in next month's municipal election are expected to take part Tuesday night in a Candidates' Debate.
Incumbent Josh Amaral, as well as John Oliveira, Richard Porter III and Colleen Dawicki will have the chance to answer questions and express their opinions on what they think should be the direction of the New Bedford school system. Amaral is seeking re-election, while the seats of outgoing committee members Dr. Lawrence Finnerty and Joaquim "Jack" Nobrega, who each decided not to run again, are also up for grabs.
The Candidates' Debate is planned for 6 p.m. Tuesday at the Whaling Museum, and is sponsored by the New Bedford Educators Association.
"Very often, teachers and educators are left out of the educational discussion, and teachers are the true educational experts and should never be left out of the discussion," said NBEA President Lou St. John. "I believe by having a debate sponsored by educators, that will lead to questions that truly concern the people that work for the New Bedford school department. By asking the experts to ask the questions, you get a better understanding from the candidates as to what's important for our school system and our students."
The NBEA is developing list of questions that will be asked by panelists Dr. Ricardo Rosa, Jose Soler, Chris Garcia and Doria Bryant.
"We also want the people in the audience to ask their own questions, so as people come in, we'll give each of them a little notecard to write their questions down," St. John said, stating they would then be given to moderator Chuck Lapre, Vice President of the NBEA. "The moderator will look at them, group them by topics and he'll choose several topics and questions from the audience."
But St. John has an idea of at least one issue he wants to see addressed by the candidates.
"One of the topics that gives me great concern is the turnover of staff in the school system," he said. "We've had a huge number of people leave, and anytime you have a large number of teachers leave a school system, I think it harms the system."
St. John said he thinks there are some good candidates for citizens to choose from on the November 7 ballot.
"I've spoken to the candidates for school committee, and each one seems like they have a lot to offer," St. John said. "This debate is going to give them an opportunity to express their point of view, and the voters of New Bedford can decided who they'd like to represent them on the School Committee."
More From WBSM-AM/AM 1420