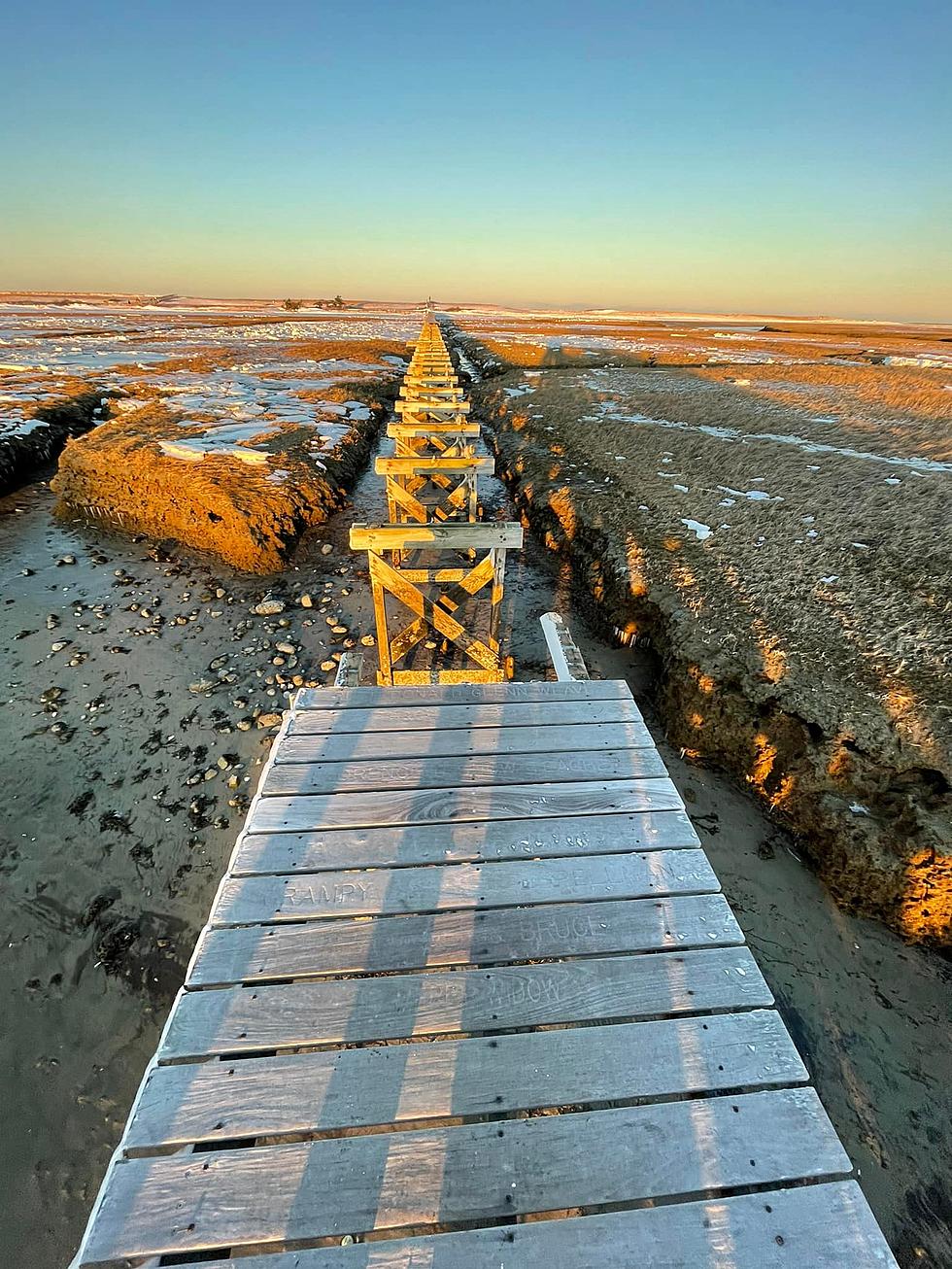 Iconic Sandwich Boardwalk Heavily Damaged in Weekend Storm
Mark Snyder/Sandwich News on Facebook
One of Cape Cod's most beloved boardwalks will never be the same after the blizzard of 2022. The piles of snow and driving winds effectively took out the iconic Sandwich boardwalk which had stood on the town's shore for nearly 150 years.
Sad but true, the boardwalk that has taken beachgoers from the village to Town Neck Beach since 1875 was basically wiped out by the storm and is un-walkable today.
Perhaps the most upsetting side to this story for locals is the fact that a Boardwalk Reconstruction project has been talked about in town for years and preliminary plans for a rebuild were just presented to town selectmen this past December.
Apparently, a debate about how high to make the boardwalk was discussed for years with many wanting to give the walkway extra height to prevent rising tides from doing exactly what this storm did.
Back in 1992, the boardwalk was reconstructed to combat tide and beach erosion issues. Unfortunately, that reconstruction turned out to be not quite enough and by 2018 a conditions report by the town found "the beams, posts, bracing and metal fasteners have exceeded their useful life. The Boardwalk is deteriorating rapidly and could/has quickly become a safety risk."
Though yearly repairs were being made to the boardwalk, this major winter storm proved too much for the structure to handle and massive sections of planks were washed away. It's truly a sad time for this legendary boardwalk that so many locals have spent time enjoying.
It's not all bad news, however. The boardwalk will be rebuilt again. Restorations were reportedly going to start in 2023, but perhaps now that timeline will be moved up.
Enjoy More Cape Cod History by Exploring the Abandoned North Truro Military Base
After closing in 1994, the North Truro Air Force Base has been left untouched. Decay, destruction and graffiti have taken over many of the buildings, but some family belongings can still be spotted. The area is now in the possession of the National Parks Service, and according to an update on
Atlas Obscura
from June 2021, the base had been fenced off and locked tight to visitors hoping to get a glimpse inside the historical Cape Cod site. Luckily,
YouTuber @Exploring With Josh
took viewers inside the base back in 2015, so we can still take a peek inside the long-abandoned property.
More From WBSM-AM/AM 1420