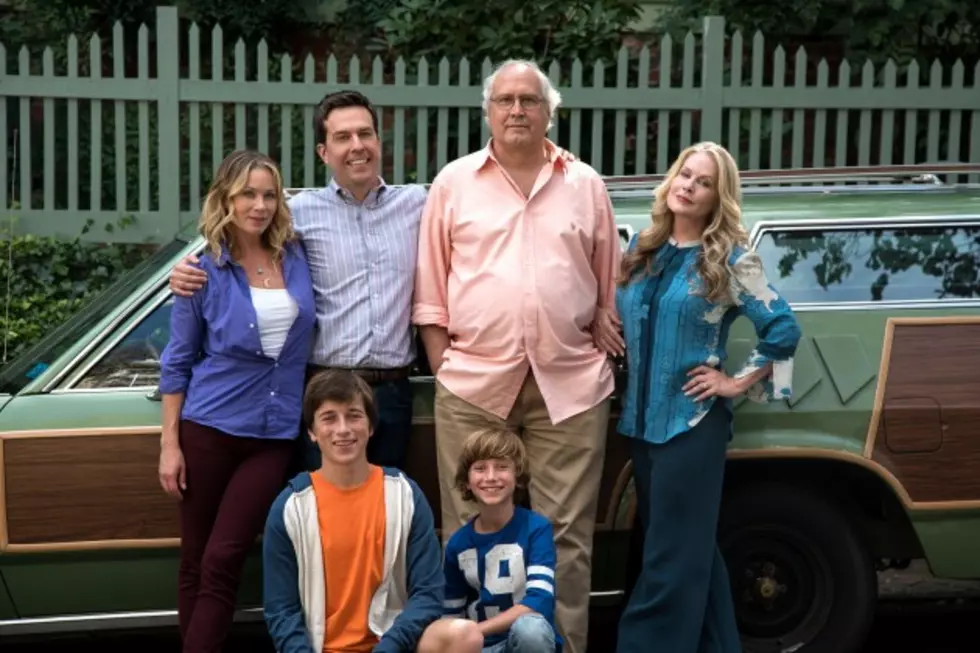 Ranking the 'Vacation' Movies
Photo by: Hopper Stone/Courtesy of Warner Bros. Entertainment
July 29 marks the release of the new Warner Bros. movie Vacation, which serves as a reboot of the National Lampoon film franchise that followed the adventures of the wacky Griswold family.
The reviews haven't been great, but that won't stop those of us who grew up as honorary Griswolds from checking out the new adventures of adult Rusty as he tries to take his family on a cross-country vacation to Walley World, in order to recapture the spirit of his original trek with dad Clark, mom Ellen and sister Audrey.
I know the first three Vacation movies (the original, European Vacation and Christmas Vacation) like the back of my hand, and I can still quote a lengthy amount of lines from Vegas Vacation as well.
So I think I'm more than qualified to rank the first four Vacation films (intentionally avoiding the horrid made-for-TV disaster that focused on Cousin Eddie) in order, from best to worst:
1

National Lampoon's Vacation

The one that started it all is hard to top. The basic premise is that family man Clark Griswold decides that, since the fast-paced business of food additives keeps him from spending enough time with his wife and two children, that he's going to spend his annual vacation not flying with them to Hawaii, but driving from Chicago to California to visit Walley World, America's favorite family fun park. Nothing goes according to plan, and hilarity ensues. From the obvious enduring gags to the sublimely understated cameos (including John Candy's forever memorable "Sorry folks, park's closed, the Moose out front should've told you."), this one is the quintessential 80s road movie and was a hit at the box office, grossing $61 million. Based on John Hughes' short story "Vacation '58" that told of his own family's trek to Disneyland, this film captured the essence of any family road trip and how quickly it can go all to hell. It also featured the catchy "Holiday Road" theme song from Lindsey Buckingham that became a staple of the series.

My favorite line: "I wonder if these guys know The Commodores"

2

National Lampoon's Christmas Vacation

Now some might argue with me that this is indeed the best of the bunch, and it's certainly a holiday classic that could very well stand alone from the rest of the franchise. Here, rather than go on a trip, the Griswolds decide to spend the Christmas holiday at home with extended family. What could go wrong with that plan? Clark's obsession with the perfect family holiday as well as waiting for his Christmas bonus--with which he plans to put in a swimming pool--leads to an intense amount of stress, which culminates after his bonus finally does arrive, and rather than a big, fat check, it's an enrollment in the Jelly of the Month Club. Fun Fact: Aunt Bethany is played by Mae Questel, who was the voice of both Betty Boop and Olive Oyl in 1930's Max Fleischer cartoons.

My favorite line: Eddie, after Clark is horrified at his bonus: "That's the gift that keeps on giving the whole year, Clark!"

3

National Lampoon's European Vacation

With the original being such a box office smash, it's no surprise that a sequel was released just two years later. The first two are the only films in the series to be rated "R," and this one takes full advantage of that rating. The Griswolds appear on the game show "Pig in a Poke" and win a two-week trek across the European continent, setting up countless fish-out-of-water and Ugly American gags. Fun Fact No. 1: When Anthony Michael Hall declined to reprise his role as Rusty from the first film, Chevy Chase suggested they recast both children for every subsequent film--allowing him to always make a joke about how he sees his kids so infrequently that he barely recognizes them. Fun Fact No. 2: This is the only film in the series in which "Griswold" is spelled "Griswald."

My favorite line: Clark to stewardess: "I'll take a Coke."

Stewardess: "Would you like that in the can?"

Clark: "No, I'll have it right here."

4

This 1997 film was the first not to come under the "National Lampoon" banner, and the first not to be penned by John Hughes. The Griswolds head to Las Vegas, where Clark gambles away all of the family's savings, Ellen gets too close for comfort with Wayne Newton, Audrey considers becoming a stripper and Rusty...well, Rusty becomes the legend that is Nick Pappagiorgio. Unfortunately, most of this film feels like Chevy Chase is mailing it in, although Randy Quaid's Cousin Eddie once again steals the show ("I haven't seen a beating like that since somebody stuck a banana in my pants and turned a monkey loose"). The highlight is when, after Clark gambles away $22,800 and is left penniless, Eddie digs up some money he has buried in coffee cans around his camper and takes Clark to his favorite casino, where they play games like "Pick a Number," "Coin Toss," "Rock, Scissors, Paper" and "Guess Which Hand."

My favorite line: "Eddie, I need to go to a place where a man can think." "Oh, I wouldn't do that here, Clark--the stalls are awfully dirty, and they're backed up all the time."