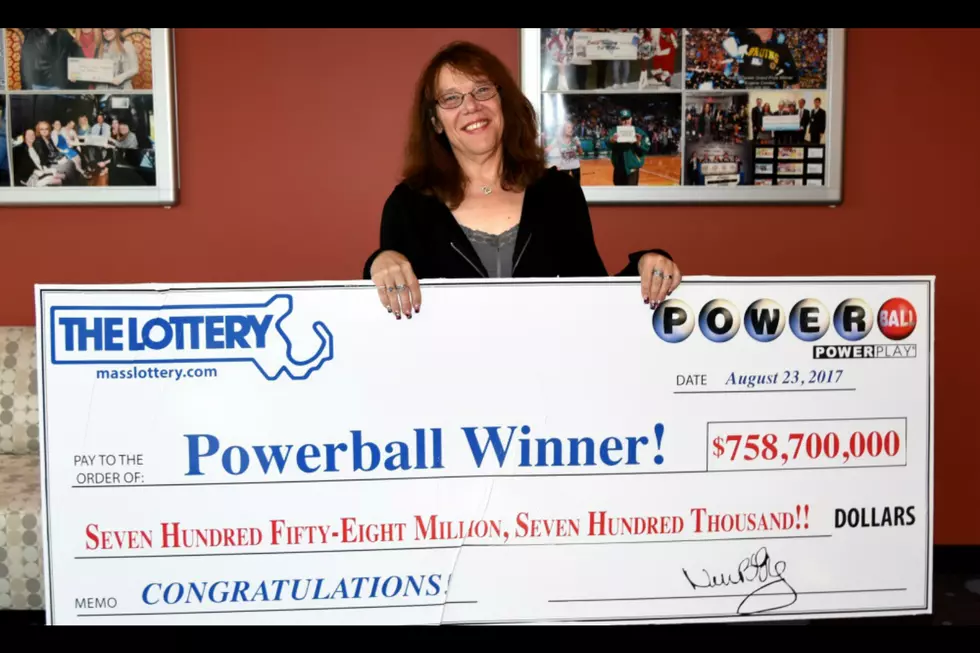 Powerball Winner: 'I'm Just Going to Hide in My Bed'
Courtesy Mass Lottery
BRAINTREE — Less than 24 hours after stopping into the Pride Station & Store in Chicopee to buy a Powerball ticket with numbers 6-7-16-23-26 and Powerball number 4, Mavis Wanczyk faced a horde of TV cameras at Massachusetts Lottery headquarters in Braintree. An oversized novelty check made out to her for $758.7 million rested nearby.
Wanczyk, 53, said she went to the store Wednesday to buy a lottery ticket and said winning the lottery has been a "pipe dream" of hers for years.
"Maybe it's me, maybe it won't be me," she said she thought as she was buying the winning ticket. "There's a chance, a chance I had to take."
Wanczyk learned that she hit the largest jackpot won by a single ticket in North American lottery history as she left work at Mercy Medical Center in Springfield for what she did not realize would be the last time.
A co-worker and Chicopee fireman named Rob mentioned that the winning numbers could all be part of birthdays and that someone who played important birthdays probably had won the jackpot.
"I went, 'Oh, yeah, I know. It's never going to be me, it's just a pipe dream I've always had,'" she said. "I pulled mine out and I go, 'hey, I have that. I have it.' And he goes, "Let me see that ticket. You just won ... sign that ticket right now.'"
The numbers she chose are "kind of basically random," with some of them pulled from birthdays. Wanczyk said she picked the Powerball number, 4, because it is a lucky number when she, her mother, step-father and friend play Keno on Friday nights.
To win the jackpot, a player must match each of five numbers out of 69 and one extra Powerball number out of 26. The odds of winning the jackpot are 1 in 292,201,338, according to the Massachusetts Lottery, and the odds of winning any prize at all are 1 in 24.8671.
"Today, as I was driving here, I'm still like 'this isn't true, this can't be,'" Wanczyk told reporters. "And then now, it's like, 'I am a winner. And I'm scared, but I'll be OK.' I'm just coming down from all that. I just want to be me, and be alone and figure out what I want."
She said she has no other immediate plans, and asked how she plans to celebrate Thursday night, Wanczyk said, "I'm going to just hide in my bed."
Treasurer Deborah Goldberg, who oversees the Lottery, said her office stands ready to assist Wanczyk with financial planning information should she request it. Goldberg said Thursday was a good day for the Lottery and for Massachusetts.
"We are so excited that Massachusetts has the Powerball winner. There are such benefits to everybody," Goldberg said. She added, "The local retailer who gets $50,000 has committed that money to charity, and Massachusetts gets the tax revenues, and also we generated so much from the excitement of the build-up to the Powerball."
Wanczyk's winnings -- she opted to take the roughly $480 million lump sum payment, Massachusetts Lottery officials said -- will be subject to the state's 5.1 percent personal income tax rate. That means Massachusetts will get about $24.5 million in unexpected revenue, roughly enough to fund the annual budget for the administration of the state's Department of Environmental Protection.
Lottery website USAMega.com estimated that the federal tax withholdings on Wanczyk's jackpot will be roughly $120.1 million. A Massachusetts Lottery official said Wanczyk will pocket $336,350,655 from the winning ticket, which cost $2.
The Massachusetts Lottery will withhold 5 percent of the winnings at the time of the payout, the Department of Revenue said. According to Department of Revenue Spokeswoman Nicole St. Peter Mac Dermott, that withholding "will be credited against the winner's tax ultimately due at the end of the year."
For every dollar of Powerball sales, 50 cents is put back into the prize pool, 42 cents is returned to the state, 6 cents is used to pay sales commissions and bonuses, and 2 cents covers administrative costs associated with the game, the Lottery has said.
Through Tuesday, Massachusetts players spent $32,774,513 on Powerball, according to the state Lottery, and on Wednesday Lottery retailers in Massachusetts were churning tickets out at a rate of more than $17,000 per minute.
A Powerball jackpot winning ticket has been sold in Massachusetts three times previously, in 2011, 2012 and 2013. The previous largest jackpot prize won in Massachusetts was a $294 million Mega Millions jackpot won July 2, 2004, on a ticket sold in Lowell.
--By Colin A. Young, State House News Service
More From WBSM-AM/AM 1420