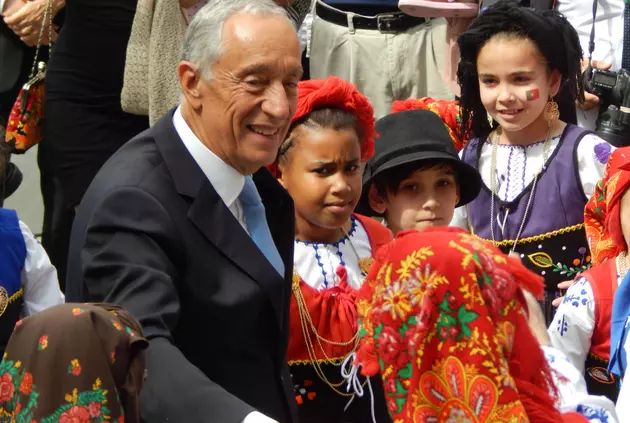 Portuguese President Marcelo Rebelo de Sousa Visits New Bedford
Tim Dunn/Townsquare Media.
NEW BEDFORD — The Whaling City got a surprise visit from a very special guest on Monday afternoon.
President of Portugal Marcelo Rebelo de Sousa saw a great turnout for his arrival downtown at the Whaling Museum where he was welcomed by a large crowd of Portuguese-Americans along with state and local politicians.
The friendly visit was in commemoration of the Day of Portugal, as President Rebelo de Sousa made similar stops in Providence and Boston over the weekend. After mingling in the welcoming crowd and stopping for a few photos outside of the museum's main entrance, Rebelo de Sousa made his way to the top floor of the building to deliver remarks to the media and city officials.
While an expected flight out of the country cut the President's visit to New Bedford unexpectedly short, Rebelo de Sousa found the time to speak to the media about his visit and accept a parting gift from Mayor Jon Mitchell.
"I just express very succinctly our gratitude in his coming here for this visit. We've been able to host many of the dignitaries today, and we're just so impressed by the commitment your government has shown to reach out to the entire Portuguese diaspora," Mayor Mitchell said. "We in New Bedford consider ourselves to be the capital of Portuguese America. There are other claimants to that mantle but for today it's all New Bedford."
Mitchell presented Rebelo de Sousa a set of bookends of the whaling statue seen in front of the New Bedford Main Public Library, among other offerings from the collection of local governing officials. After speaking with the media and the gift exchange, President Rebelo de Sousa made an additional brief remark to the crowd on the top floor of the Whaling Museum before departing with his entourage.
More From WBSM-AM/AM 1420