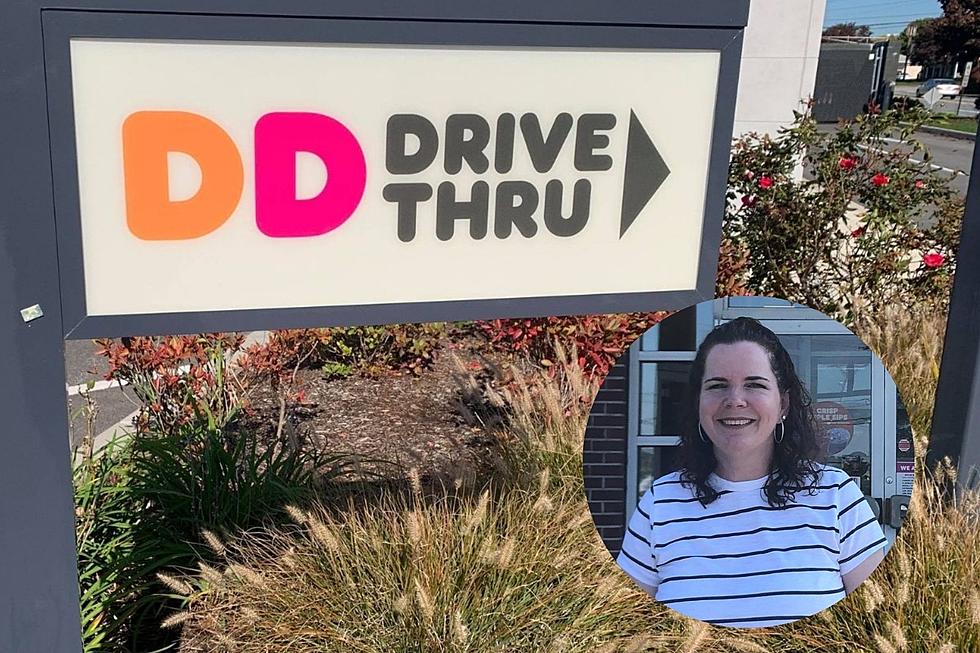 Plymouth Dunkin' Drive-Thru Worker Serves Coffee and Joy
Kasey Silvia/Townsquare Media and Christine White
Kelly Buck of Carver has experienced a lot of change recently. At 43 years old, she was diagnosed with breast cancer back in August of 2021 and the hardships accompanying that diagnosis have been overwhelming.
"I had my first surgery on Monday, September 20 and I am actually on my way into Boston right now for another surgery," Buck said on Wednesday, October 13. "It has been really hard."
Buck explained that although most of her life has changed drastically due to her illness, there has been a simple, steady constant that she looks forward to each morning. She posted on a local town page about the beacon of light she encounters in the most common of places; the drive-thru at Dunkin'.
"I would like to publicly acknowledge the woman at the drive-thru at Dunkin' on Samoset Street. I have been a customer for many years and you are a staple and make my whole morning. I am currently going through health issues and your voice on the other end is a welcome comfort. I know it is 'just' coffee, but after the year and a half we have all been through, you are the real VIP with your good morning. So, thank you!"
Members of the community have been chiming in with their own thoughts on the post, knowing exactly who Buck is referring to without having to ask. Christine White has been brightening up the day for each and every person who comes in contact with her at that Dunkin' for 27 years now.
According to Buck, White has worked every day during the pandemic with a smile on her face and deserves recognition for being so positive when it seems the whole world is falling apart. Buck is sure that White is unaware of her illness and still goes out of her way to cheer her up anyway.
"I do not look sick yet," said Buck. "But Christine's voice on the other end of the speaker, I cannot explain how much it helps me get on with my day battling this horrible disease. She is awesome."
"How a person's day starts makes the most impact on how their day will be overall," White said. "So, I feel like it's super important to give them a warm and welcoming greeting when they come through our drive-thru to start their day."
Louise Drifmeyer is one of the commenters under Buck's original post and she added that she has always wanted to ask her name.
"So glad people other than me notice how chipper and friendly she is," said Drifmeyer. "It doesn't go unnoticed."
The Best of South Shore Bar Pizza
There's pizza, and then there's South Shore Bar Pizza. Birthed in Brockton (and to this writer, perfected in Randolph – Lynwood Café is the true G.O.A.T.), it must meet certain qualifications to be considered "SSBP," which include: it's a 10-inch pie; it has a thin, cracker-like crust with minimal "flop;" the cheese is a blend that features more cheddar than mozzarella; and bonus points if you take it home between two carboard-type plates wrapped in flat brown paper bag. They also usually come with "laced" or "burnt" edges (terminology depends on where you are ordering), which is when the sauce and cheese are extended all the way to the edge of the pan, creating a crispy, flavorful coating to the crust. We reached out to the hugely popular
South Shore Bar Pizza Social Club Facebook group
to ask the experts to share the best of the best (in no particular order).
More From WBSM-AM/AM 1420