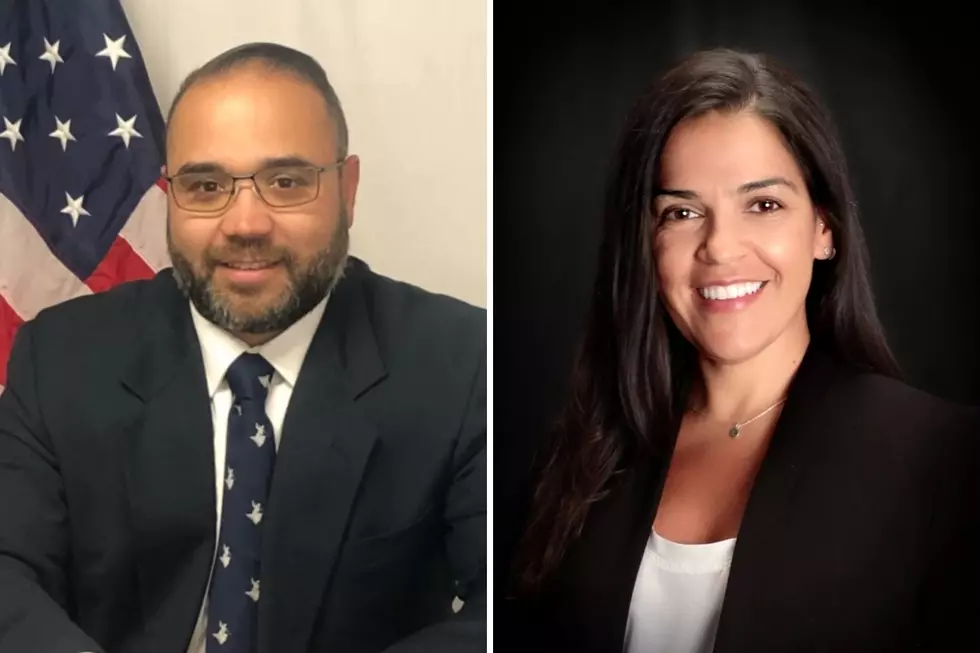 New Bedford Ward 3 Candidates Back Mitchell's GNB Voc-Tech School Committee Pick
Shawn Oliver via Facebook; Carmen Amaral via Facebook
The two remaining candidates in the New Bedford Ward 3 City Council special election will likely be the deciding vote to confirm or deny Mayor Jon Mitchell's pick, Carol Pimentel, to the Greater New Bedford Voc-Tech School Committee.
Both have said they will vote to approve her if they are elected.
Last month, the city council rejected Pimentel with a vote of 5-4 in a meeting of the Committee on Appointments and Briefings.
Pimentel has an extensive resume in public sector work and higher education. She served as New Bedford City Auditor under Mayor John Bullard, as Director of Community Development, and was Director of Internal Audit and Administrative Services at UMass Dartmouth.
The reasoning the councilors who rejected Pimintel's nomination gave rested largely on Pimentel supporting a change in the GNB Voc-Tech admissions policy. The five councilors said the Voc-Tech admissions policy "works" despite the fact that the school are under pressure from the state to make their policies more inclusive.
Pimentel, like Mitchell, supports a blind lottery and said Voc-Tech's current policy unduly discriminates against students of color and students with special needs.
Mitchell has also accused Carney, the Appointments and Briefings chair, of stalling Pimentel's nomination – an accusation Carney has denied.
Mitchell, in a recent appearance on WBSM's SouthCoast Tonight, continued to slam GNB Voc-Tech over its current admissions policy and continued to advocate for a blind lottery system rather the hybrid "qualified lottery" and selective screening process it has now, which Mitchell said is an attempt by the school to "maintain the status quo."
The following day, a federal civil rights lawsuit was filed against the Massachusetts Department of Elementary and Secondary Education challenging Voc-Tech admissions policies in the Commonwealth.
Mitchell also said on SouthCoast Tonight that he is committed to sending Pimentel to the back to city council for another vote.
Mitchell believes Pimentel will have the votes to be approved once the ongoing Ward 3 special election has concluded to fill the seat vacated by former Councilor Hugh Dunn, and if Ward 4 Councilor Derek Baptiste, who was absent at Pimentel's hearing, is present to vote the next time her nomination comes up.
Ward 3 candidate Shawn Oliver, hearing Mitchell's comments, called in to SouthCoast Tonight later that evening to say that if he is elected, he would be in favor of sending Pimentel to the school committee.
He also supported changing the Voc-Tech admissions policy.
"It's a well-known fact that some people are learners and some people are doers where they are better off with their hands," Oliver said.
"I think what happens is those kids get tossed back in to the public school system where they just kind of fall to the wayside because they're a lot less interested in the academic part of the high school and would have probably thrived in an atmosphere like Voc, where they could learn a trade," he said.
Carmen Amaral also told WBSM that she would vote to confirm Pimentel to the school committee.
"Given that she is from the community, has a personal connection to vocational education, and has experience in higher ed and financial management, I would vote to approve the nomination," she said. "That being said, I'm aware that constituents do have concerns regarding the appointment process and want a more transparent and democratic appointment process."
Amaral has worked in vocational education for the last 10 years. She currently serves as an academic coordinator at Old Colony Regional Voc-Tech High School in Rochester.
She said she believes deeply in vocational education and communicates the tremendous benefit of that education middle schoolers every year.
"Students are engaged because the curriculum feels relevant and provides experiential learning opportunities," she said. "Upperclassmen are eligible for co-op placements that allow students to earn paychecks while developing their skills."
Amaral added that all students should be given the opportunity for a vocational education.
"Ideally, every young person who was interested would have a pathway to learn a trade. This would build a robust pipeline of skilled workers ready to enter the workforce and earn a living wage," she said.
Election day for the Ward 3 special election is Tuesday, February 28.
Top Stories for January 2023
20 Photos That Prove the SouthCoast is Just as Beautiful in Winter
Sure, everyone loves the SouthCoast in summer — beaches, ice cream, outdoor concerts, all that good stuff. But the real ones know winter is just as good. Check out these gorgeous local landscapes! Can you figure out where they are?
More From WBSM-AM/AM 1420