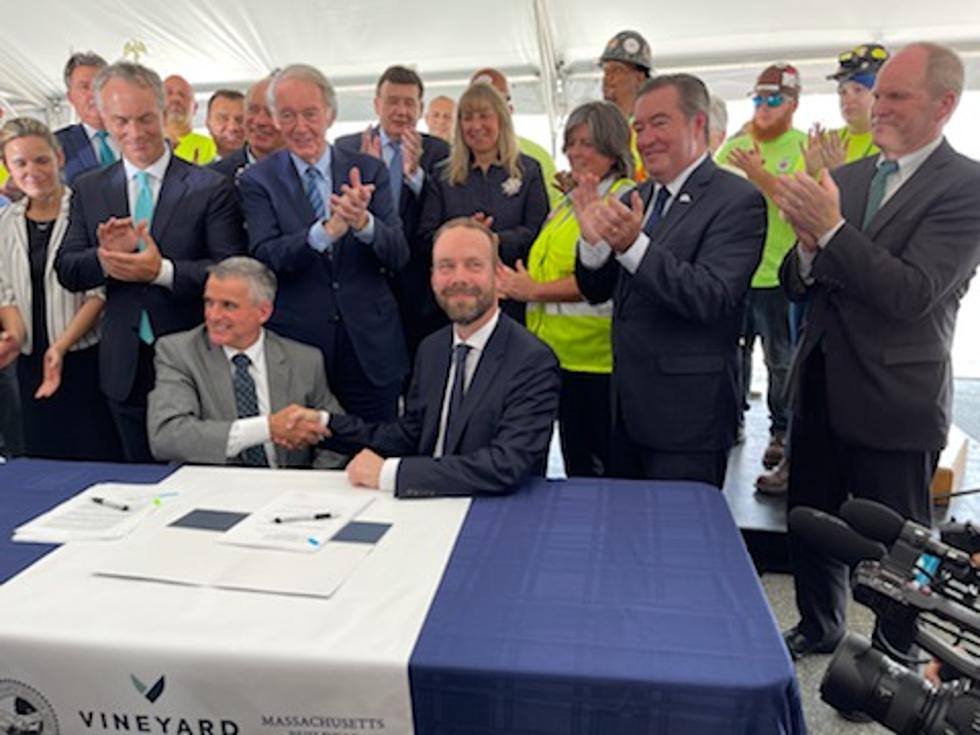 New Bedford Set to Gain Hundreds of Union Jobs With Offshore Wind Project
Marcus Ferro/Townsquare Media
NEW BEDFORD — More than 500 high-paying union jobs are among the thousands of positions coming to New Bedford along with the first industrial-scale offshore wind facility in the United States.
That's a guarantee given in an agreement between Vineyard Wind and the Southeastern Massachusetts Building Trades Council that was signed before a group of leaders and policymakers at the edge of the city's harbor on Friday.
Senators Elizabeth Warren and Ed Markey, White House National Climate Advisor Gina McCarthy, and Congressmen Bill Keating and Jake Auchincloss spoke on the occasion, along with Mayor Jon Mitchell and state, local, union and business officials.
Dozens of attendees gathered under a tent with a view of the harbor at the New Bedford Marine Commerce Terminal for the ceremony, which kicked off at 11 a.m. Friday.
Speakers all touted the hundreds of well-paid union jobs for Greater New Bedford residents promised by the agreement.
According to Vineyard Wind, the jobs will encompass both land and sea components of the recently-approved wind project, which will be the first large-scale offshore site in the country.
Workers will be hired from members of the twenty local union affiliates of the Building Trades Council.
The Vineyard Wind project is expected to provide power to more than 400,000 buildings in Massachusetts, saving $1.4 billion in 20 years, and reduce carbon emissions by more than 1.6 million tons per year.
"[This project] really positions New Bedford, the SouthCoast region, and the entire Commonwealth to be leaders in this sector," said Warren, adding, "Projects like this can and should be built by unions."
Speakers touched on the need for both green energy and well-paid skilled labor, New Bedford's competitive edge in seizing the opportunity for economic growth, and how the agreement paves the way forward in a burgeoning industry.
"It's the dawn of a new era," Markey proclaimed.
"We don't have to choose between addressing climate change or creating economic development," said Warren. "When we do it right, we do both."
Too Much Development? The ABCs of Complaining Like a SouthCoast Local
Welcome to the SouthCoast. If you're new here, these are really easy ways to enter a conversation and immediately win friends. Misery loves company, right?
All The Massachusetts Athletes That Made Team USA
The Tokyo Olympics are this summer and nearly two dozen of the athletes hail from the Bay State. Here are all the Massachusetts members competing for Team USA.
More From WBSM-AM/AM 1420