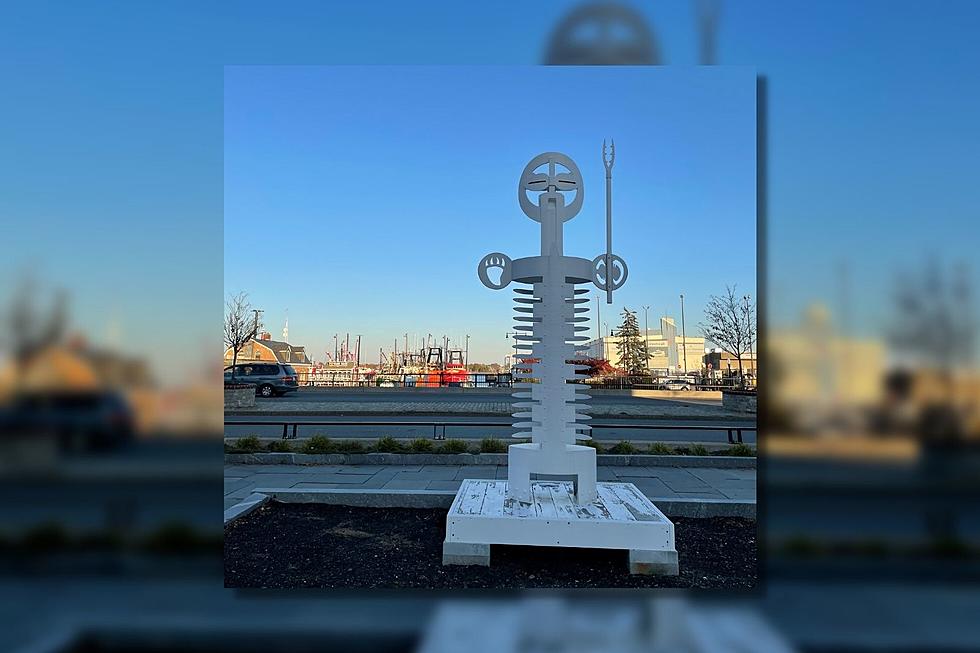 The Rich History Behind This 15-Foot Sculpture in Downtown New Bedford
Kate Robinson/ Townsquare Media
The city of New Bedford and its surrounding areas are filled with treasure troves of artful expressions that add character to the SouthCoast. From murals to artifacts, each one tells a story of the area's past, and this sculpture in the Whaling City had me wondering: what's the story here?
The more you look at this 15-foot aluminum sculpture, the more detail you will find. The spear, the paw print, the jagged body, they all serve a purpose that creator Eric Lintala masterfully put together to create "I am the Walrus, I am the Hunter."
Jasmyn Baird, a senior collective of New Bedford Creative, offered extensive background on Lintala's creation that currently sits along the seaport in downtown New Bedford.
Originally created in 2010 as part of New Bedford Whaling Museum's outdoor sculpture collaboration, Lintala was inspired by a passage from Moby Dick to construct the sculpture.
"He drew inspiration from the Whaling Museum's collection, combining imagery such as a harpoon, a hand-carved walrus mask from the arctic region, a two-sided ivory comb that evoked skeletal whale vertebrae, snow goggle, and a wooden spoon of unknown origin," Baird said.
"For me, these objects magically coalesced into a shamanistic manifestation of a whaleman's past arctic adventures," said Lintala.
That's the beauty of art. It's able to give new life to a city's history and live on through the creative works of local artists like Lintala.
Lintala recently retired after several decades of teaching at UMass Dartmouth College of Visual and Performing Arts, and he's the man behind numerous creations on the SouthCoast, like the Holocaust Memorial for Buttonwood Park in New Bedford and the 9/11 Memorial in both Acushnet and Westport.
Lintala is also a grantee for New Bedford's annual Seaport Art Walk, the city's first large-format outdoor public art installation, where each summer, sculptures are strategically placed along New Bedford's working waterfront and Seaport Cultural District
Lintala, Baird, and so many other artists keep the culture and spirit of the SouthCoast alive.
Next time you drive by this 15-foot whaleman, it will be a friendly reminder of New Bedford's rich history.
Look Inside New Bedford's Abandoned Orpheum Theatre
New Bedford's Orpheum Theatre has been vacant for decades, but artifacts remain in place as an ode to its rich history. Let's go inside.
WARNING: Under no circumstances should you enter this property. By doing so you risk bodily harm and/or prosecution for trespassing on private property.
25 New Bedford Bars That Are No Longer Here, But That We'll Never Forget
From 908 to the Regal Beagle on Acushnet Ave, these are the bars that are no longer with us but never forgotten.
More From WBSM-AM/AM 1420