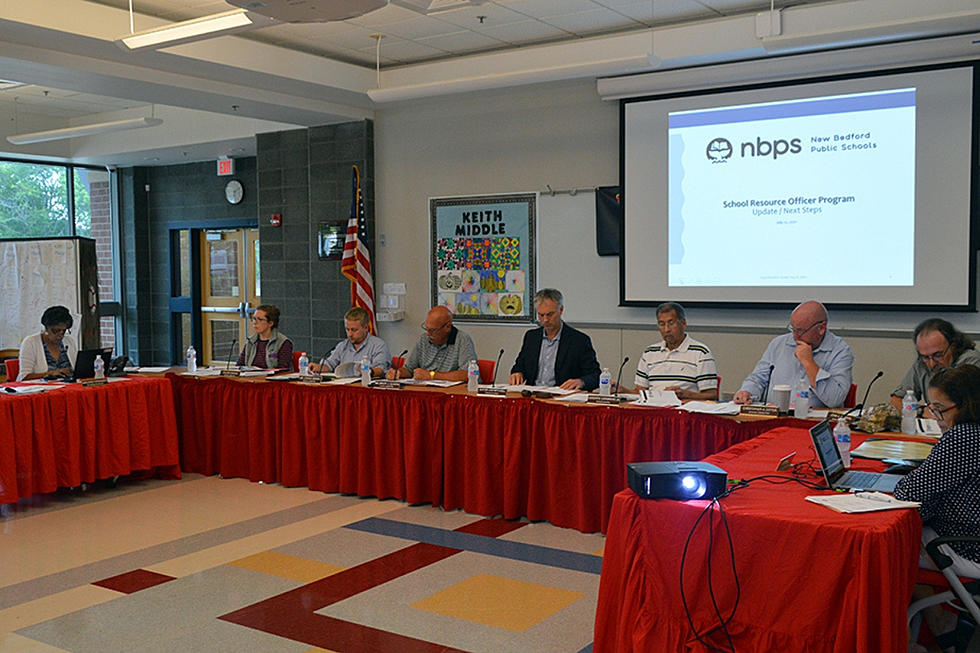 New Bedford Schools Will Continue School Resource Officer Program
Contributed Photo
School Resource Officers will remain in New Bedford's public schools, Superintendent Thomas Anderson announced Monday at the New Bedford School Committee public meeting.
Anderson said he decided to keep the school district's SRO program after a year-long evaluation and review of the district's disciplinary practices, which he said was conducted by the Rennie Center for Education Research & Policy, a Boston-based nonprofit.
"Based on the extensive review conducted by the district and the Rennie Center, I have concluded that at this time NBPS will retain the School Resource Officer program at multiple schools within the district," Anderson said.
In a press release, the New Bedford School Department said Anderson made his announcement after almost 14 months of review that included community input through virtual meetings for students, school department staff and the public last fall. The New Bedford chapter of the NAACP was one community organization that called for the SRO program to be defunded out of concerns that the program perpetuates the school-to-prison pipeline. The Rennie Center began its own study of the district's disciplinary practices earlier this year.
In his remarks Monday, Anderson said he wanted to allow time for an extensive process in order to give people in the community the opportunity to "exhaust" their thoughts.
"As I've said before, this is a very sensitive topic to me in my role as superintendent and personally," Anderson said. "The focus on bringing people together that offered varying perspectives was critical in this review. Continuous dialogue must always be part of how we work to improve our schools and how we grow as a community in New Bedford and across our country. I look forward to New Bedford having a program that can be emulated by other districts."
The Best of South Shore Bar Pizza
There's pizza, and then there's South Shore Bar Pizza. Birthed in Brockton (and to this writer, perfected in Randolph – Lynwood Café is the true G.O.A.T.), it must meet certain qualifications to be considered "SSBP," which include: it's a 10-inch pie; it has a thin, cracker-like crust with minimal "flop;" the cheese is a blend that features more cheddar than mozzarella; and bonus points if you take it home between two carboard-type plates wrapped in flat brown paper bag. They also usually come with "laced" or "burnt" edges (terminology depends on where you are ordering), which is when the sauce and cheese are extended all the way to the edge of the pan, creating a crispy, flavorful coating to the crust. We reached out to the hugely popular
South Shore Bar Pizza Social Club Facebook group
to ask the experts to share the best of the best (in no particular order).
More From WBSM-AM/AM 1420