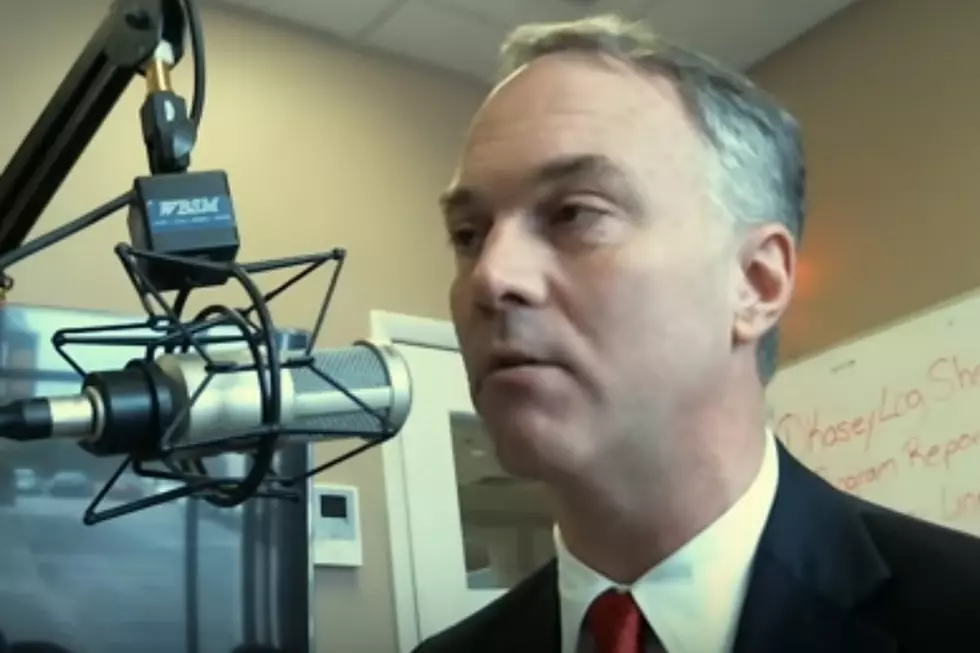 New Bedford Police, Mayor Respond to Rockdale Shooting Video
WBSM 1420 AM via YouTube
The policies of the New Bedford Police Department regarding information released to the public about recent shooting incidents are again in the spotlight after a video surfaced showing a shooting that happened in broad daylight last month.
WBSM's Barry Richard, through a source, obtained video of an incident that happened on Rockdale Avenue in New Bedford on February 22, at 2:45 p.m., in which the driver of one vehicle fired a gun at another vehicle.
WBSM News has viewed the video, which was captured by a dashcam on a vehicle traveling behind the two vehicles involved in the incident. In the video, a dark-colored car comes up from the left lane and inserts itself in front of a white SUV.
The SUV then attempts to cut hard to the left and get around that dark-colored vehicle, striking another vehicle that was coming up in the left lane, and as the SUV is trying to go forward, the dark-colored vehicle pulls alongside it, with the driver's side window down and what appears to be a gun in the driver's hand, and the driver opens fire on the SUV. The person in the vehicle that captured the footage then yells, "He's got a f---ing gun in his hand! He's got a f---ing gun in his hand!"
The white SUV then speeds away through the upcoming intersection, while the dark-colored vehicle turns eastward at that same intersection.
Richard said his sources have informed him that the white SUV that was shot at has been recovered and indeed has bullet holes, and that the occupants of the vehicle were questioned. The dark-colored vehicle has apparently not been recovered, and there are currently no suspects or arrests made in connection.
WBSM News reached out to the New Bedford Police Department for confirmation of the incident and any further information. Police confirmed an incident of "shots fired" on February 22 reported at 388 Rockdale Avenue at 2:30 p.m. According to a police spokesperson, "An investigation was immediately launched into the incident and is ongoing. We are confident that a resolution will happen shortly. We will provide a press release at that time."
WBSM has opted not to publish the video because of the ongoing investigation.
Richard brought up the incident to New Bedford Mayor Jon Mitchell during the mayor's weekly appearance on WBSM. Richard asked Mitchell why the public was not notified of a shooting that occurred on a city street in broad daylight.
"I couldn't tell you, this is the first I'm hearing of it. It sounds serious, and I will look into the matter," Mitchell said.
Richard mentioned that the incident happened near a corner of Buttonwood Park, where there could be children.
"It's hard for me to say without knowing anything about it," Mitchell said. "I probably should know something about it, if it is as you portrayed it, but I don't, and I will find out what the circumstances are."
When questioned as to whether Mitchell felt that New Bedford Police Chief Joseph Cordeiro should have made this video public, the mayor reiterated the police department's policy of not commenting on ongoing investigations.
"Should this policy change, should people be notified of incidents like this?" Richard asked.
"I don't know what you mean by 'incidents like this,' Barry," Mitchell replied. "The police department has a policy that it doesn't comment on pending investigations."
"It depends on the circumstances. If there's an active threat to the public, then yeah, I think there's a need," he said.
"Sounds like a pretty active threat to the public to me," Richard replied.
"I don't know the circumstances, Barry, so it's hard for me to comment on it," Mitchell said.
Richard then mentioned that Chief Cordeiro was supposed to go before the New Bedford City Council's Committee on Public Safety and Neighborhoods to address the Brickenwood incident in which a police officer's home was fired upon, but that it has been moved to the next meeting of the committee.
Richard then brought up that city councilors have expressed concern about not finding out about these shooting incidents, either.
"Does somebody need to sit down with the chief and tell him he needs to be a little bit more forthcoming with this stuff?" Richard asked.
"I don't see a need to change the policy of not commenting on pending investigations unless there is a compelling public interest," Mitchell replied.
The conversation from there turned into a heated back-and-forth between Mitchell and Richard until the mayor opted to end his call because, he said, Richard was "yelling" at him that he "cut him off."
"I'm sorry, I can't engage in this discussion," he said. "I regret I'm going to have to leave the show."
LOOK: TOWNSQUARE NEW BEDFORD-FALL RIVER TOWNIE AWARDS 2021
Townsquare New Bedford-Fall River 2021 Townie Awards highlight the most unique local businesses, people, places and things around the SouthCoast. From koi pond experts to Bill Murray portraits to skateboarding dogs, this is the SouthCoast you may not know.
More From WBSM-AM/AM 1420