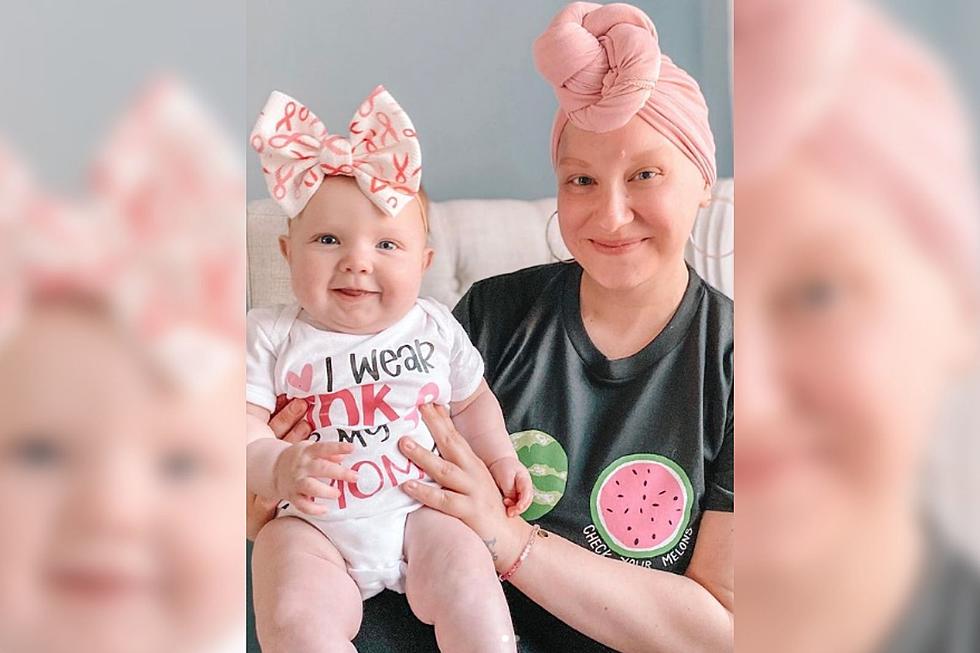 New Bedford Woman Running Half-Marathon for Friend Who Underwent Double Mastectomy
Brittney Tavares via Instagram
A New Bedford woman will be running a half-marathon on Sunday, June 13 in honor of her friend who was diagnosed with breast cancer.
When Ana Martins found out that in December that one of her close friends, Brittney Tavares, was sick, she knew she had to help her someway, somehow, even if that meant just being a strong support system. Martins had already signed up for Westport's Horseneck Half-Marathon, but never knew how prepared she was going to be since she's never ran that far before. Since then, Tavares had to undergo a double mastectomy and Martins gained a new sense of motivation: running to raise awareness for her friend.
"I initially wanted to do it in 2020, but rolled it over to 2021 and when I got the horrible news about Britt, it immediately changed my outlook on the training and the upcoming race" Martins said. "I'm not a runner, but I've been training for the last six months specifically for her. It makes the push that much harder."
At 27 years old, Martins has known Tavares since she was only 10 and they have been close friends ever since.
"We've danced together at the same dance studio. I was in the younger class, she was in the older, but I looked up to her," Martins said. "She was genuine and caring, and years later, communication sometimes falls off, but we always remained friends and connected. Then she became the godmother of my two boxer dogs, my fur babies."
Once news came that Tavares was not only diagnosed with breast cancer, but had to undergo a double mastectomy, it really hit home for Martins.
"It was devastating," she said, "I have breast cancer in my family, my grandmother is a survivor, and also went through a single mastectomy as well. It's in my family, but when you see it happen to someone so young, it really takes you off guard. You just want to fight for them, but you know you can't, you can only show support. You want to do everything you possibly can, and it's amazing to see the community opening up to them."
While preparing for her race that will kick off at 8 a.m. on Sunday, Martins also put together a fundraiser with a goal to raise $1,000 to help out the Tavares family to pay medical bills, and to just show a little support from the community.
"I want them to use the money for whatever they want, it's their choice," Martins said. "They can donate it to a charity or an organization, it's completely up to them. I just want to tell her to keep fighting, she has a crew of people behind her cheering her on and it's always nice to reach out."
Tavares shared how much it meant to her that her friend will be going the distance to show support.
"I've known Ana since we were both young, it's been such a pleasure watching her blossom into the successful, motivated, smart woman that she is today," she said. "And while it's absolutely no surprise to me that she would be so selfless, it's an honor to be the recipient of her and everyone else's generosity."
She had a message for Martins and anyone else who may be going through the same battle.
"My family cannot thank everyone enough for not only their donations during this difficult time but for more importantly, sharing my story and bringing awareness to breast cancer in young woman," Tavares said. "If reading about my journey can push one woman – or person for that matter, since breast cancer doesn't discriminate – to do a self exam, then I am grateful to take this head on."
Fairhaven's Historic Henry Huttleston Rogers' Potting Shed for Sale
See pictures of
18 Cedar Street
, the site of Henry Huttleston Rogers' former potting shed for his greenhouse that could actually be your dream home in Fairhaven Village.
The SouthCoast's 15 Worst Traffic Lights
We've all been stuck at some of the most annoying traffic lights on the SouthCoast. Gazelle compiled his list of the 15 worst ones in the bunch. Of course, safety is always more important than convenience, but that doesn't make these any less of a pain.
More From WBSM-AM/AM 1420