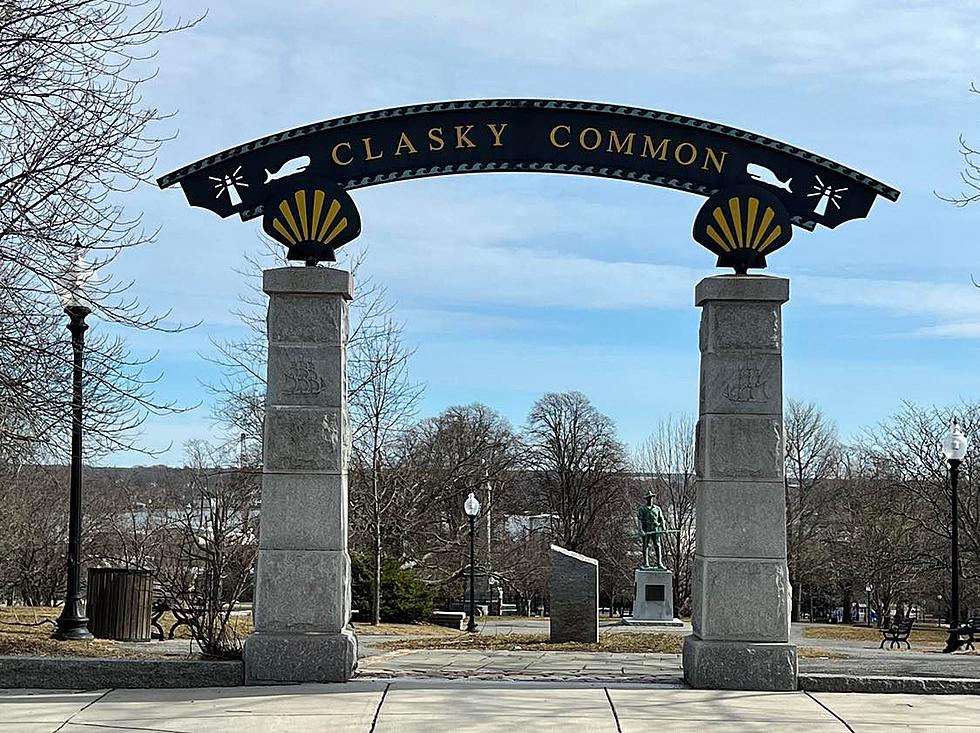 The Clasky in New Bedford's Clasky Common Park
Barry Richard/Townsquare Media
New Bedford has been long known for its beautiful parks and open recreation spaces. Most folks probably don't know that the city's first park was not Buttonwood, Brooklawn or Hazelwood, but the Common Park, bordered by County Street to the west and Purchase Street to the east.
Sixteen years before Frederick Douglass called New Bedford home and 25 years before New Bedford elected Abraham H. Howland its first mayor, the town purchased land in 1822 as a "town common."
The New Bedford Preservation Society says gardens and walkways were begun as early as the 1850s, though most of the land surrounding the new town common was still farmland.
The new park became known as the Common Park.
The park was renamed the Clasky Common Park and was dedicated on October 13, 1969.
But who was Clasky, and why is there a park in New Bedford named for him?
Harold H.J. Clasky was a popular political figure in New Bedford. Born in Russia on March 2, 1896, he lived in Brockton before moving to New Bedford in 1931. He was a graduate of Boston University School of Business.
Clasky married Ida Fox, who passed away in 1952 at 45.
Clasky served as an at-large member of the New Bedford City Councilor from 1952-1953 and again from 1956-1965. Clasky represented the New Bedford area in the Massachusetts State Senate from 1965-1969. He died in 1969.
U.S. Senator Edward Brooke of Massachusetts campaigned on Clasky's behalf in downtown New Bedford.
The Archives of the Center for Jewish Culture at the Claire T. Crane Library at UMass Dartmouth says Clasky "was involved in a number of local organizations including The American Legion, the Jewish War Veterans, and the Jonah Lodge of the B'nai Brith.
Mel B. Yoken, Ph.D., Chancellor Professor of French, University of Massachusetts Dartmouth, remembered Clasky as "an outstanding man of our times, a man of singular achievement, a righteous American, a superb politician and above all, a decent human being of quintessential goodwill and civility."
For decades, families have gathered at the Clasky Common Park during the Christmas season as the park is dressed with lights and holiday decorations.
The common is home to several war memorials, including the Korean War Veterans Memorial in the southwest corner of the park.
Holiday Decorations at New Bedford's Clasky Common
We took a stroll around Clasky Common in New Bedford to check out some of the holiday decorations before the lights came on and the crowds arrived. Fans of Edaville Railroad in Carver may recognize a few of these displays.
A Guide to New Bedford's Memorial Tanks and Cannons
New Bedford has a large assortment of military hardware scattered throughout the city to honor various veterans organizations. See them all listed here.
More From WBSM-AM/AM 1420