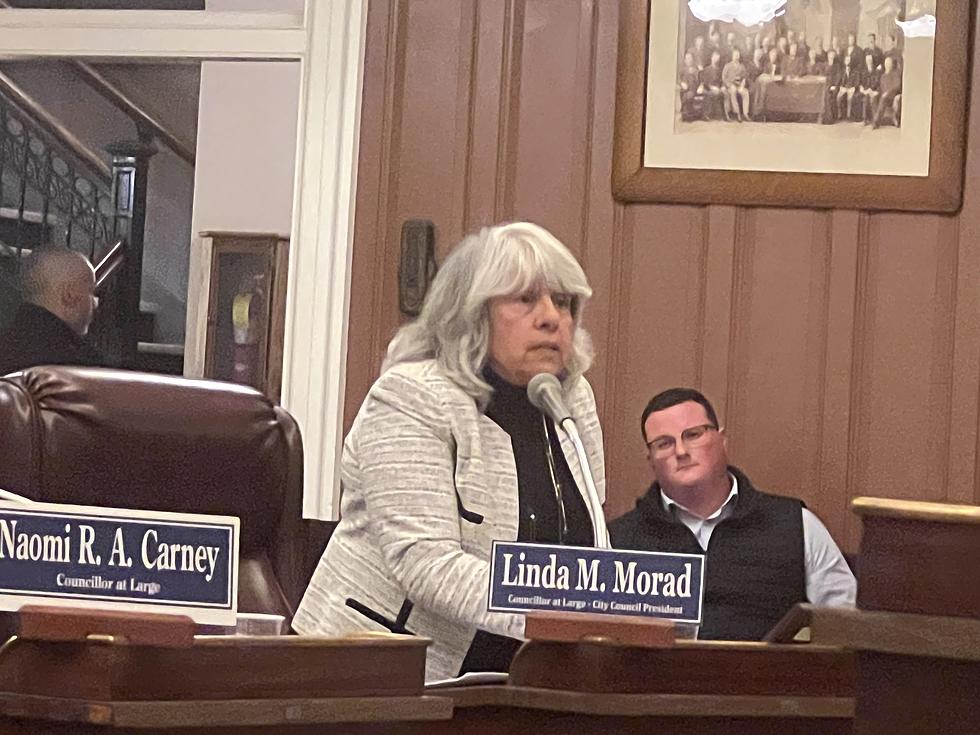 New Bedford City Council Votes Down Mayor's Proposed Residency, Salary Changes
Adam Bass/Townsquare Media
NEW BEDFORD (WBSM) — The New Bedford City Council voted Thursday to reject Mayor Jon Mitchell's request to change re-classifications for 151 non-union workers on the City payroll.
In an unanimous vote, the council chose not to repeal an amendment that gives pay hikes to those employed for more than 10 years. They also did not repeal the 10 percent pay penalty for employees who are not New Bedford residents.
Emotions and anger towards the administration ran rampant in the chamber, as all councilors accused Mitchell of not negotiating with the council in good faith.
Council President Linda Morad accused Mitchell of holding up raises for employees. She slammed the administration, saying they demand loyalty from the city council.
"We are a check and balance," Morad said. "We do not kiss the ring of the administration."
Morad also said Mitchell was a hypocrite to call for a repeal of the 10 percent penalty, citing how members of the New Bedford Police and Fire Departments had to abide by a residency requirement to serve.
"If you want to work in New Bedford, you live here," she said. "We have to stick up for our workers in my city."
Ward 2 Councilor Maria Giesta said the proposal from Mitchell was to place the council in a bad light. She also said the mayor planned this action as a lead-up to a re-election bid. Mitchell has said he has not decided whether he would seek re-election this year.
"We have people wholly disrespected by this administration," Giesta said. "I am very disappointed by the rhetoric."
Giesta, along with Morad and Ward 4 Councilor Derek Baptiste, also chastised reporters, claiming they did not report all sides of the story of Mitchell's letter to the council. When asked to elaborate on this comment, Giesta declined to comment. 
The friction between the city council and Mayor Mitchell's administration is anything but new.  Mitchell has accused the council on multiple occasions for not filling out positions on boards such as the Greater New Bedford Voc-Tech board while the council has accused Mitchell of acting in secrecy when enacting policy.
Councilor at Large Shane Burgo said the council did not need to go to reporters to make their point known about their relationship with the mayor. Instead, Burgo said the council will make its work known in the chamber.
"We do our work in the chamber," said Burgo. "Not the media, as the administration does."
The original pay raise amendment, which had some positions receiving a salary increase of $40,000 to $50,000, received pushback from the public after it was first introduced last year. On Jan 12, the council voted to put a cap of 25 percent on the raises after receiving said pushback.
In a letter dated Feb. 16, Mitchell wrote that the raises were still too costly. 
"I believe the new longevity benefits established by the council are excessive and unnecessary given the longevity benefits which were already in place for Unit C employees before the council's passage of the recent ordinance," Mitchell said.
The letter irked city councilors, as they felt Mitchell had blown up a compromise agreement.
"This was a compromise," said Ward 1 Councilor Brad Markey, "I still stand by it."
Additionally, councilors were angry at Mitchell's criticism of the residency requirement, which he said rewarded longevity rather than quality. Mitchell sought to end the requirement to help fill 15 percent of non-school municipal vacant jobs in New Bedford.
Some residents, like Catherine Adamowicz, agreed with Mitchell's assessment and displayed a large green banner supporting the repeal at Thursday's meeting.
When Morad saw the banner, she said Mitchell's office had misled the public and how it used the residency requirement as a double standard for some jobs.
"These people are not getting the true story about the requirement," Morad said, pointing at the banner. "I'm tired that our residents are not getting the TRUE story."
Adamowicz said she was furious at Morad's comments and said she felt she was not properly represented by the council president. She also expressed anger at the council's discussion and said it went from one about policy to grievances.
"I am angry," Adamowicz said. "If she did not get a chance to look at Mayor Mitchell's study, which he sent out to the public, what is she basing her argument on?"
States Ranked by Gun Death Rates
Gun death rates per 100,000 are high in the U.S., and getting higher. Here's a list of states ranked by firearm safety, from lowest death rates to highest. Data for 2021 is from the CDC via
Violence Policy Center
.
Biggest Drug Busts on the SouthCoast
Here's a list of ten of the biggest drug busts ever seen in the SouthCoast area.
More From WBSM-AM/AM 1420