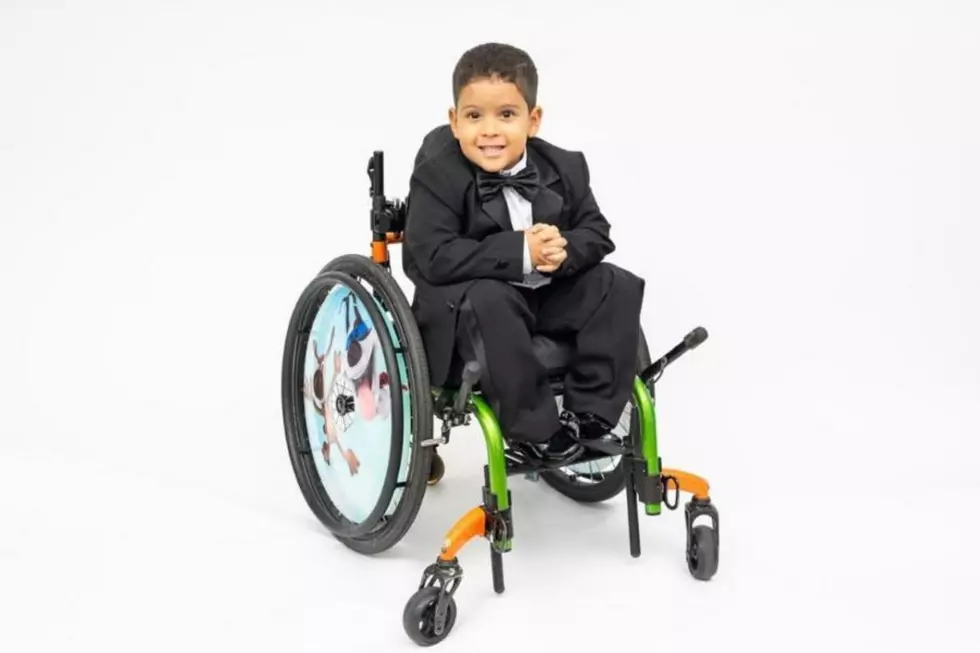 New Bedford Boy Living With Spina Bifida Needs a Mini Miracle This Holiday
Contributed by The Aguilera Family
This holiday season, WBSM and United Way of Greater New Bedford have teamed up to pull off a Mini Miracle for one deserving, unsuspecting New Bedford family.
The Ultrasound That Changed Everything
When Stephanie Aguilera was four months pregnant, she had an ultrasound that was simply meant to identify the sex of her unborn child. Stephanie and her husband, Luis walked into the appointment with excitement, inviting close members of the family to join in the announcement that they were expecting a baby boy or girl. It wasn't until the ultrasound tech identified something else entirely that the appointment took a turn.
The doctor informed them that their baby would be born with spina bifida, a birth defect that causes the spinal cord to not develop properly. Stephanie was not familiar with the condition, but Luis knew what it was right away and was aware of the struggles his sweet baby would face in life.
Joseph was born with Stage Four spina bifida, which meant that he would never be able to walk and would require the use of a wheelchair. He would undergo several operations from a very young age. He would need medical treatments and take multiple medications.
How Is Joseph Doing Now?
Five years later, Joseph's parents are working hard to make his life as normal as possible. He is a loving, sweet, and energetic child who loves music and Paw Patrol.
Stephanie is a stay-at-home mother in order to accommodate Joseph's extensive care and many doctors' appointments at Boston Children's Hospital and his medical needs are changing as he gets older. Luis is the only source of income and the family is struggling to make ends meet. Medical bills and the cost of other accommodations are piling up, forcing the parents to sacrifice other material needs.
The family has had to pay for home and transportation accommodations for Joseph out of pocket since insurance does not cover his needs. Stephanie and Luis have remodeled the entire bathroom so Joseph can use it effectively and safely.
Another major setback that the family has recently experienced is their van getting stolen. It's very important for Joseph to have safe and reliable transportation to attend medical appointments at Boston Children's Hospital a few times each week. Right now, his mom relies on a small sedan to get Joseph to these doctor visits and it is not easy to get him in and out.
How You Can Help
Stephanie and Luis would love to improve the overall quality of life for their son. One "mini miracle" would be to have a wheelchair ramp installed at their house to make their home more easily accessible since Joseph is a growing boy and it's getting harder to carry him in and out of the house.
With their van being stolen and not having the safest way to transport Joseph to and from Boston multiple times each week, we'd love to come together for them and raise funds to purchase a new van, fully equipped to accommodate Joseph, his wheelchair, and a ramp to get in and out with ease.
There are also special car seats that would make life easier for the Aguilera family. That would be a mini miracle in and of itself.
Joseph is requesting sports equipment to help in athletic endeavors. He recently attended a Special Olympic Event in Boston and fell in love with track. He needs the appropriate athletic wheelchair in order to participate in the sport.
Since Joseph makes frequent trips to Boston Children's Hospital, the family could use a gas card to help with that expense. They have most of their meals at home, so a gift card to purchase groceries from Market Basket would also be greatly appreciated.
Joseph has requested a specialty bicycle that allows him to operate it with hand pedals rather than foot pedals. What kid wouldn't want a bike for Christmas?
Help create a Mini Miracle for the Aguilera family this holiday! Donations will help cover the costs of all of these mini miracle wish-list items.
Text to Donate: Text WISHES22 to 26989. You will be sent a United Way e-link that allows you to make a donation via credit card to this family when you select MINI MIRACLE from the drop-down menu.
By Check: Make checks payable to the United Way of Greater New Bedford and in the memo line, write MINI MIRACLE. Checks can be mailed to United Way of Greater New Bedford, 128 Union Street, Suite 105, New Bedford, MA 02740.
Donate by Credit Card: You can make a secure donation to the United Way via credit card HERE. Select MINI MIRACLE from the "Please Select a Family" drop-down menu.
WBSM's Mini Miracle with the United Way of Greater New Bedford is an extension of the Annual Holiday Wish program. Families have been pre-selected. Support for this program is made possible by Cottage Street Motors, Lech Auto Body, Cardi's Furniture and Mattresses, First Citizen's Federal Credit Union, Cask & Pig Kitchen and Alehouse.
More From WBSM-AM/AM 1420