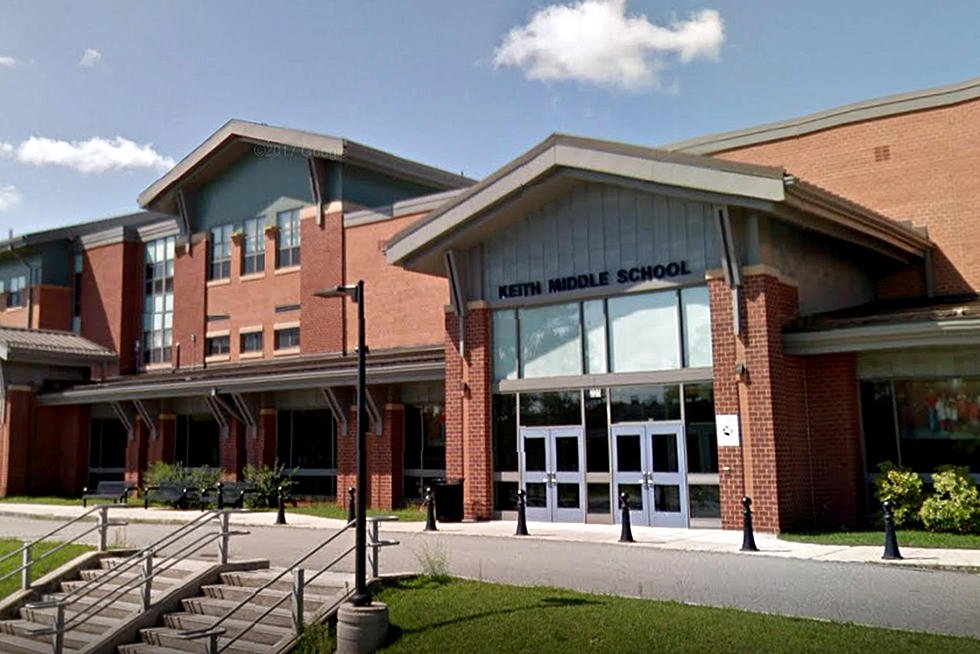 Mom: Son's Fingers Severed During Mishap at Keith Middle School
Google Maps
NEW BEDFORD - A child is injured and a mother is distraught after the student was reportedly injured in a New Bedford middle school classroom.
Amanda Racine tells WBSM News she received a phone call Thursday from the nurse at Keith Middle School, where her 13-year-old son, Dennis, is a student. The nurse left a voicemail on her phone, Racine said, saying there was an incident involving her son and that she was to call back immediately.
"She (the nurse) said that they had to call an ambulance," said Racine. "Dennis' hand got crushed underneath a table."
Racine said she was en route to St. Luke's Hospital to meet Dennis, when she received another phone call from the Keith Middle School nurse. Racine says the nurse told her the ambulance carrying her son had been re-routed to take Dennis to Hasbro Children's Hospital in Providence, Rhode Island.
When Racine asked why her son was being taken to Hasbro, she said the nurse responded, "His fingertips are on ice."
"When she said his fingertips were on ice, I went into shock," said Racine.
Racine told WBSM News she was given an account of what happened by a school administrator. According to the account, as re-told by Racine, Dennis had "hopped" onto one of the classroom's laboratory-style tables as the teacher turned to take a phone call.
"That's when he fell off the table and it fell on his hand, I would imagine because he tried catching the table," said Racine.
Racine says Dennis' middle finger on his left hand was severed down to the first knuckle from the tip, while his ring finger on the same hand was partially severed.
WBSM News initially received a tip about the accident from an anonymous caller who claimed to be a New Bedford Public Schools employee with knowledge of the situation.
Rumors of the incident later began circulating on social media Thursday afternoon, with a family member confirming the incident on Facebook.
Reached Friday morning by WBSM News, Arthur Motta, Community and Public Affairs Manager for New Bedford Public Schools responded to a media inquiry about a student whose fingers were allegedly severed in an accident during class.
"That is not accurate," Motta responded in an email. "The student was treated at Hasbro and is doing very well. In compliance with HIPAA regulations, the district does not release medical information. When a student requires medical attention the parent/guardian is notified."
WBSM News later confirmed the accident with the child's mother, who was able to provide medical documents regarding her son's accident and subsequent hospital visit. When reached again by WBSM News, Motta revised the original statement to say, "I can confirm that a student was treated at Hasbro for an accidental injury to the hand. In compliance with HIPAA regulations, the district does not release medical information."
Racine stated that her son underwent skin graft procedures to reattach his fingertips to his hand, but the success of the procedure is not guaranteed.
"I'm waiting for a surgeon to call me," said Racine. "If the graft doesn't take, they're not sure where they're going to amputate, but they're going to have to amputate my son's fingers."
"He's worried," Racine said of her son, who is a football player with the New Bedford Youth Whalers. Racine says her son's plastic surgeon told Dennis he's going to miss most of the season. "He's worried about his future, about what is he going to be able to do for a job. It's cosmetic, so he's thinking of girls in the future. It's starting to sink in."
Racine says she wants answers from the school as to how the injury was allowed to take place, and if the tables in the classroom were installed properly. She declined comment when asked if any legal action was being sought against the New Bedford Public Schools system on her son's behalf.
However, Racine said she will work to ensure that nothing like what happened to her son ever happens again.
"I don't care if my son was at fault or not. Knowing how heavy those tables were, there should have been precautions."
More From WBSM-AM/AM 1420