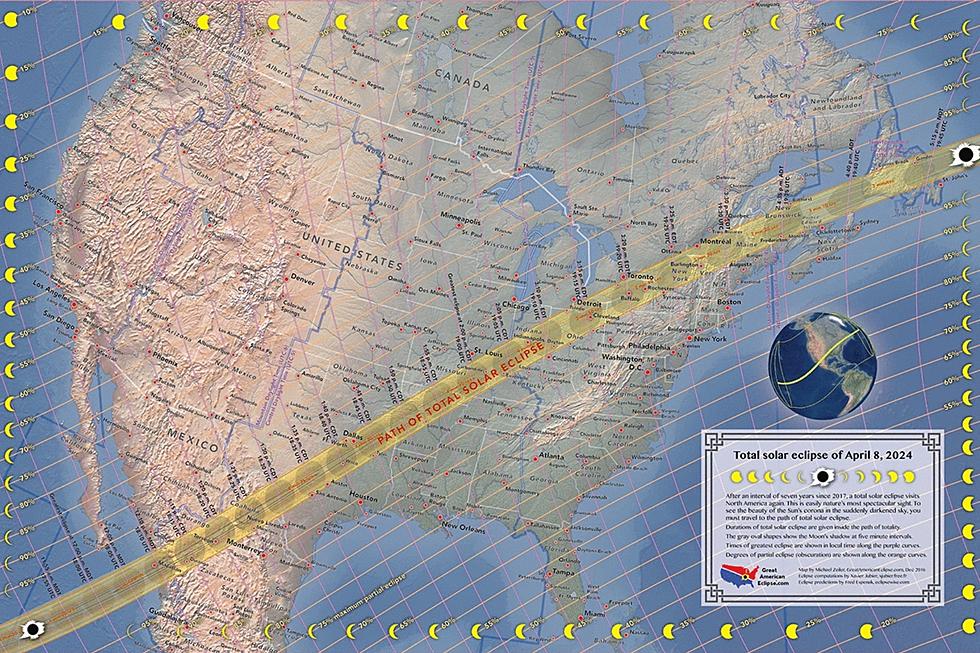 Will Massachusetts Get a Glimpse of the Coming Solar Eclipse?
NASA.gov
The next total eclipse of the sun will be here before you know it. Do you have viewing plans yet?
You might want to make some, since it may require a bit of travel.
NASA says the total solar eclipse on Monday, April 8, 2024, will "cross North America, passing over Mexico, the United States, and Canada." The total solar eclipse will begin over the South Pacific Ocean.
NASA says, "Weather permitting, the first location in continental North America that will experience the totality is Mexico's Pacific coast at around 11:07 a.m. PDT."
NASA says the path of the eclipse continues from Mexico, "entering the United States in Texas, and traveling through Oklahoma, Arkansas, Missouri, Illinois, Kentucky, Indiana, Ohio, Pennsylvania, New York, Vermont, New Hampshire, and Maine."
A total eclipse will be visible in Burlington, Vermont, Lancaster, New Hampshire and Caribou, Maine.
Eclipse2024.org says folks in Massachusetts and Rhode Island "will see a respectable partial eclipse, with some sky-darkening." The site says, "There will be no corona, no totality, and no dramatic moments on eclipse day."
Eclipse2024.org reminds eclipse viewers everywhere, "If there's ANY bright part of the Sun showing, then you have to use your eclipse glasses to watch the event," or risk eye damage.
If traveling to Lancaster, New Hampshire, to view the total eclipse, the event will commence at 2:16 p.m. and be over by 4:38 p.m.; in Burlington, Vermont, at 2:14 p.m., wrapping up at 4:37 p.m.; and in Caribou, Maine, from 2:22 p.m. to 4:40 p.m.
Massachusetts was not in the path of the 2017 total eclipse of the sun, either.
Scenes from the August 21, 2017 Solar Eclipse
Wow! Views of the sunrise solar eclipse in U.S. and world
A partial solar eclipse was visible June 10, 2021 as the sun rose over the East Coast.
More From WBSM-AM/AM 1420