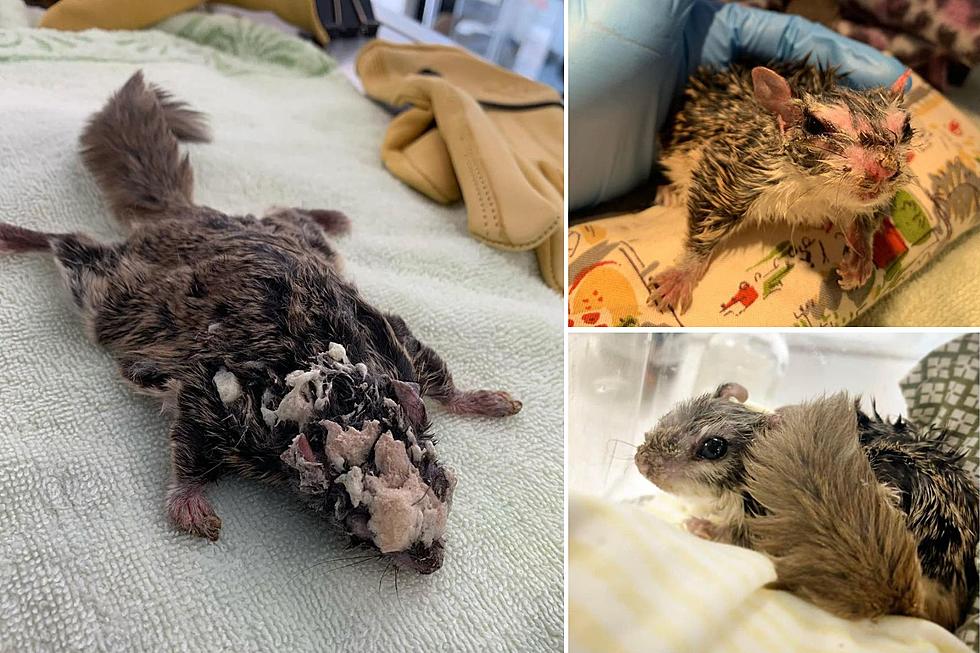 Massachusetts Flying Squirrel Makes Miraculous Recovery After Foam Accident
New England Wildlife Center via Facebook
BARNSTABLE — A flying squirrel from Cape Cod has been given a new lease on life after he was accidentally caught in an insulating foam mishap earlier this week.
The New England Wildlife Center wrote in a Facebook post Tuesday that employees at the center's Cape Cod hospital in Barnstable initially couldn't even tell what had happened from photos of the squirrel.
According to the center, the flying squirrel had been living in a wall that got spray foam insulated, and ended up getting coated in the potentially toxic foam.
Northern flying squirrels are the only flying squirrel species found in North America, and are native to New England as well as Canada, Alaska, and the upper midwest.
"Our immediate concern was if he had inhaled or ingested any [foam], since there was quite a bit stuck around his nose and mouth," the post noted, adding that his front paws were also covered in the substance.
"Our priority was to get this foam that had hardened into a thick shell off of him," the center wrote.
Veterinarians anesthetized the little squirrel to remove the foam, because they said the process would be too stressful for him if he were awake.
"Little by little we used q-tips soaked in nail polish remover to dissolve the foam and remove it from the fur and skin," they wrote.
The post noted that the vets worked carefully for 20 minutes to remove the substance, making sure no acetone got into the squirrel's eyes or mouth.
They also tried to save as much of his fur as they could, according to the post.
Despite their efforts, he still looked a little the worse for wear, with some fur missing from around his head.
But the center noted that although he was "a little groggy" when he woke up, he was "already feeling so much better!"
Fast forward to just one day later, and the squirrel was already looking much better.
In an update post on Wednesday, the center wrote that the little guy was "eating well and showing no signs of respiratory distress," meaning he likely did not inhale or eat any of the chemical foam.
"The change in his behavior and appearance is dramatically different," they added, uploading a picture with a clever twist on a popular marketing slogan.
What a difference a day makes.
Check out the New England Wildlife Center's original Facebook posts:
Want a Pet Flying Squirrel? Here Are All the Native Animals You Can Legally Take Home
Massachusetts has such diverse wildlife, but also strict limitations on what you can bring home and cuddle. In fact, there are only certain reptiles and amphibians you can keep as pets (so no raccoons, squirrels, bunnies, etc.) and you are only allowed two of each. The state also
says
"you cannot sell, barter, or exchange them." Also, keep in mind, these are wildlife, so it's probably best to just leave them be and maybe visit a reptile shop instead to get your next pet.
More From WBSM-AM/AM 1420