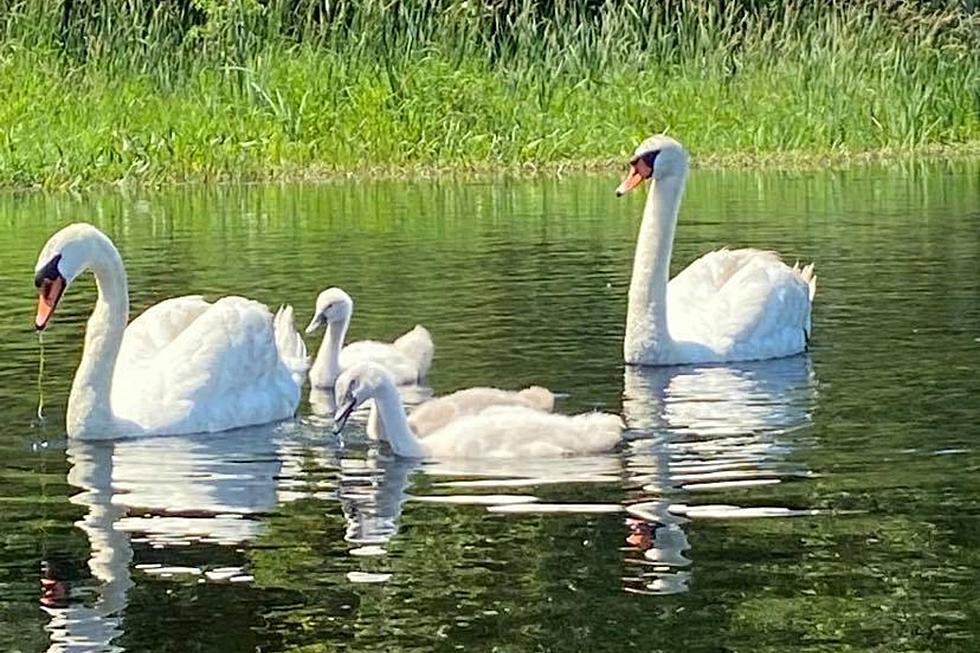 Lakeville's Beloved Nemasket River 'Daddy Swan' Euthanized After Attack
Photo contributed by Lisa Dymond
Lisa Dymond lives right on Nemasket River in Middleboro. She and her husband often take their kayaks up to Lakeville and drop in on the river there and float down back to the house.
"The wildlife is incredible," said Dymond. "I usually just float and enjoy all the beautiful nature that's there."
During one of their outings last week, they noticed a family of swans including a mother, father, and three baby cygnets. The couple took pictures of them, noting how close they got to the kayaks and how they seemed unbothered by their presence.
Dymond was out on the water again on Tuesday, June 22 and realized the same swan family was nearby. However, something was different this time.
"We noticed one baby was missing and the dad was covered in blood and his beak was broken," said Dymond. "We see snapping turtles in this area all the time and weren't sure if one got ahold of baby and dad tried defending it before getting attacked himself."
Dymond was heartbroken. Of course, these are wild animals and these things happen in nature, but she was determined to seek help for the gentle creature if anything could be done. She posted photos of the bird on a town Facebook page and the community jumped in to try and support the swan. Warning, this image could be disturbing to some.
Different organizations chimed in with how they can help Daddy Swan if someone can bring him in. There was some confusion as to who the proper authorities were to aid in this process, but it was ultimately decided that Environmental Police had to be called as they had jurisdiction over migrating birds.
Dymond found Daddy Swan out alone on Wednesday evening and helped direct them to his location.
"Environmental Police said that if the beak was damaged as badly as I said it was, then it was in the animal's best interest for it to be euthanized," said Dymond. "Since the damage to its beak was irreparable, it could not support being able to take care of himself and his quality of life would be hindered."
Unfortunately, that's exactly what happened and Daddy Swan was euthanized on Wednesday, June 23. We reached out to Massachusetts Environmental Police to confirm the reasoning, but we have yet to hear back from the department.
The way that the community was praying for this swan was so heartwarming to see on a local Facebook page. While it did not have the outcome that we were all hoping for, at least we knew that this poor thing would not suffer.
"I was just so impressed and proud of people that came together in this crazy world," said Dymond "They cared. People can make a difference."
This Scituate Beach House Is an Ocean Lover's Dream
The
Summer Wind Beach House
in Scituate, Massachusetts is on the market for over $900,000, but its views are priceless.
More From WBSM-AM/AM 1420