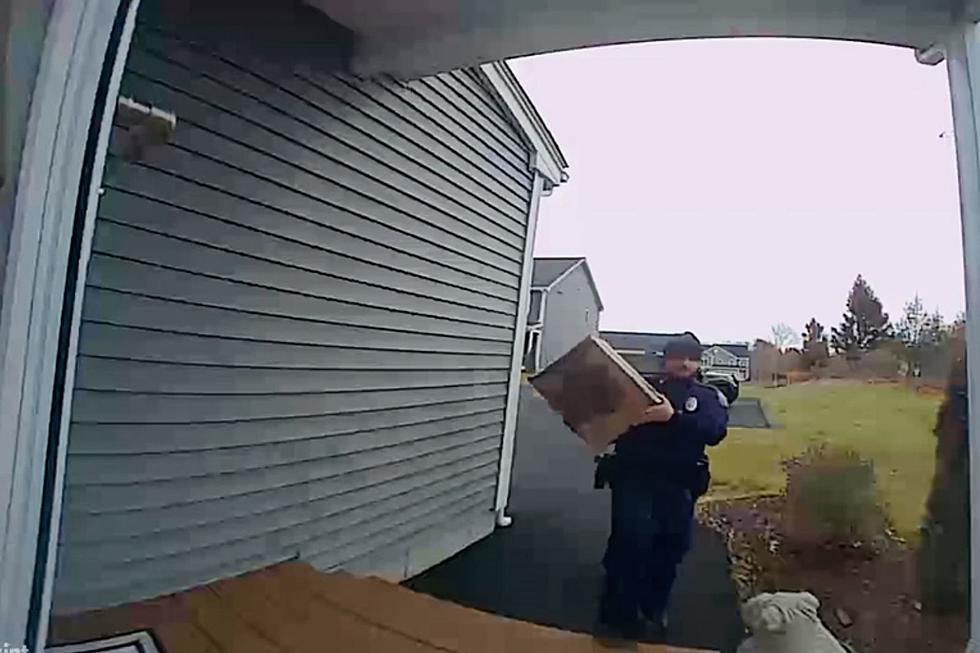 Lakeville Police Make Sure Amazon Holiday Packages Arrive Safely
Courtesy Lakeville Police Department
Holiday shopping is stressful. You have to pick out things for the people on your list, often crossing your fingers that your packages arrive on time before Christmas. Then, even if they arrive safely on your doorstep, you have to worry if they'll be poached by porch pirates.
Imagine ordering packages, only to have them fall short of getting delivered because they were laying on the road nearby. It happened in Lakeville this week. A resident there found a number of packages laying on the road near their home on Blueberry Drive on Wednesday.
The residents called police, who showed up to investigate the random packages. No one is sure how they ended up on the road – perhaps an Amazon driver forgot to close their rear door – but two Lakeville officers decided to make sure the packages arrived safely.
Pulling double duty as police officers and Amazon drivers, Officers Rob Schiffer and Weston Fazzino took it upon themselves to deliver the packages to the destinations in and around town in between calls for service.
"While package delivery isn't our specialty, we wanted to ensure that the people in our community who were expecting these items received them without a significant delay," Officer Schiffer said.
As they were delivering one of the packages, a Lakeville resident's Ring doorbell caught the police officers in the act of doing their good deed.
Lakeville Police Officers Go Above and Beyond to Ensure Unattended Packages Are Delivered to Community Members' Homes from John Guilfoil Public Relations on Vimeo.
Lakeville Police Chief Matthew Perkins was pleased with his officers.
"Their actions are a true testament to their characters and I commend them both for continuing to represent the Lakeville Police Department in such a thoughtful way," he said.
The Lakeville Police Department is investigating the circumstances surrounding the abandoned packages but does not believe at this time that the incident is suspicious.
SouthCoast Holiday Shopping Guide: Where to Find Unique Holiday Gifts
Shop local this holiday season and get started at these unique businesses on the SouthCoast.
12 of Our Favorite Designs on the Padanaram Buoy Tree
A tree was needed for the first-ever tree lighting at the annual Christmas event in Dartmouth, Massachusetts. Community members came together to design a nautical tree worthy of its coastal destination. This buoy tree in Padanaram Village will be the centerpiece of the Holiday Festival.
Your Guide to Holiday Events on the SouthCoast 2021
The SouthCoast has many holiday events happening throughout the month of December. We have a list of them and what you need to know for each one.
More From WBSM-AM/AM 1420