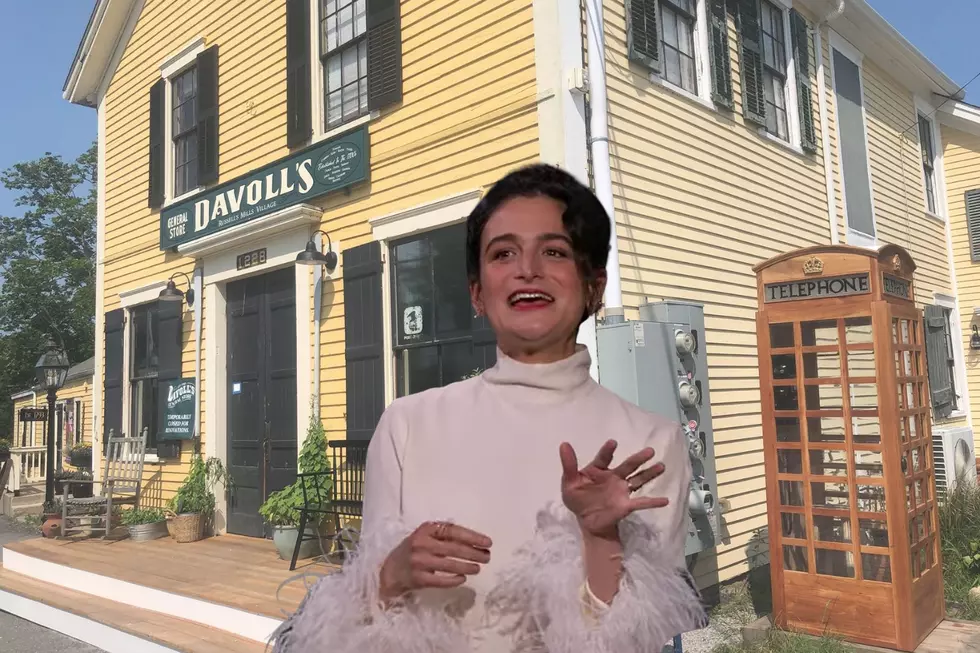 Why Jenny Slate Spends Time in the Supply Closet at Davoll's in Dartmouth
Jimmy Kimmel Live via Youtube and Davoll's General Store via Facebook
Actress Jenny Slate has been a frequent guest on "Jimmy Kimmel Live!" for years.  In fact, it was on Kimmel's show that she announced the birth of her daughter, Ida.
Last night, Slate returned to the Kimmel show (guest-hosted by former "Will and Grace" star Sean Hayes) to talk about her movie "Marcel the Shell with Shoes On."
It was the second time Hayes and Slate had crossed media paths over the past few weeks. Slate recently recorded a segment for the "Smartless" podcast, which is hosted by Hayes, Jason Bateman and Will Arnett.
While hosting for Kimmel, Hayes let us in on a little secret about the latest podcast episode. He unveiled that Slate had recorded her interview for the show in the supply closet of Davoll's General Store in South Dartmouth.
At first, the guys thought Slate was joking, but as the podcast interview progressed, it became apparent that she was not joking when somebody opened the closet door to get a broom. Slate also shared that an old toilet sits underneath the desk in the store's office.
Thankfully, she clarified that the toilet was "retired."
Slate, a Milton native, has been spending more and more time in Dartmouth over the past year, since her husband, Ben Shattuck, and his brother reopened the historic Davoll's General Store last summer.
During a 2019 celebration of her book "Little Weirds" at Westport's Dedee Shattuck Gallery (owned by her mother-in-law), Slate said she planned to live in the SouthCoast "for the rest of my life."
So why in the world would Slate conduct her podcast interview from the Davoll's supply closet?
Blame it on the internet.
"I live in a small town in Massachusetts (Dartmouth) and I have very bad WiFi at my house. Really bad," Slate told Hayes. "So I use the internet at my husband's general store. He and his brother bought the oldest general store in the United States."
Amazingly, according to its website, Davoll's General Store has been in business for 229 years. Over all of that time, the Russells Mills Village store has had only 12 owners: the Howland, Cumming, Allen, Slocum, Tucker, Church, Potter, Sherratt, Davoll, Morrison, Glennon, Arruda & Chouinard, and, currently, Shattuck families. How many of those names have stood the test of time in Dartmouth?
We'll keep Davoll's in mind if we ever need a makeshift studio.
Take a Look Around Charming Davoll's General Store in Dartmouth
The Dartmouth store is now open under new ownership and is so much more than a general store.
21 Famous People You Didn't Know Were From the SouthCoast
Move over Hollywood, you're not the only town that breeds stars. We've compiled a list of some famous people that either are native to the SouthCoast, or eventually called it home.
More From WBSM-AM/AM 1420