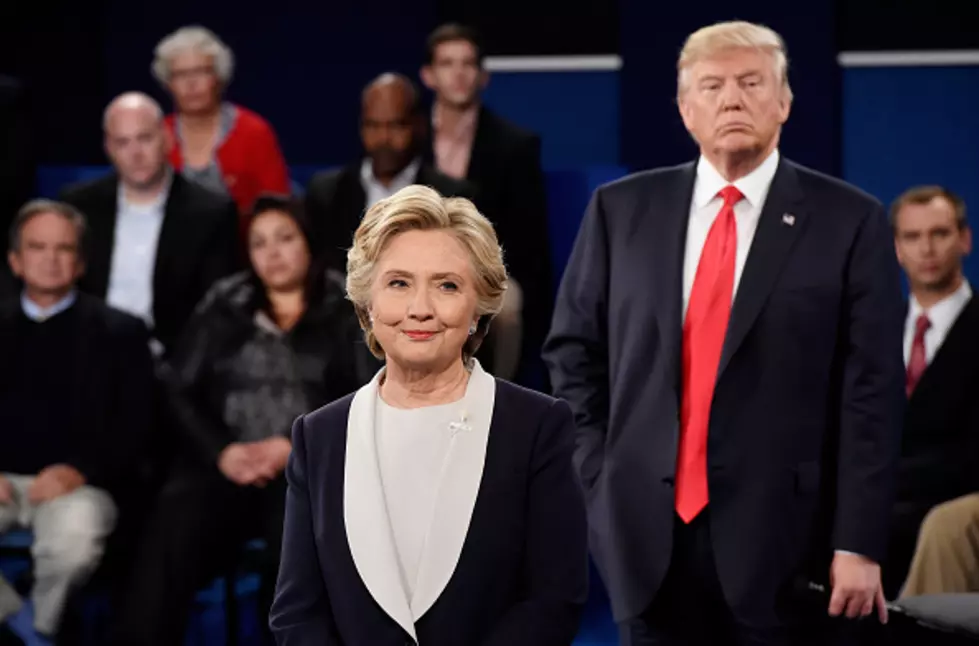 Hillary Might Be Only Option Against Trump [OPINION]
Getty Images
The media is ablaze with speculation that Hillary Clinton might actually be considering a third run for the White House in 2020. Murmurs of another Clinton-Trump matchup have been percolating since the 2016 election ended in disaster for Mrs. Clinton, but talk of another Clinton run is being taken more seriously these days, as the Democrats have yet to find a focus or a candidate that can appeal to a large enough audience.
Goodwin suggests that Clinton is busy raising money and already has a substantial amount of cash at the ready--much more than any other potential candidate. Goodwin believes that with no clear front runner in a crowded field of wannabes, Clinton is the closest thing the Democrats have to an incumbent. Along with cash, Goodwin believes her names recognition and vast political machine could put Clinton way out in front long before anyone else can gain a foothold.
Goodwin, while acknowledging that Clinton is deeply disliked even within her own party, suggests she could outlast all challengers in a crowded field by splitting the vote as she knocks her opponents off of the primary stage, much Like Trump did to capture the Republican nomination in 2016.
All of what Goodwin says makes sense as far as getting Clinton the nomination. But can she win the prize?
Trump's popularity has continued to grow with many who just months ago could not have imagined supporting his re-election. Despite the sometimes circus-like atmosphere, he is accomplishing the things he set out to do, and people are benefiting.
The baggage Clinton brings to another White House bid is enormous, and most voters appear anxious to move on. Love him or hate him, Trump is taking the country in a new direction. Do Americans want to go back to the same old players and the same old policies?
My guess is that they do not.
A Clinton candidacy is not necessarily a Clinton victory, either for the nomination and certainly not for the presidency. It's time both parties begin searching for new, young leadership for the future.
Barry Richard is the host of The Barry Richard Show on 1420 WBSM New Bedford. He can be heard weekdays from noon to 3 p.m. Contact him at barry@wbsm.com and follow him on Twitter @BarryJRichard58. The opinions expressed in this commentary are solely those of the author. 
More From WBSM-AM/AM 1420