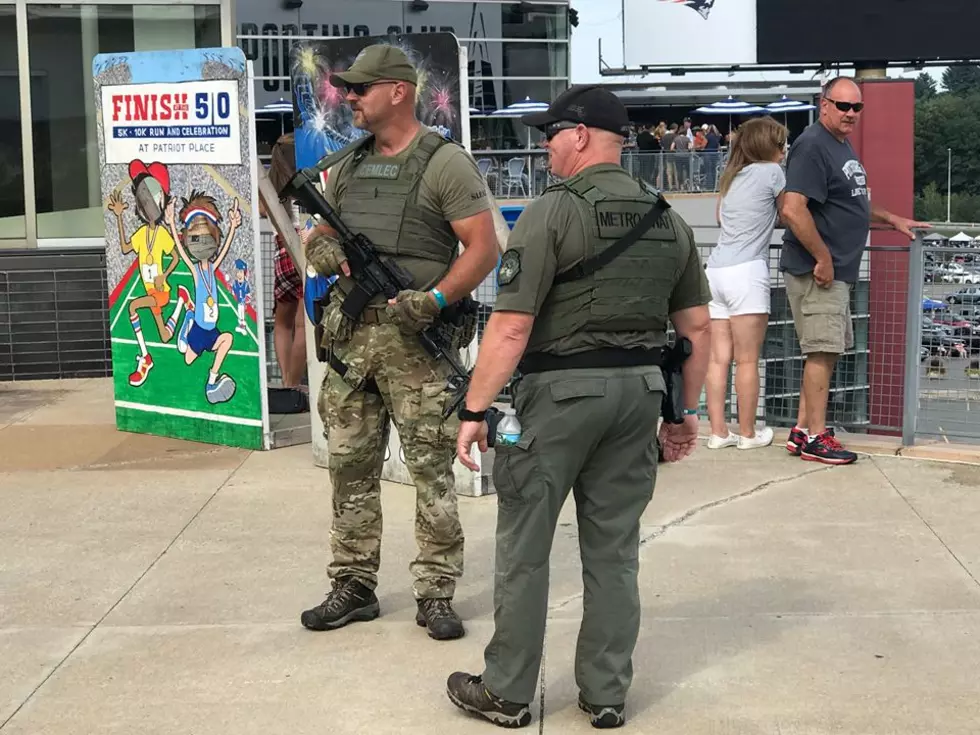 Heavy Security: The New Normal [OPINION]
Gillette Stadium Security (Barry Richard Photo TSM)
A friend texted me from the Kenney Chesney concert at Gillette Stadium on Friday night to tell me about the intense, armed security all around the facility. When I attended Saturday's final concert of the Trip Around The Sun 2018 Tour, I saw instantly that she was not exaggerating. It was intense.
Heavy security is the new norm in this post-9-11, shoot-em-up world we live in. Many younger folks may not recall a time when heavily armed military-style police didn't protect high-visibility sites such as airports or well-attended events and attractions.
Those of us of a certain age remember a more innocent time when you could enter a sports arena without setting off a metal detector or without a clear, see-through handbag.
Still trying to process the incredible security at Gillette the night before, I read in horror yesterday as news broke on my cell phone about another mass shooting, this one in Jacksonville. I guess it was wise to be cautious.
There are some who believe that we have chosen to sacrifice freedom for security. I know Ben Franklin had something to say about that a couple of hundred years ago. And, certainly, an argument can be made that security forces can only be reactive once trouble begins. But ol' Ben lived in a very different time, and if all hell were to break loose at Gillette Stadium while I was there I would have been mighty happy to know that security had my back.
Does heightened security make you more comfortable, or frightened and less likely to go to high-visibility locations?
Barry Richard is the host of The Barry Richard Show on 1420 WBSM New Bedford. He can be heard weekdays from noon to 3 p.m. Contact him at barry@wbsm.com and follow him on Twitter @BarryJRichard58. The opinions expressed in this commentary are solely those of the author. 
More From WBSM-AM/AM 1420