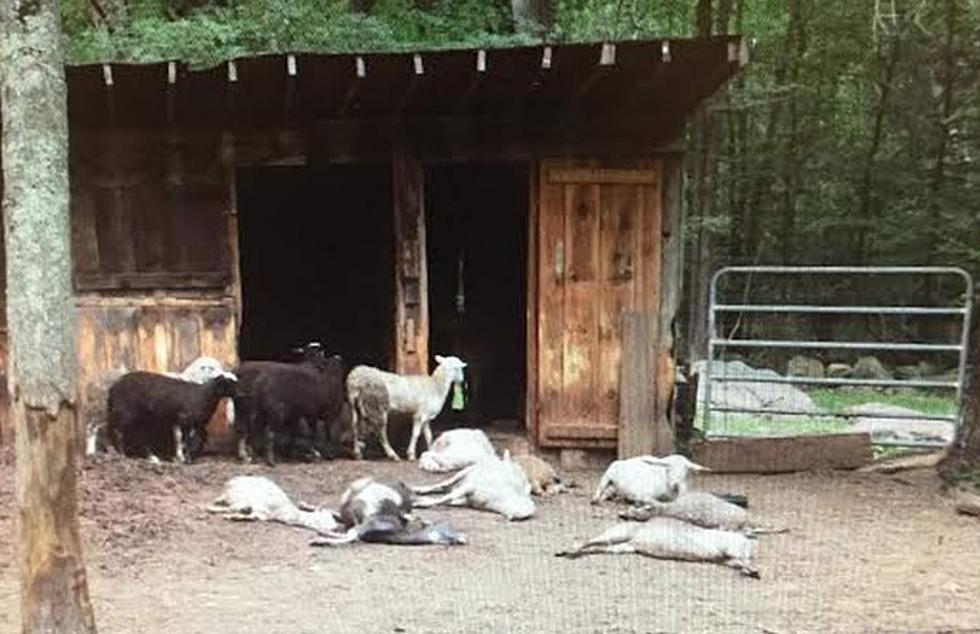 Healey Drops Charges in Westport Animal Abuse Case
Westport Police
2:15 p.m.: This story has been updated with a statement from Healey's office.
A group of defendants in a high-profile animal abuse case involving a Westport farm will no longer face charges after the Office of Massachusetts Attorney General Maura Healey decided to drop the case.
Healey's office said in a statement that facts concerning the Westport detective who investigated the case "gravely compromised" the AGO's ability to prosecute.
The statement provided by Chloe Gotsis, spokeswoman for Healey, is as follows:
"This investigation by the Attorney General's Office was the largest animal cruelty investigation in New England's history, involving over 1,000 animals and resulting in 25 defendants being charged with more than 150 counts of animal cruelty. It has been our priority from the beginning of this case to ensure that justice is served for the Westport community and the animals that were mistreated. Unfortunately, due to the circumstances surrounding the conduct and credibility of the key witness—the investigating Westport police detective—in connection with another matter, we have determined we must dismiss the charges and terminate the prosecution of these cases. We reached this conclusion reluctantly, based on the understanding that the facts concerning the detective, whose testimony would be needed at trial to prove these charges beyond a reasonable doubt, gravely compromised our ability to successfully prosecute these cases. Our office remains committed to prosecuting cases of animal cruelty and abuse."
After learning about the allegations against Westport Police Det. Jeff Majewski and the department's investigation into his conduct -- and reviewing investigatory materials -- the AGO determined Majewski could not testify in the Westport animal case, and therefore the case could not proceed,  Healey's office explained.
Majewski, now retired, was put on leave from the department in February over allegations involving two women.
Back in March of 2017, Healey's office hit farm owner Richard Medeiros, along with 26 tenants, with an indictment totaling 151 counts of animal cruelty. In June of 2019, 10 defendants pleaded guilty and three admitted to sufficient facts. Those 13 cases were continued without a finding. Of the 13 remaining defendants, Medeiros died, as did another of the tenant farmers, leaving 11 individuals who were awaiting trial. Healey's announcement means they will not face prosecution.
Westport animal rights activist Constance Gee told The Herald News that she is disappointed.
"The unspeakable cruelty on the Medeiros property happened," she said. "Men and women starved animals to death." She added that she believes there is adequate evidence to pursue the case, even without putting Majewski on the stand.
Back in 2017, when the indictment was released, Healey promised to pursue justice.
"Hundreds of animals on this farm were kept in deplorable and dangerous conditions, with inadequate food, water, or shelter, many of them suffering from severe health ailments that required them to be euthanized," wrote Healey at the time. "As a result of our investigation, the owner of this farm and its tenants will be held responsible for the inhumane treatment of these animals."
According to previous reports, in July 2016, Westport Police received a 911 call directing them to Medeiros' property at 465 American Legion Highway. Police discovered that two starved Rottweilers from one of the lots had escaped and broken into another lot where they had attacked and consumed a number of goats.
Authorities allege that approximately 1,400 animals were found in overcrowded, overheated and dangerous living conditions at the farm. In some cases, they were living in such deep manure waste that their hooves had rotted off and they were suffering from painful eye, intestinal and skin ailments. Among those animals were dogs, cats, cows, horses, pigs, goats, sheep, chickens, and rabbits. It is alleged that animals did not have proper water or adequate food, were improperly sheltered, and housed among dangerous debris and other dead animals. Authorities also allege that many animals were suffering from contagious diseases.
In explaining the decision to drop the case, Healey's office referenced Massachusetts Rules of Criminal Procedure that require prosecutors to notify opposing counsel of exculpatory evidence, including information about a key witness. The office also referenced Rule 3.8, which states a prosecutor has the responsibility of a minister of justice and not simply an advocate.
"This responsibility carries with it [the] specific obligation to see…that guilt is decided upon the basis of sufficient evidence," the rule states.
Majewski earlier this year was accused of having a relationship with the alleged victim in a rape investigation. That investigation led to the arrest of a Dartmouth town employee. Majewski was the detective who interviewed the alleged victim. Majewski in February told the Herald News that an ex-girlfriend had told him that she would not be happy until he lost his job and found himself "on the other side of the news."
Enter your number to get our free mobile app
More From WBSM-AM/AM 1420