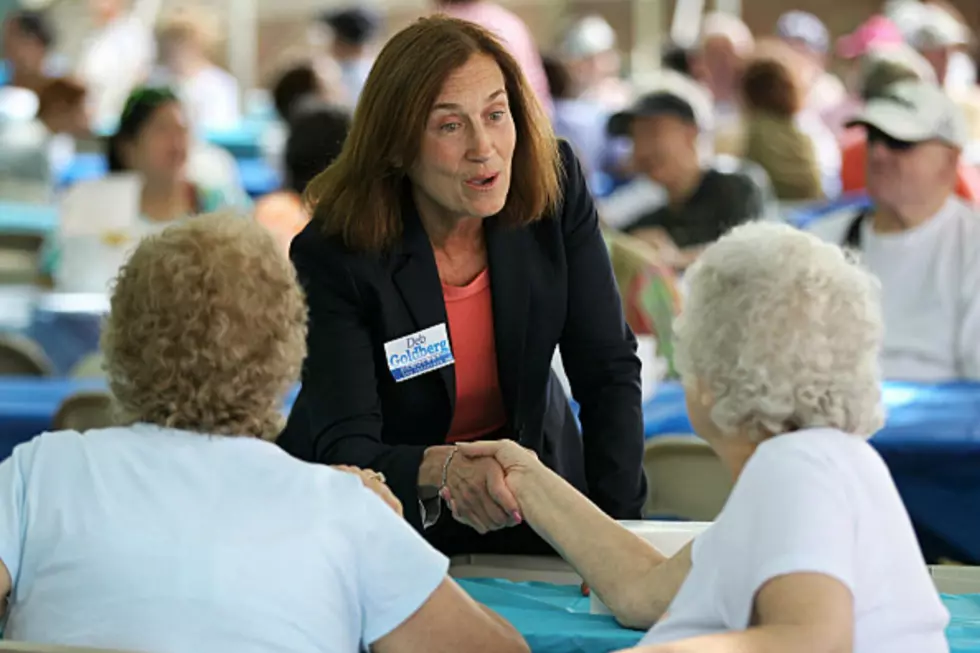 Goldberg Gauging Support for Run at Kennedy's Congressional Seat
Photo by Pat Greenhouse/The Boston Globe via Getty Images
BOSTON — When Treasurer Deborah Goldberg filed a statement of candidacy last week to run for Congressman Joseph Kennedy's seat, there was more behind the move than just signaling her interest before an open race had been assured.
As people waited for Kennedy's decision on a U.S. Senate run, Goldberg's campaign immediately commissioned a poll of the 4th District to gauge her support against others known to be considering runs for Kennedy's seat should it open up.
The results, according to a senior advisor to her campaign who has seen the poll, showed that Goldberg would enter the race as the clear front runner and the only candidate among the pool of people known to be considering the race with support throughout the district.
She also polled as the strong second choice among voters leaning toward a different candidate, the advisor said.
Goldberg's campaign confirmed the existence of the poll, which was conducted by Jill Normington of Normington Petts. Filing with federal elections regulators enabled her to spend campaign money on a poll, though it was not immediately clear where the funds came from or how much the poll cost.
"Treasurer Goldberg has had tremendous support throughout the communities that make up the 4th Congressional District each time she has been on the ballot. Her work as Treasurer has been groundbreaking, creating new initiatives that have impacted the lives of women, children and underserved communities yearning for opportunity and empowerment. These initiatives have become a model throughout the country and weigh greatly on the Treasurer as she contemplates a campaign for Congress," said spokeswoman Samantha Dallaire.
The advisor said the poll showed Goldberg's approval rating as treasurer at 52 percent, with just 6 percent disapproving of her work. In a seven-way hypothetical Congressional contest, Goldberg had 26 percent, and no other candidate cracked double digits.
Alan Khazei, the co-founder of City Year who has twice run for U.S. Senate and launched a campaign for Congress in the 4th District on Tuesday, was tied with Newton City Councilor Jake Auchincloss at 6 percent support. Becky Grossman, another Newton City Councilor who also launched a campaign Tuesday, had 5 percent, and Transportation for Massachusetts Director Chris Dempsey came in at 3 percent.
Grossman, who is the daughter-in-law of former state treasurer and one-time Democratic National Committee Chairman Steve Grossman, described the country as being at a "make or break moment" in her campaign announcement, promising to tackle gun violence and climate change "head on."
Dempsey, meanwhile, wrote a short letter to members of his group's executive committee notifying them of his decision not to run.
"A critical part of my decision is the opportunity to continue the important work we are doing together at Transportation for Massachusetts. Given the transportation crisis facing the Commonwealth, it is essential that we continue the momentum we have created and the progress we have achieved in the past two years," Dempsey wrote.
The other candidates in Goldberg's poll whose numbers were shared with the News Service were former Brookline selectwoman Jesse Mermell (2 percent) and Shannon Liss-Riordan (2 percent), the Brookline labor attorney who is running for U.S. Senate but also lives within the 4th District.
Mermell, the former top Deval Patrick communications aide, resigned her position as president of the progressive Alliance for Business Leadership last week and is expected to announced her campaign "within days," an adviser said.
As the only potential candidate being discussed so far in the Congressional race who has run and been elected statewide, Goldberg's early strength may not come as a surprise. But the treasurer's advisor said the poll reinforced that the choice for Goldberg is a personal one about whether she's ready to move on from the Treasury and not one about electability.
While Goldberg has not put a timeline on her decision, multiple sources close to her said she would likely make up her mind soon after this weekend's Rosh Hashanah holiday, which she will spend with family.
Dempsey wasn't the only candidate announce Tuesday he would take a pass on a rare open race for a seat in Congress from Massachusetts.
State Sen. Paul Feeney, an Attleboro Democrat and one of the few people from the southern portion of the district known to have considered a run, said he would instead seek re-election to the Massachusetts Senate in 2020.
Feeney, in an email to supporters, said he "thought deeply about the current dysfunctional state of Congress that just doesn't work for regular people any more," but opted against entering race.
"The bottom line is that I absolutely love what I do...," Feeney wrote. "I want to continue working hard to fight for working families, to stand up for Women's rights, to end income inequality and grow our middle-class, to eliminate homelessness, to advocate for universal healthcare, to improve public education and eliminate student debt, to keep our communities safe and to protect our environment. I am able to do that now in the State Senate, a job that I treasure, for constituents that I feel honored to serve."
State Rep. Tommy Vitolo, a freshman from Brookline, also said he would seek re-election to the House instead of running for Congress.
"There are several strong candidates who have already emerged for the open seat, including some of our neighbors. I will be looking for a congressional partner who will fight for the issues that matter to all of us, like social and economic justice, public education, and climate and environmental protection," Vitolo said in a letter to supporters.
He continued, "But Congress is not enough. We need a strong, progressive legislature in Massachusetts to move these issues forward no matter who is in control of our federal government. That is why I am running for re-election."
Vitolo said he may endorse in the race, but not right away.
House Speaker Pro Tempore Patricia Haddad, a Somerset Democrat, also confirmed to the News Service on Tuesday that she was keeping her options open and looking to make sure that if she didn't run, the Democratic nominee would be someone attentive to the needs of the southeastern part of the district.
More From WBSM-AM/AM 1420