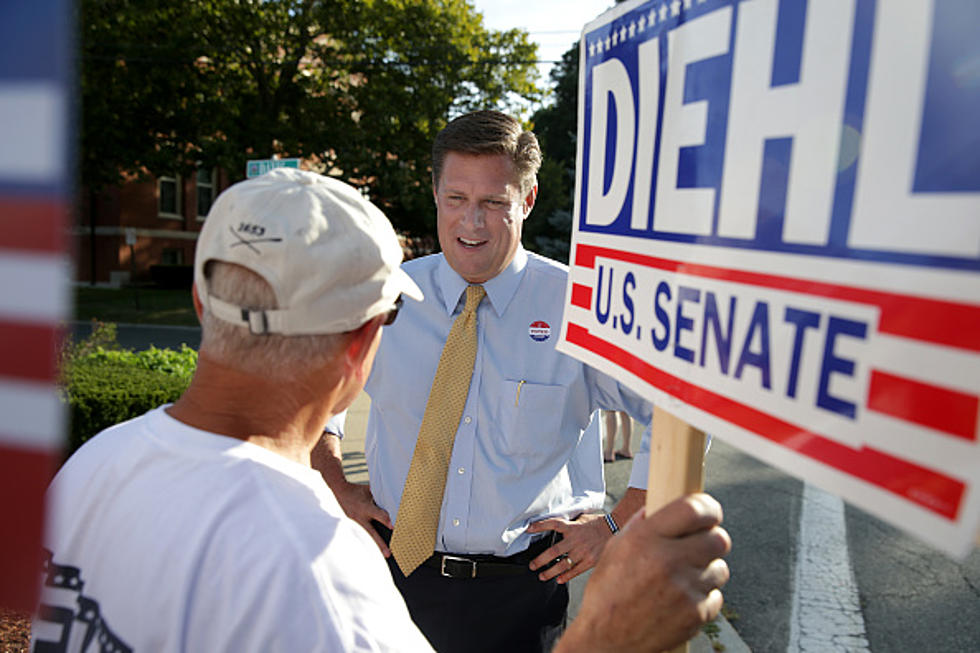 Geoff Diehl Is the Logical Choice to Lead Mass GOP [OPINION]
Boston Globe via Getty Images
There have been rumors since the election that Rep. Geoff Diehl is interested in heading up the Massachusetts Republican Party.
In an interview with the Boston Globe, Diehl confirmed he is considering taking a run at being elected to run the Mass GOP. He graciously is waiting to see what the current party chair is going to do before he announces his plans. The party head is Quincy City Council member Kirsten Hughes, and she has held the job since 2013.
Diehl told Boston Globe reporter Matt Stout: "I'm not taking any steps toward that until she decides what to do," Diehl said in a phone interview. "Right now, it's very nice that people contacted me to run for it. And I'll consider it...I want to make sure she is sure about what she wants to do first."
The party chief is elected by the members of the Massachusetts State Committee. The committee is comprised of 40 men and 40 women. Each of the 40 state senate districts elects a man and a woman every four years.
Diehl is the logical choice to head up the party if he wants the job. He has demonstrated the ability to win. Winning is something the state GOP needs more of in the future.
Diehl defeated two serious GOP opponents to win the convention, and he defeated them again in the September Republican primary. He successfully spearheaded the campaign to repeal the automatic gas tax increase, and he played a serious role in Donald Trump's Massachusetts campaign for the presidency.
He lost his race against Sen. Elizabeth Warren, but he received over 960,000 votes from the people of Massachusetts. He had to build his own political party to earn those votes. He has developed personal relationships with thousands of Republican activists across the 351 cities and towns in the state. Making Diehl the head of the party is the most efficient manner of strengthening the grassroots base of the party.
Because Geoff has been a local elected official, he can identify party activists who should consider running for office, and he can recruit them. Diehl has also demonstrated his ability to use talk radio to boost his agenda, and he did a nice job in all of his television debates with Sen. Warren.
Diehl has also demonstrated he has the discipline and the stamina to raise the money and do the day-to-day work required to run a credible statewide campaign in Massachusetts.
If Geoff Diehl wants to be the head of the Massachusetts GOP, the party should consider itself blessed and elect him.
Chris McCarthy is the host of The Chris McCarthy Show on 1420 WBSM New Bedford. He can be heard weekdays from 10 a.m. to noon. Contact him at chris.mccarthy@townsquaremedia.com and follow him on Twitter @Chris_topher_Mc. The opinions expressed in this commentary are solely those of the author. 
More From WBSM-AM/AM 1420